Shredtastic vibes must be radiating from the water in Philadelphia because the city of brotherly love has been spewing out guitarist godheads at a furious clip. Count the majestically maned chill-blues young gun Kurt Vile and tech-metal scientist Matt Hollenberg of Cleric as comrades in that schizophrenic guitar army plus junk-fi indie popheads like Watery Love and Purling Hiss.
Then there's the self-proclaimed "cosmic Americana" guru, Chris Forsyth. The rotating cast of fellow virtuosic finger hoppers he's led in his Solar Motel Band first included Paul Sukeena of local outfit Spacin' before the slot was filled by yet another ax wielding hometown hero: Nick Millevoi. Like Hollenberg, Millevoi is a trusted protégé in the stable of New York City avant-garde icon John Zorn.
Forsyth first cut his teeth in that same downtown experimental and jazz lexicon Zorn made famous, noodling, freaking out and free-improvving in out-centric trio Peeesseye, setting up shop at venues such as the long-defunct epicenter of experimental music, the Lower East Side's Tonic.
'To be able to play with that abandon or willingness to just wing it, most of the best music I like has to have that in it. You have to not be posing; you have to be playing.'
Then after over a decade of living in New York, Forsyth traded in his downtown digs for Philly and he's been on a tear ever since, reinventing himself as a finger-picking, weaving and epic soloing overlord who proudly wears the influences of his three favorite musical artists, Neil Young & Crazy Horse, The Grateful Dead and Television, on his tattered, tie-dye sleeves. Like his grizzled No Quarter label-mates Endless Boogie, Forsyth has rattled off marathon-length riff-loaded jams and since 2013 has been a repository of spazzy, yet razor sharp-constructed licks, his fruitful run kicking off with 2013's Solar Motel and the following year's Intensity Ghost.
But with his just-dropped new slab, The Rarity of Experience, Forsyth just may have outdone himself this time. Along with his longtime bassist Peter Kerlin, he's debuted yet another iteration of the Solar Motel Band featuring Millevoi, drummer Steven Urgo and keyboardist Shawn Edward Hansen on double album sprawl, and it's '70s classic rock-style hour-plus ecstatic trip is like Ragged Glory meets Daydream Nation meets Marquee Moon. Forsyth has changed it up a bit on Rarity, blending vocals into his all-instrumental plate while retaining his NYC avant-jazz roots in recruiting hornsmith Daniel Carter and drummer Ryan Sawyer in contributing their wizardry.
We phoned up Forsyth to get the story on his path, the new record, being a student of Television's Richard Lloyd and coming clean about the shadows of The Grateful Dead and Television hovering overhead.
[bandcamp width=100% height=120 album=468679332 size=large bgcol=ffffff linkcol=0687f5 tracklist=false artwork=small]

About those Grateful Dead comparisons…I see you've covered "Cold Rain and Snow".
We finally decided to confront what everybody says about us dead on.
Which is what?
"You guys sounds like The Grateful Dead…you guys remind me of The Grateful Dead…did anybody ever tell ya you sound like The Grateful Dead?" [Laughing]
So you're finally embracing it?
It's fine. I like The Grateful Dead. The three comparisons we get all the time are Television, The Grateful Dead and Neil Young & Crazy Horse. I'm not running from those things; those are three of my favorite musical artists. But I think the similarities between us and those bands are pretty much on the surface, stylistically or whatever. We're in a completely different era making our music in a completely different context so it's semi-lazy that people always drag that out but it's cool.
Are you a Deadhead?
There's a lot of different brands of Grateful Deadheads. I'm the brand that despised them when they existed largely because all I knew was the radio stuff. When I was in high school, it was the absolute pinnacle of their popularity—the late-'80s. I was an alienated punk rocker guy and that was when all the football players were going to Giants Stadium to score drugs at the Dead shows. Fuck that.
[soundcloud url="https://api.soundcloud.com/tracks/251223631″ params="auto_play=false&hide_related=false&show_comments=true&show_user=true&show_reposts=false&visual=true" width="100%" height="450″ iframe="true" /]
That's when they had their huge MTV hit, "Touch of Grey".
Right. I wrote them off for long time. It's all just still rock and roll but someone would be like, "I'm drawling a line against that music" because everything is just this sea of niches and eclecticism is expected at this point. But the fact that I have to choose sides is funny in retrospect. I was 18; I chose sides.
When did you actually start getting into the Dead?
I didn't get into them until the late-'90s when the Dick's Picks started coming out. At that time, I was going to the Vision Festival, listening to free jazz and improvised music and going to see Derek Bailey 20 times a month at [defunct LES experimental hub] Tonic. Then I heard a few of those Dick's Picks and thought, "This sounds like what I go to see at Tonic except it sounds like a country song wrapped around it." That's how I got into it.
You were living in New York?
I lived there from '97 until '09. I grew up in Jersey 30 miles from New York. I was going to New York from the late-'80s onward. That's where you would go if you didn't want to stay at the mall. [Laughing]
I assume you were already deep in the throes of the music of Television?
For sure. The gateway band for a lot of stuff for me actually in the mid-'80s when I was 14 or 15 was actually R.E.M. They still were not mega-super-popular at the time and they covered Television and The Velvet Underground. I heard those things and kept going. It's another one of those things where it's a different era. It seems almost quaint but they were one of the few bands that I had access to as a kid that lived in a totally bland suburb. There was no culture but that stuff somehow squeaked onto the lower rungs of college radio.
Let's talk The Rarity of Experience. Why a double album?
The idea was to try to spend more time in the studio. Both of the last two studio records—Solar Motel and Intensity Ghost—were made incredibly fast with super-limited timeframes and budgets. I like working really spontaneously in the studio but I wanted to allow for more exploration or experimentation and more accidents to happen. It would be fine if we came out with a single record but there was a bunch of leftover stuff but in the end and we decided that it all made the cut.
You're not nodding to seminal double albums by the Minutemen and Hüsker Dü?
Not specifically but I love all that stuff. I love your Exile on Main Streets and Zen Arcades and your Daydream Nations. Those records are thought of as these big arcs, one long big arc. I think of this [The Rarity of Experience] as two separate records that are coming out at the same time and they hang together but they have really different identities to me. To me, they are almost like two separate albums getting put out at the same time.
Like Use Your Illusion?
[Laughing] Exactly. When I was growing up, I had bunch of double LP releases that were not originally released as double LP's. I had a 2LP of the first two Syd Barrett albums that came out on Harvest. It was a double LP—one was Barrett and one was The Madcap Laughs. I had that and a T-Rex double LP. I thought of The Rarity of Experience more like that, like, "It's two albums that came out together."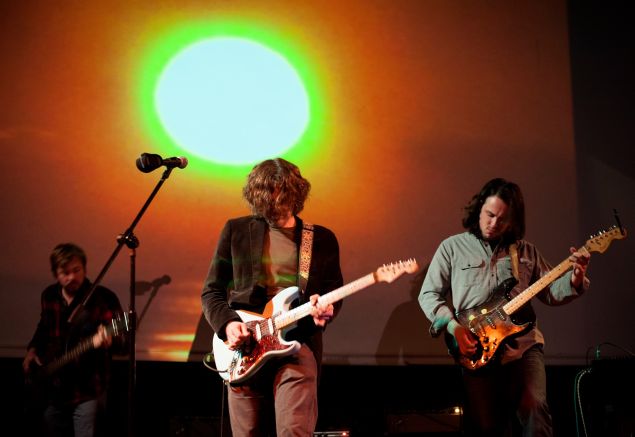 A couple of the songs you reworked from Kenzo Deluxe, a solo record of yours from 2012.
Yeah and a couple of those songs I wrote in the '90s. That's another thing I feel like is about context and how we work: I try to have the band operate more like a jazz group than a rock band in the sense of "Hey. We got a bunch of new songs that we need to share with you guys that are about where we're at right now."
The band is constantly changing: me and Peter Kerlin, the bass player, are the only two constants. So even that, the membership of the band is fluid but the jazz group idea is like just treating material as material and allowing the players to bring their own thing to it. I've only really been doing stuff in this more rock band format for a few years but I've been collecting songs and stuff for ages [laughs]. There's stuff on Intensity Ghost that I wrote in the '90s, too. The song "Old Phase," I made a demo of that in 1996 on a 4-track. Sometimes you just throw stuff at the wall and see what sticks.
You like to operate like a jazz group and you have jazz dudes playing on The Rarity of Experience like Daniel Carter.
Daniel Carter plays tenor [saxophone] and trumpet and Ryan Sawyer played some percussion and he does some free jazz stuff and Nick is a jazz guitarist. The best rock musicians nowadays are free jazz guys and improvisers if you ask me. To be able to play with that abandon or willingness to just wing it, most of the best music I like has to have that in it. You have to not be posing; you have to be playing [laughing].
'I think on some level I became less self-conscious about just wanting to boogie, basically. A boy's gotta boogie.'
You've had a few different iterations of the Solar Motel Band. On Intensity Ghost, you had the guitarist from Spacin,' Paul Sukeena.
I'm discovering, at least for me, the notion of trying to keep a band together in the sense one would traditionally think of a rock band—the identity of three or four specific people—is impractical and maybe impossible. People's lives changes, people have schedules and jobs and other bands. You can't expect anybody to commit to something full-time that they aren't gonna get paid enough money to live on from. That way, it's more like jazz groups, too. You don't think of a jazz band as only being only four people. It's like, "Who can make the gig?" Even the Coltrane Quartet morphed and Miles Davis' bands morphed. There would be subs or even if there was the first call guys, there'd be times they couldn't make it because everybody was doing other gigs.
That's kind of the way I see the Solar Motel Band as well. It's already changed since the album came out. I have a different drummer and we're going to be doing a tour in May and I'm not exactly sure who the lineup of that is going to be yet [laughing].
[bandcamp width=100% height=120 album=468679332 size=large bgcol=ffffff linkcol=0687f5 tracklist=false artwork=small track=1248662761]

Sukeena left and Nick Millevoi (of Many Arms) is the newish guitarist in Solar Motel.
Nick is a superior technician and he's got a super-great vibe. He's also totally willing to go into the unknown and can snap back at any given moment. The thing with him, there's not many people you can find who you can get into a really long conversation about the nuances of The Rolling Stones and Joe Morris with [laughing].
It sounds like the band is essentially you, your vision and a rotating cast.
Oh, yeah, but I have great relationships with all those guys. I'm getting together to jam with Paul tomorrow. I play with the best people that are available that I can find at the time that can bring something to the table and realize what I'm trying to get at. I mean, I'm writing all the songs, I'm making all the phone calls.
You've added a new dimension to your plate also: singing.
For the songs that I wrote that have vocals, I just felt like they needed to have vocals [laughing]. I liked the music but I didn't think it was compelling enough on its own that it didn't need some other kind of line there. I also don't want to keep on doing the same thing over and over again so it's important as an artist to keep challenging yourself to do different things. I think that that's something crucial; you have to put yourself in an uncomfortable position sometimes and your band to get something unique. That's where the vocals thing came from.
[bandcamp width=100% height=120 album=3293507322 size=large bgcol=ffffff linkcol=0687f5 tracklist=false artwork=small track=2644790256]

How did you decide you wanted go from the free-improv freak-out stuff you explored in Peeesseye to the more structured rock thing you do with Solar Motel? The two bands are polar opposites.
I don't see them as being polar opposites, really, though I can see why it might seem that way to listeners. Peeesseye were three people with very distinct approaches to music and we had developed great chemistry improvising together. But we always dealt with structure. The best improvisors are not "freaking out" in some senseless way. It's all about making decisions and choices spontaneously in reaction to and anticipation of what the other musicians are doing, or to spur them in some other direction. It's basically composing on the fly.
Brian Eno talks about any collaboration as a being a "conspiracy," and that's what it always was with Jaime, Fritz, and myself. Sometimes our compositions involved a riff or theme that someone brought in, but just as often, it involved some set of directives—duration, intensity, some shape or arc to the piece. Sometimes maybe two of us were on the same page and the third person decided to freelance. In any case, it was always compositional, always about choices, always a conspiracy.
How did the move into your more rock-oriented direction go down?
Once that band split up because we each one by one left NYC and moved to far corners of the globe, I started playing solo a lot and naturally gravitated towards a more lyrical approach. There were things I played in Peeesseye that were super lyrical, too, but maybe surrounded by a bit more chaos. Also, once the group disbanded, I think on some level I became less self-conscious about just wanting to boogie, basically. A boy's gotta boogie. But I still think I still have the same motivations for this music as I had in Peeesseye, even if it sounds somewhat different, or appeals to different listeners.
There are varying degrees of structure in the Solar Motel Band pieces, from the slimmest bit of cueing a riff here or there and then improvising between it to having more fully fledged song forms with chords and melodies and so forth. But I also try to approach [it] a little differently each time we play it, and encourage the band to do so as well. It's a conspiracy, nothing more, nothing less.
[bandcamp width=100% height=120 album=468679332 size=large bgcol=ffffff linkcol=0687f5 tracklist=false artwork=small track=991702058]
How did it come about that you took lessons with Richard Lloyd?
He had a sign up at Context Studios on Avenue A. I was at a rehearsal there and I walked out and one of his posters was up. It said "Learn the skeleton key to music" or something like that. Richard Lloyd?! Holy shit. So I ripped the number off, I went home and I called him.
Where did he teach?
He had a studio right by Port Authority. I don't know if it's still there but it's called The Music Building. It was full of rehearsal studios and he had one there and that's where I would meet him. I met him every Wednesday morning at 10 a.m. for a year and a half. He taught me how to play the guitar, really.
So you were free-improvving at Tonic in the late-'90s and taking lessons from Lloyd?
The funny thing is I was playing all this abstract music but I was learning the fundamentals of music from him at the same time, which is actually not a contradiction at all. I postured [guitar playing] for 10 years. From the naked eye, it looked like I knew how to play the guitar. I knew if I put my fingers like this, I could play a D chord but I didn't know why it was that or what that had to do with anything.
Partly what led me into wanting to play abstract music was I wanted to get into a flow where I was playing and not just memorizing something and regurgitating it; I wanted to get into this flow where I could be improvising. I could play with musicians who didn't say "Oh, that sounds out of tune." People who were into just playing with sound and you can make that happen and I gravitated towards that. But at the same time, I wanted to learn how music worked. I was a huge Television fan from a young age and when I found out you could take lessons from Richard, I was all over it.
[soundcloud url="https://api.soundcloud.com/tracks/110856202″ params="auto_play=false&hide_related=false&show_comments=true&show_user=true&show_reposts=false&visual=true" width="100%" height="450″ iframe="true" /]
What was Richard like as a teacher?
I found him to be a great teacher and wildly intelligent. He showed me some tricks here and there but it wasn't like, "This is how this lick goes or that goes or this is how you play like me." But when I learned the stuff that he taught me, I realized that I could instantly play any Television song [laughing].
Do you ever think that a Solar Motel song sounds too much like a Television tune?
It's difficult to compare us to bands like the Dead or Television because rock music is, at this point, what jazz music was in maybe the '40s in a way—its place in society, I mean. It used to be popular music; it's not anymore. There haven't been innovations in jazz in decades in the sense of the tropes have all been laid out. It's the same in rock music—the tropes are all there. But it's how you grapple with the history and how you internalize it and how you personalize it and that's what I try to do.
I'm not running from influences. I also think that what we're doing is not emulation. If I do stuff that is referential or alludes to some other music, I'm doing it on purpose. Nothing comes from nowhere, ya know?
The Rarity of Experience is out now via No Quarter. Chris Forsyth & The Solar Motel Band plays Tran-Pecos in Ridgewood on Saturday, March 19.