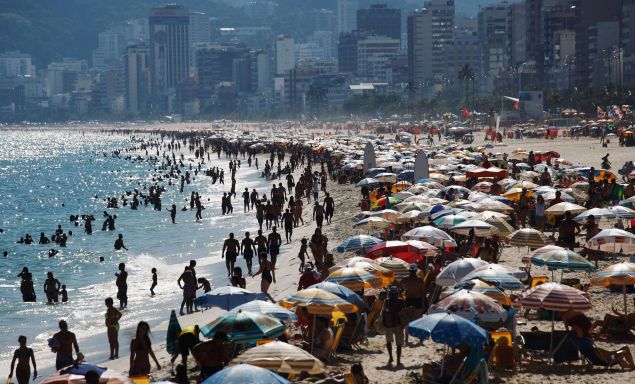 While the Zika virus has yet to be contracted through mosquitoes in the continental U.S., as of March 2, 153 cases have been reported in the U.S. by travelers to countries where the virus is spreading. A total of 107 cases have been reported in U.S. territories, according to the CDC.
In Florida alone, 42 cases associated with international travel have been reported, and numbers are steadily increasing as most of Latin America and parts of the Caribbean have active Zika outbreaks.
First discovered in the 1940s in a forest in Uganda for which the virus is named, outbreaks have been rare until recently and were previously isolated to regions in Africa and Asia. Since 2015, one million people have been affected, and as many as four million people could be infected by the end of the year. The World Health Organization declared a public health emergency in early February, and President Obama asked Congress for $1.8 billion in funds to combat the virus.
The most unsettling thing about Zika is how little medical researchers and doctors know about the virus. The incubation period is unclear—estimated to be a few days—which explains why such a high rate of travelers report the disease only after they have returned to the United States. According to the WHO, there is no cure or treatment for Zika, and the only preventative measure one can take is protection against mosquitos—an almost futile effort in countries like Brazil.
When symptoms begin to appear—and nearly 80 percent of cases have no symptoms—they typically last a few days and are similar to those of dengue, including fever, rashes, headaches, fatigue and muscle and joint pain. There is no widely available test for the Zika virus beyond sending blood or tissue sample to a laboratory during the first week of infection.
The subspecies of mosquito spreading most cases of Zika, Aedes aegypti, is common in the United States only in Florida, Hawaii and along the gulf coast, but has been known to travel as far north as Washington DC in hot summer weather. The virus can also be sexually transmitted by men, but confirmed cases of this have been extremely rare and very little is known about how the virus is transmitted in this manner.
Zika's greatest risk is to pregnant women, as it has been linked to microcephaly-deformities in newborns, causing unusually small heads and brain defects. In a normal year, 150 cases are reported in Brazil and there are nearly 4,000 cases currently being investigated. Public health agencies have issued warnings to pregnant women visiting countries with Zika outbreaks, and the Brazilian government—which only permits abortion in cases of rape and provides little access to contraceptives—has warned women against getting pregnant. A study published on March 4 in Cell Stem Cell revealed the Zika virus kills developing brain cells, but more research needs to be done to prove the virus is linked to microcephaly. "Our results fill a major gap in our knowledge about ZIKV (Zika Virus) biology and serve as an entry point to establish a mechanistic link between ZIKV and microcephaly," wrote the study's authors.
Zika has also been linked to Guillain-Barre syndrome, a rare neurological condition leading to muscle weakness, permanent or temporary paralysis and in some cases death. A study published in the journal Lancet on February 29 found a direct link in Zika virus patients studied from an outbreak in French Polynesia in 2013—correlating to increases in Guillain-Barre syndrome, with all reported patients testing positive for Zika as well. "This is the first study providing evidence for Zika virus infection causing Guillain-Barré syndrome," wrote the authors. "Because Zika virus is spreading rapidly across the Americas, at risk countries need to prepare for adequate intensive care beds capacity to manage patients with Guillain-Barré syndrome."
With the summer Olympics in Rio De Janeiro this August, Zika outbreaks raise concerns among many of the 16,000 athletes and 600,000 visitors expected to travel to Brazil for the games. The U.S. Olympic Committee reportedly told athletes to skip the games if they feel unsafe participating, and U.S. soccer goalkeeper Hope Solo has announced she will not travel to Brazil in the unless the situation improves.
At this time, Brazil has no plans to cancel the Olympics. Health officials have urged visitors to take extra precautions against mosquitos, and have tried to alleviate fears by affirming that, in August, peak mosquito season will be winding down. As the hot summer weather dissipates in the southern hemisphere, it remains to be seen how far the Zika virus will stretch into the northern hemisphere—but with climate change and global warming, outbreaks like Zika will occur more often.