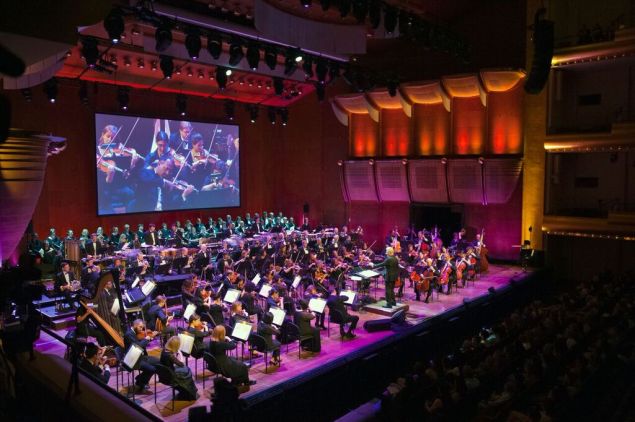 You don't have to know much about classical music to know it's in decline. According to Nielsen's 2015 Year-End Report, classical music is the second least-consumed genre in the United States at 1.3 percent of total consumption, and that's tied with jazz and one notch above children's music. Enter New York's newest orchestra: the Philharmonia Orchestra of New York (PONY).
The group has set its aim high: to make a more inclusive orchestra to attract younger audiences.
"We wanted to move past traditional notions of classical music, bridge cultural divides and change perceptions of a genre of music for a new generation of music fans," Atsushi Yamada, music director and co-founder of PONY, told the Observer.
On March 29, PONY will begin its inaugural season at the Rose Theater at Jazz at Lincoln Center. With more than 80 musicians, the orchestra counts some of the city's best players in its ranks—at its core, members of the former New York City Opera Orchestra, as well as freelance musicians from the area's top ensembles, including the New York City Ballet Orchestra, the Metropolitan Opera Orchestra and the New York Philharmonic.
PONY will open the season with Gustav Mahler's Symphony No. 2, better known as the Resurrection Symphony, Minoru Miki's Requiem and Hector Berlioz's Symphonie Fantastique; a fitting theme considering the ensemble's lengthy history, focussing on the cycle of life, death and rebirth.
[youtube https://www.youtube.com/watch?v=fLfbOiWCUDo&w=560&h=315]
David Titcomb, managing director/co-founder of PONY and orchestra manager of the New York City Ballet Orchestra, became orchestra manager of the NYCO in 2000 and soon after met Yamada. A self-taught musician who broke into the New York City Opera following a career in business, Yamada became the first Japanese conductor of the New York City Opera and only the second Japanese conductor to ever conduct at Lincoln Center (after Seiji Ozawa, the former music director of the Boston Symphony Orchestra and a recent Kennedy Center Honor recipient).
In a "shocking…upsetting and devastating" turn of events, the New York City Opera suddenly filed for bankruptcy in 2013, explained Titcomb, capping off a legacy that saw the orchestra perform across the world, including three concerts as the Friends of Japan Orchestra for Hand in Hand, a project focused on recovery efforts for Eastern Japan after the 2011 Tōhoku earthquake and tsunami and the resulting nuclear disaster at the Fukushima Daiichi power plant. The concerts joined professional and college musicians with Japanese high school choral students in the affected area.
"We were concerned by the social isolation of the young people of East Japan," Yamada said. "We organized these high school students so that they can have international support and connections."
"We collaborated with Hand in Hand to bring young choral students from Japan over to New York and kind of remind people and highlight the fact that after the disaster things really needed attention ongoing, not just one concert," Titcomb said.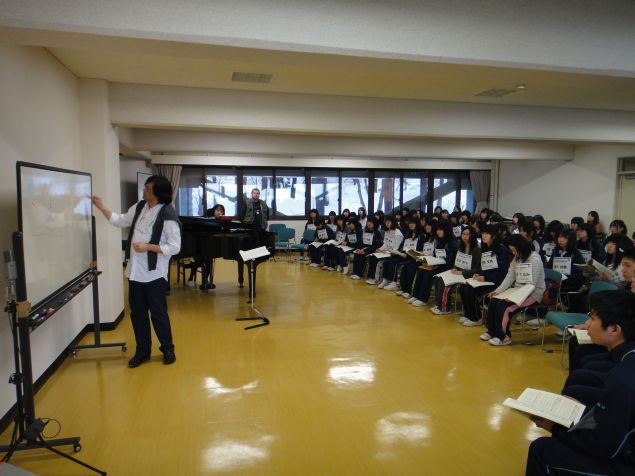 To continue this spirit of free artistic collaboration, this year the Hand in Hand concert will double as PONY's season opener.
Both Yamada and Dr. John P. Leonard, director of choral activities, department chair of music and associate professor of music at the College of New Jersey, travelled to Japan to work with about 130 Japanese high school students planning to participate in the concerts. Chorus members worked for two days in intermixed rehearsals of both the Mahler and the Miki compositions at the National Bonzai Youth Friendship Center in the Fukushima region of Japan. According to Leonard, the language barrier was easier to navigate than one might expect, especially due to the students' preparation and talent, as well as their common passions.
The orchestra performed as part of the UNESCO Conference in Nagoya and then in Natori at a theatre used to shelter 600 displaced families during the tsunami. PONY is the first orchestra it has hosted since it has been restored, having torn out the seats to accommodate for tents of people in the aftermath.
"The thing about music is that it goes beyond the abilities of our spoken language. We all know what [Maestro Yamada] wants musically and the language that we get to speak together is that common language that he has set up for us," said Leonard. "[The Japanese students'] resiliency is just so amazing to me. It's just hard for us to even fathom what they've lived through, what their families have lived through [and] what some of the families have died from."
Students will join Dr. Leonard and the chorus from The College of New Jersey the day before the opener for a joint rehearsal and concert on campus, a trip that is expected to cost between $800 and $1,000 per student, thanks to Hand in Hand.
"That's a great collaboration," Titcomb said. "Having the college kids with these late high school Japanese kids who are kind of thinking about what they're going to do next…in a way some of the College of New Jersey kids serve as a short-term mentor in a way in collaborating on a big orchestra concert like this." 
"It's a way to express ourselves that we can't as an individual," Leonard said, "that our students can demonstrate compassion and passion and empathy to their colleagues coming from Japan that they otherwise couldn't."
The chorus at the college consists of about 90 students with a 50-50 music major/non-music major make-up. In preparation for the opener, Maestro Yamada will work with the group twice on campus. The orchestra will be doing two three-hour readings for both the Mahler and Berlioz the week before the opener, plus dress rehearsals on the day of. For Yamada, the selection of the Mahler was obvious due to its accessibility, as well as its connection to the greater issues at hand.
"At the first Hand in Hand concert five years ago, we performed the Resurrection Symphony," Yamada said. "This piece has always represented Japan's resurrection from the Tōhoku Disaster and its path to recovery. Performing the Resurrection Symphony five years after the Disaster and the start of Project Hand in Hand is a symbol of the work that's been done, and the long road to recovery ahead for Japan."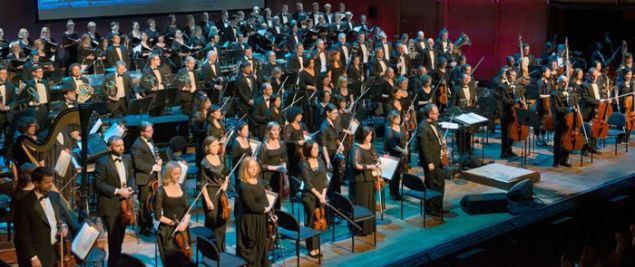 PONY's version of the Mahler features over 300 musicians and singers, including soloists Olga Makarina and Dina El, about 90 instrumentalists and over 200 singers from the College of New Jersey and from abroad, the most ever assembled onstage at Rose Theater at Jazz at Lincoln Center.
On night two, the chorus will perform Miki's "Requiem" for the first time in the United States, featuring soloists Mika Oinuma, Robert Kerr and pianist William Barto Jones.
"When he composed Requiem, Minoru Miki explained, 'I found this moving piece and remade it into a requiem for all those souls that passed on before their time, due to the terrifying massacre of modern times,' " he said. "As a requiem for all those souls lost before their time in these events, and others lost in the 'terrifying massacre of modern times' that Minoru Miki himself mentioned, I chose this wonderful Japanese masterpiece."
'We're trying to show [classical music students] that there is a way forward in New York, even if they're not in the New York Philharmonic or the Metropolitan Opera.'
The second half of the concert will be Berlioz's Symphonie Fantastique, a psychedelic symphony Leonard Bernstein once described as, "You take a trip, you wind up screaming at your own funeral."
Starting a new classical ensemble is no easy task, but PONY's determination to push classical music into the present by appealing to current and future generations of music lovers positions it among the most progressive modern orchestras. How do you get younger audience members into the seats when US orchestra ticket sales have declined at an average annual rate of 2.8 percent, according to the League of American Orchestras? How do you improve the typical symphony performance? How do you make a composition that was written in the 19th century exciting and innovative in 2016?
What if the average classical concert experience wasn't just about listening to the music?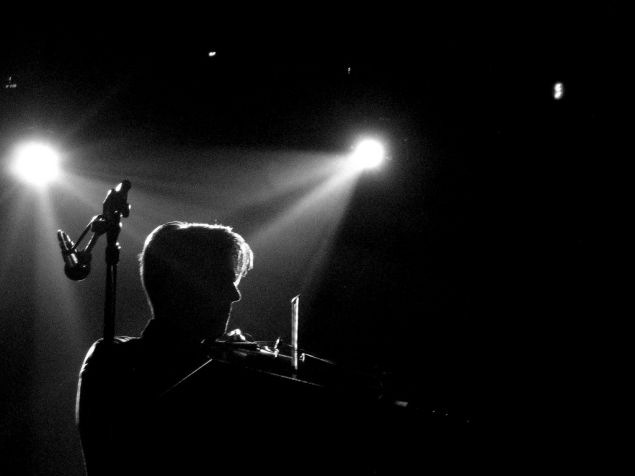 "Our idea was that the visual should grow out of the music first," Titcomb said. "What we're hoping is if we can get some younger crowd in there that they'll be able to somehow make that connection better."
A production director for over 30 original productions, including a previous Hand in Hand production of Carmina Burana, full-length films shot by Joachim Schamberger will accompany each piece, projected in 4K, played as a backdrop to the symphonies. Updating the technical aspects of a classical performance, program notes and English translations of the music will also be displayed on screen. Drone cameras and robo cameras will incorporate footage from the concerts into real-time, including close-ups of the musicians for the audience members even in the very back, and moving spotlights and projected theatrical lighting, all cued to music, allowing for what PONY describes as "a multi-sensory experience."
"This kind of immersion is definitely a necessity to bring classical music into the future," Yamada said. "The films also aim to connect the audience members to the music, by highlighting key imagery and story moments throughout the symphony. We are using technology to enhance the classical music experience, not distract from it."
For the 1,100 seats sold for the concerts, tickets start at just $5. Making it affordable was key to PONY, especially considering the expensive barrier to entry at many classical concerts (tickets for the price New York Phil's performance next month of Mahler's Symphony No. 9, for example, start at $29) and the city's other musical attractions can run into the several hundreds (here's lookin' at you, Hamilton).
'We wanted to move past traditional notions of classical music, bridge cultural divides and change perceptions of the genre.'
"We have to avoid keeping it as an elitist thing," Titcomb said. "Certainly the City Ballet and the Philharmonic and the Met need to be there and need to do the highest quality work, but there has to be something more to that out there, maybe even to feed that."
It's not just about providing more opportunities to the audience members and to get them in the seats in the theatre—you also have to spark interest and encourage up-and-coming musicians to want to be on the stage.
"Things are so tight now. A lot of these really talented kids are coming out of the conservatories and if they don't get one of the main jobs, there's not a whole lot for them. We're trying to show them that there is a way forward in New York, even if they're not in the New York Philharmonic or the Metropolitan Opera.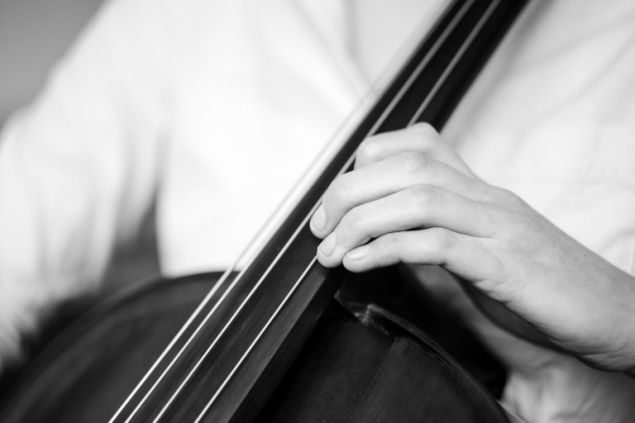 "We're really trying to be diverse both ethnically and generationally, so we're trying to break new boundaries in a lot of different ways."
Once the openers wrap up, PONY will discuss what comes next. Unlike most of its contemporaries, PONY does not currently intend to have a set season in place; instead the group works project to project, assessing needs from audience reaction.
"We're gonna get feedback from the people we've invited to these concerts, as well the ticket-buying public that will come, and we'll see," Titcomb said. "We'll adjust and we'll try new things as well if we think that there's a better way to go."
While there are no set calendar dates, Yamada and Titcomb have their eyes set on a future tour in Japan and China—they're aiming for this fall or next spring—and a more bare-bones, digitally driven version of Madame Butterfly. They'll also continue an ongoing collaboration Hand in Hand and with Andrea Bocelli, who they back at his Madison Square Garden concerts every winter.
Of coure, the future of PONY will depend in part on the future of classical music; however, the industry itself may not need much of a redesign as long as we put some focus back into the starting point.
"It has to really have this foundation that connects to all different kinds of people and hopefully through the experience of performing themselves and that's why they're drawn to it," Leonard said. "If we say we're just trying to sell something that people can't relate to, then we're done. I think projects like this will really open up the doors for people."
PONY performs at the Rose Theater at Lincoln Center on March 29 and March 30.