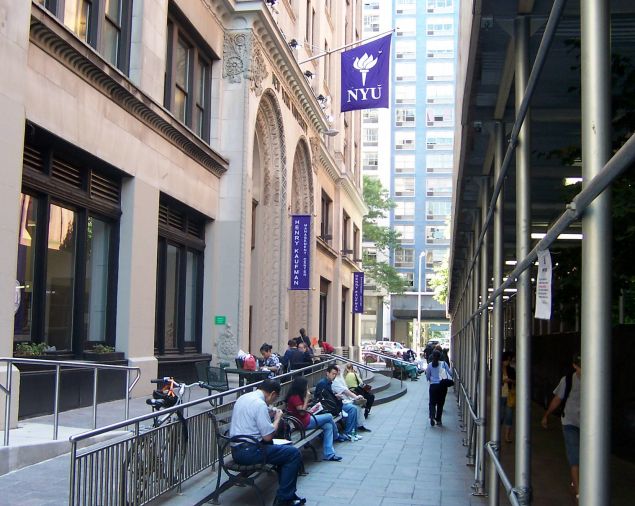 $66,640.
That is New York University's total estimated cost for "direct expenses," which are tuition, mandatory fees and room and board. Factor in New York City's cost of living, 68.8% higher than the national average as calculated by personal finance company Smartasset, and it's easy to see why many students are struggling with financials, or have even dropped out.
Now university president Andrew Hamilton, who took over in January, is moving aggressively to address the cost concerns. In an email sent to the NYU community yesterday, he announced that the minimum wage for undergraduate student workers would be raised to $15 an hour, phased in by the 2018-19 academic year.
Touting recent increases in student grants and scholarships, Mr. Hamilton declared in the email that "Work Study […] is another important way that students help pay for college, and also pay for the experiences that accompany a college education."
The move follows recent announcements that a steering committee and working group were being set up to explore affordability, and that total cost of attendance would only be increased by 2.0% for the 2016-17 year through initiatives like freezing on-campus housing costs.
Hannah Fullerton is an NYU sophomore and organizer with the Student Labor and Action Movement, or SLAM, which has been pushing for the $15 minimum for about a year. She is also an admissions ambassador for the university, and while she declined to discuss her wage specifically, she said it was "under $15."
"Our original campaign had been to combat student debt at NYU, but we saw $15 for student workers as a crucial effort […] We see this in a larger picture of what it means to have an affordable university," she said, adding that SLAM had been meeting with members of the administration to discuss the matter before the arrival of Mr. Hamilton.
Even so, SLAM was taken by surprise by the announcement. "We were pushing NYU to [raise the wage] before it is state-mandated. Now, NYU's endorsement of $15 is a great endorsement," Ms. Fullerton said.
University spokesman John Beckman told the Observer that the issue "has been under consideration for some months." He said the number of student workers at NYU varies, but is now around 8,000.
According to Mr. Beckman, Mr. Hamilton has spent his first weeks in office "listening to members of the NYU community, and with students, the issue of student pay—as part of a broader conversation about affordability—had come up repeatedly."
The increase will be gradual, starting at $12/hour for the 2016-17 school year,  and then increasing to $13.50/hr for 2017-18 and the full $15/hr by 2018-19.