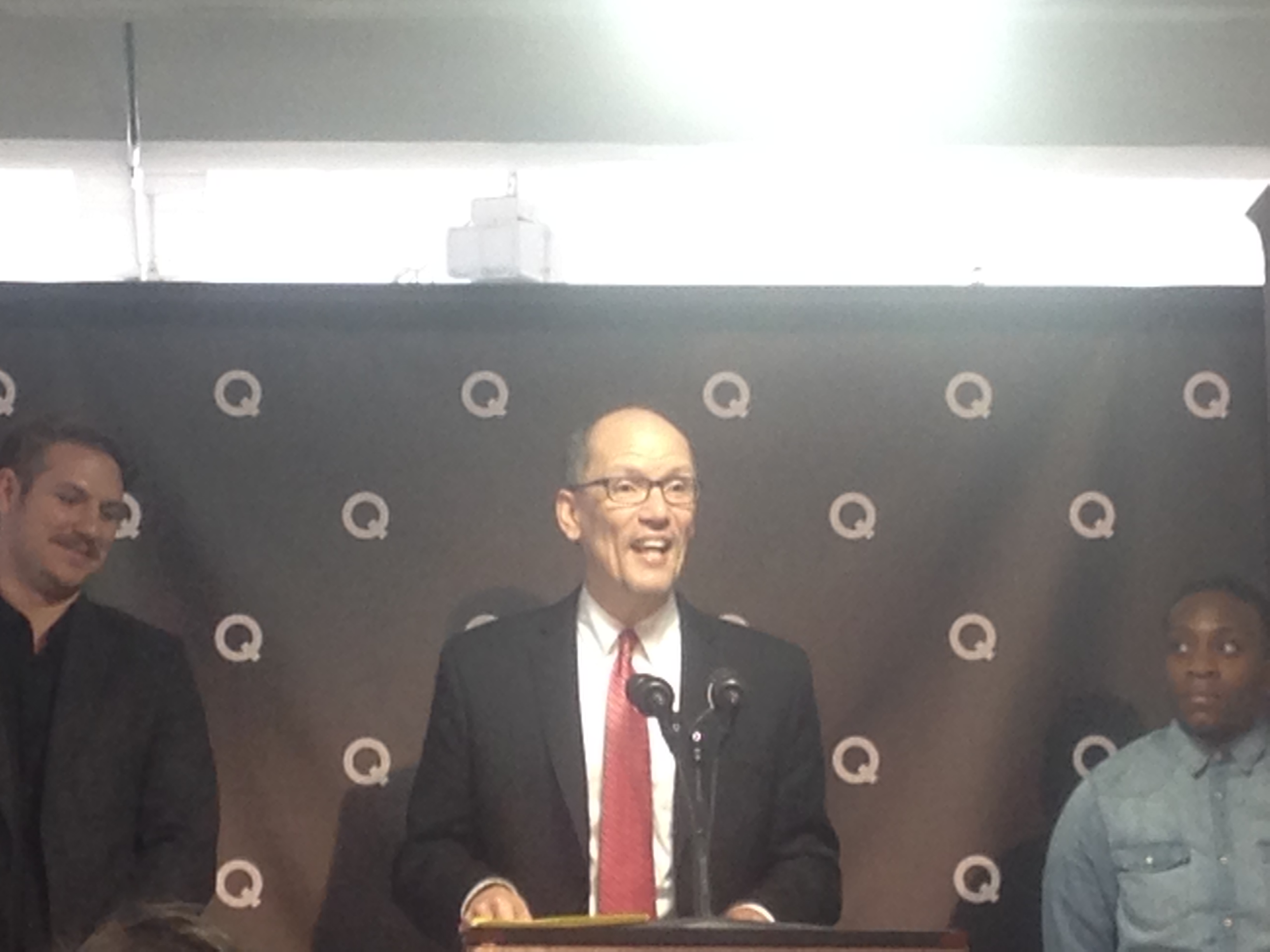 Department of Labor Secretary Thomas Perez—seen as a potential Democratic vice presidential candidate—admitted "understandable angst" about the economy remained at the end of the Obama administration, but ripped into Republican economic proposals and a candidate whose name "rhymes with 'dump.'"
Speaking at the headquarters of office cleaning company Managed by Q, Mr. Perez argued President Barack Obama's policies had brought about economic growth, fewer applications for unemployment benefits and "shared prosperity." The secretary praised practitioners of "conscious capitalism" like Managed by Q and Shake Shack that provide above-minimum wages and retirement packages to all employees, insisting they disproved the "false choice" between good benefits and profits.
"I had oversight hearings this week, and I kept hearing from people 'you can't pay people overtime, it'll be the end of the world as we know it!' We've heard from candidates for president that, you know what, having a low minimum wage isn't a bad thing for this country," he said. "That's not the America that we want. That's not the America that our Founding Fathers envisioned. We can do better."
But the administration official acknowledged that not all people had seen their standard of living improve over the past eight years.
"We're making progress, but there is undeniable unfinished business. There's angst out there, and it's understandable angst," he said, promising to use his remaining time at the Department of Labor to try to assist as many people as he could. "In the 309 days I have left till the weekend, we're making sure we don't only count the days, but make every day count."
But Mr. Perez remained coy about whether he would be willing to postpone his "weekend" to run for and serve as vice president—telling the Observer his "focus" was on traveling the country and meeting with struggling and succeeding Americans.
"That's what we're all about, expanding opportunity, at the Department of Labor, and that's what I'm going to do," he said.
Still, he tore into the tax-slashing, laissez-faire platform of the Republican Party, which he asserted only benefited the wealthy. He seemed to concede that widespread discontent with the current economy fueled the rise of GOP front-runner Donald Trump, but noted that the populist billionaire has repeatedly claimed wages in America are too high for the country to compete internationally.
"I understand the angst, and Donald Trump and others tap into that angst. The question that's presented is 'what are you going to do about it?'" he said, alluding to the efforts of union UNITE HERE to organize the candidate's casinos in Las Vegas. "Your remedy is the same trickle-down economics that got us into this mess, back in 2001."
"That's another candidate, who will go unnamed. Rhymes with 'dump,'" he said.
Disclosure: Donald Trump is the father-in-law of Jared Kushner, the publisher of Observer Media.