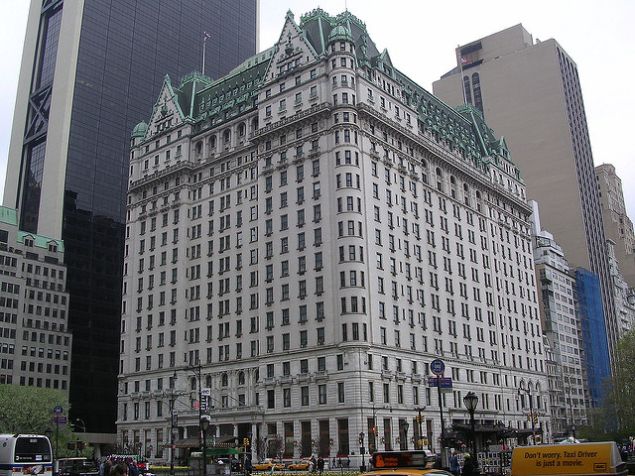 Will the storied Plaza Hotel hit the auction block? One has been scheduled for next month by Simon and David Ruben, the billionaire brothers who hold the mortgage, according to Bloomberg. A foreclosure auction could end the drama surrounding the hotel, the control of which has been in contention since Sahara India Pariwar honcho Subrata Roy was imprisoned in India in early 2014 for defrauding investors.
Not all siblings want to share an apartment, but many do want to live close to one another, The New York Times reports.
How much has New York changed since the 1930s? The Wall Street Journal reshot some of the classic shots from "Changing New York" to see.
What hasn't changed much is the lack of public bathrooms. The New York Times notes that finding a place to pee when out and about. A decade ago, they add, 20 public toilets were assembled in Queens, today, only four have made it out. "The natives have mapped out the facilities, like rock climbers knowing where to drive their anchors. There were, however, nearly 57 million tourists throughout 2014, many of them not used to our ways."
Real estate developer Cape Advisors has secured loans totaling $84 million from Bank of the Ozarks and Terra Capital Partners to erect a 12-story condo at 30 Warren Street in Tribeca, Crain's reports. Construction loans have become fewer and further between, they note, as banks are wary of the glut of luxury condos currently on the market.
The de Blasio administration is winding down non-profit Campaign for One New York, according to The Wall Street Journal—in anticipation of next year's re-election campaign. The non-profit has drawn scrutiny for taking "unlimited contributions from real-estate executives, lobbyists, labor unions and others with business in front of the city. Several groups have given $100,000 or more, including the United Federation of Teachers and 1199SEIU, a prominent health-care labor union."
The dystopian future is here: a bright yellow driverless Corvette ran over a woman on a Midtown sidewalk after its owning left it idling and accidentally hit the automatic starter on his keys, Gothamist reports.