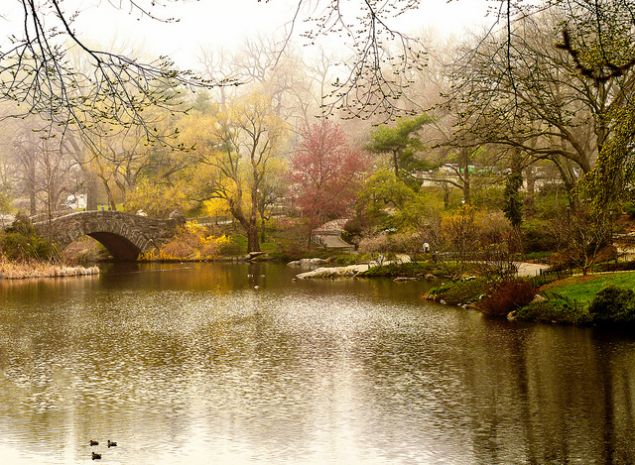 The Port Authority voted yesterday to move forward with the overhaul of LaGuardia and Newark airports, and to build a central bus terminal in Midtown Manhattan, according to The New York Times. "What you witnessed today is the most important board meeting in Port Authority history," Patrick J. Foye, the authority's executive director, told The Times. "Mr. Foye said he thought it represented 'the single largest allocation of capital" by the authority in one day.' "
Please no! ChiBeCa is not a place. Just like Rambo was not a place. Or MiSo. Or ProCro. You can just call it by the border between Chinatown and Tribeca without attempting a portmanteau for a neighborhood that is very hot right now, we hear in Tribeca Citizen. Though for the love of god let Gothamist be the last thing you—we—read on ChiBeCa. A couple with a hankering for Manhattan decides they can stomach sharing a studio, though they have an astoundingly high budget of $3,000 to $3,500 for one, in this week's New York Times hunt column.
Midtown office buildings are trimming rents and offering incentives to brokers in order to retain and secure tenants fleeing to hipper, cheaper locales, The New York Times reports. "The landlords got too piggy, and the tenants are starting to flee," Robert Bielsky, the chairman of Manhattan Commercial Realty, a tenant-focused commercial brokerage, told The Times.
Manhattan Assemblyman Robert Rodriguez has introduced a bill in Albany that would implement Gridlock Sam's comprehensive plan to reduce traffic congestion and rejigger the city's toll system, Crain's reports. "Money would be collected using digital-recording technology so drivers would not have to slow down to pay. Power to set toll prices would rest with the Metropolitan Transportation Authority, and new tolls could be adjusted to provide off-peak discounts." Madonna has apparently been illegally hogging parking spaces outside of her Upper East Side mega-mansion by peppering the street with "tenant parking only" signs, TMZ reports. They also call foul on the curb she painted yellow and embossed with "no parking" warnings, but it looks like it may well be a garage entrance—though perhaps an unauthorized one. Should 1,000-foot high glass walls surround Central Park? The idea sounds pretty awful, but it won top honors at an international skyscraper design competition, Curbed reports. Tribeca's Raccoon Lodge is one of the many Warren Street businesses getting pushed out to make way for a luxury condo, but while awaiting the wrecking ball it's still quietly serving drinks, DNAinfo reports. It's Friday, so let's all of us go to a dive bar, where you can have another for less than $10. Gothamist has a good round-up of places where shots and PBRs used to be $3, but have recently gone up to $4.