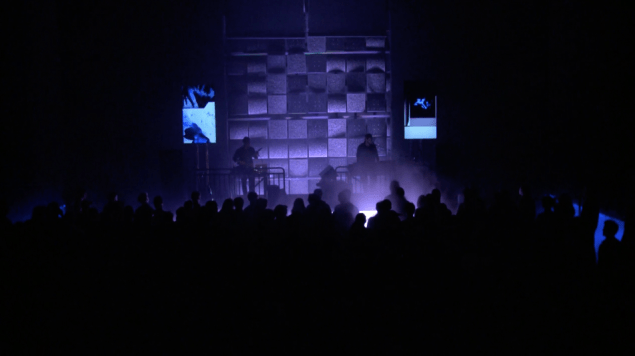 A borderline overflow crowd packed Warsaw last night for an all-local bill of the black metal outfit Liturgy and electronic vision seeker Oneohtrix Point Never. The audience remained stable for both parts of the unlikely-on-paper pairing, and one separated by an unusually long gap of 45 minutes. That patient loyalty spoke to the protean acts' journeys beyond genre boundaries and the night's palpable air of sonic unpredictability.
Oneohtrix Point Never is Daniel Lopatin, 33, a Pratt alumnus who also releases music as one half of the synthpop act Ford & Lopatin. Lopatin subverts the altar ego marketing game on Twitter and a network of GeoCities-era websites. Oneohtrix Point Never is the somber counterpunch to Ford & Lopatin's cheery, though tongue-in-cheek, homage to the soundtracks of John Hughes films.
Oneohtrix last year released Garden of Delete, his second LP on England's Warp imprint, introducing a slightly more accessible sound that's still not even close to ready for radio dials. He led off the set with that album's "I Bite Through It", a cut whose anxious seesaw from elegiac jazz guitar (courtesy last night of Nate Boyce) to noise metal stirred the fans of Oneohtrix's early studies in drone and the Liturgy headbangers who stuck around. Then came the downcast arpeggio of "Mutant Standard", an eight-minute track with brief echoes of Burial that soared to a euphoric, synth-laced peak before dissipating into an ambient muddle.
The intro track to Garden of Delete followed. Laying the ominous ground for a winking concept album about Lopatin and a pubescent extraterrestrial blogger named Ezra, it includes the teen alien saying, "It's good to be back home again." Yet Oneohtrix is more interested in disorientation. And he achieved it in the latter half of the set as a strobe light went into overdrive. And a visual accompaniment suggesting The Simpsons opening credits by way of Matthew Barney lopped on and on.
"Sticky Drama", a flirtation with dubstep and the closest this artist has to a big room banger, roused the audience, which then settled in for more abstracted early cuts and the futuristic haunted house stylings of "Freaky Eyes". No one felt quite at home again with music that glanced back at electronic references while sprinting forward. Glitching into the future, reset, delete.