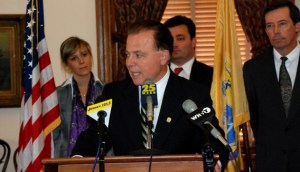 Senator Joe Pennachio (R-26) is lashing out at the state's Republican chairmen for what he called their shortsighted opposition to Donald Trump. The fight over a coveted national commiteewoman seat has just begun now that Christie allies see an opening for an assault on incumbent National Committeewoman Virginia "Ginny" Haines of Ocean County, and ally Republican Chairman George Gilmore, and further shake-ups in the state's delegation of Republican National Committee members are possible.
In a statement, Pennachio called for the state party to accept the groundswell of support for Trump as a sign that Republicans want a more democratic primary system:
For years the Republican faithful has been guided by 'establishment professionals' in our party. Through their guidance we managed to lose the last two presidential elections. Over their objections and criticism, and with the help of a coalition of Tea Party, conservative and activist Republicans, 'we the people' managed to take back the House, and then the Senate. The party's 'established leaders' then saw fit to blame the very people that gave them a majority in the first place, calling them extremist and road blocks to their weak legislative efforts.
Never mind that I am an elected official for eighteen years. I was never asked my thoughts what is or isn't good for the party. Likewise I don't want anyone to presume to tell me what is or isn't good for the party. There have been countless times when I had to hold my nose and vote for 'establishment candidates.' To be told now that my choice and the choice of those people who have made Donald Trump the leading candidate is not acceptable, for our Republican Party shows an elitism and political pretension which I find offensive.
How little faith the leaders in our party have in the judgement of the people. Blinded by their arrogance they would forgo the remaining primaries and coronate their own standard bearer for our own good. It does not work that way. The party's intelligentsia had the same opportunity to run their own sacred candidate in the primaries. My humble message to those leaders who are smarter than I, be careful how you tread on 'we the people.' Does the word 'Bull Moose' mean anything to you?