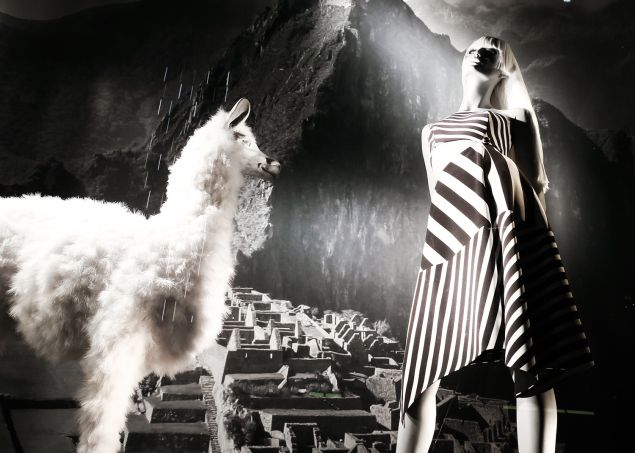 "Vicuña" and "alpaca" are buzzwords at Bergdorf Goodman, as the storied Fifth Avenue department store celebrates all things Peruvian.
Images of Machu Picchu—the mountaintop citadel once publicized as "the lost city of the Incas," inspiring a thousand B-movies—serve as a backdrop in three of its windows, featuring labels using Peruvian textiles in their spring collections, including Thierry Mugler, Simone Rocha, Proenza Schouler and more.
And last week, the BG Restaurant—a seventh-floor society redoubt, which, with its Central Park views, tables packed with Chanel-jacketed grand dames and peacock-flecked wallpaper, always feels a bit like visiting the inside of Truman Capote's head—dedicated its menu to Peruvian fare, including ceviche, quinoa and lúcuma, a native fruit which resembles an avocado.
The Observer visited for the launch of BG Magazine's spring issue, which also has a Peru theme, and contains 45 pages of fashion photography shot there.
Guests included Bergdorf's legendary fashion whisperer and SVP, Linda Fargo; the Colombian photographer, Ruven Afanador; Edward Bess of the eponymous makeup line; the Mexican-born publicist and champion of Latin fashion, Gabriel Rivera-Barraza; and designer Adriana Cachay—one half of a Peruvian label called Ayni.
"In Peru, a man has to prove his manhood by knitting a chullo," said Ms. Cachay, referring to a distinctive kind of woolen cap with poofy pigtails, which originated in the Andes but is now worn by young people the world over. "It has to be so perfectly constructed that you can carry water in it."
Vicuña and alpaca—despite sounding like the names of feuding rich women on The Real Housewives of Lima—are in fact native South American camelids, related to the llama and prized for their hair.
Ms. Cachay was wearing, from her own range, a sleeveless alpaca fur over an alpaca-and-silk turtleneck and a leather skirt.
"She's always wanted to have an alpaca for herself," said her publicist, Kate Mack. "But she's steered clear because they have a habit of spitting in your face."
Also making the rounds was the director of Peru's Trade Commission in New York, Conrado Falco.
"Bergdorf sells over 40 things that are made in Peru," he said, citing products by designers like Elie Tahari, Ralph Lauren, ATM and rag & bone, many of which were displayed on mannequins around the restaurant. "I found a nice Loro Piana jacket for men, made from vicuña, and the piece cost $26,000!"
As for Mr. Falco's own relationship with knitting and masculinity, he was forced to admit:
"I did not make a chullo. But, I might have made some unusable scarf while I was very young."