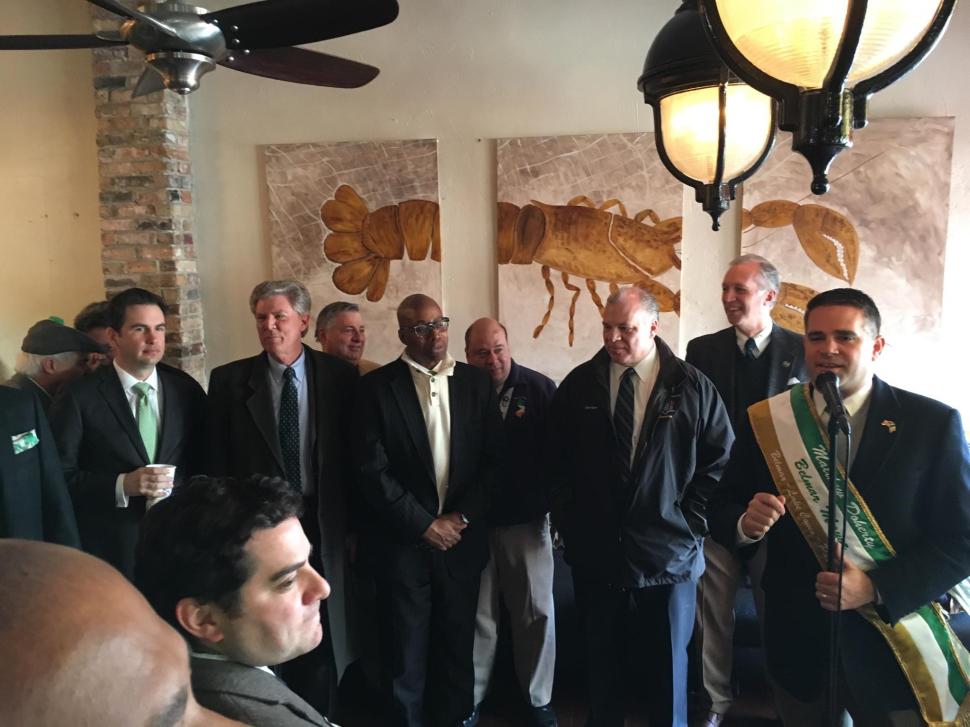 It was the nest of times, it was the thirst of times, with apologies to Charles Dickens, as the parental-minded Gov. Chris Christie flapped home to feed those gaping baby birds of the New Jersey Press Corps, while those Democrats who would be his successor increasingly craved political leverage ahead of the next statewide contest.
To those cynically digesting statewide insiders, the governor's endorsement of billionaire real estate tycoon Donald Trump signaled his eagerness to prove ideological consistency and firmness in the face of those who sought evidence of the guv's flip-flopping. Like Trump, Christie had divided the world into winners and losers; and while he might be closer in the most pragmatic of political terms to someone like Mitt Romney, Romney was a political loser. Trump was a winner. Meg Whitman was a political loser. Trump was a winner. Marco Rubio, ordained by the media as the rightful, energetic and youthful heir to Obama, was a winner until Christie dismembered him and rendered him a loser, while Trump was a winner. Banning Muslims from America? It was a minor policy point compared to the more fundamental assessment of whether one was a winner (Trump) or a loser (Jon Corzine).
Policy versus ontology. Who's going to win that fight? But Christie was not a deep thinker, an Essex insider reminded PolitickerNJ over coffee recently. The source, by contrast, cited Steve Adubato, Sr. as the state's truly towering and Faustian tragic hero: a gambling deep sea diver in the underworld of politics who invariably came up finally brandishing the public servant card. Christie was a pale imitation, the source insisted, whose broad-stroking and bombastic public self reflected an inability to transmit the same gravity that alone belonged to old North Ward master Adubato at his best. "Steve's a much more complex animal than Christie," the source opined. Boiled down to his essential political parts, Christie's politics was not about creating schools and social services for the elderly. He wasn't about exerting political power to protect the most vulnerable. Unlike Adubato. "You used a car to get here, didn't you?" the boss used to say. "A car is an imperfect conveyance, but you rely on it in order to get where you're going. I drive politics. I need politics to get where I'm going. Don't condemn because my mode of travel is less than ideal, or because I know how to drive."
To the most cynical observing politicos, Christie's Trump endorsement was hardly the equivalent, for example, of Adubato backing Ken Gibson over Hugh Addonizio in the 1970 Newark Mayor's election, a political exertion that prompted someone to fire bullets through the living room window of the Adubato home. This was not a shift of power from the Italians to the Blacks. The Christie endorsement was merely a play to power, according to the guv's stalwart critics: deflated power attempting to augment itself with a boost of power. It revealed more than anything Christie's passion for projecting his own narrative of political self-preservation and pugnacious brand – not party – building onto the national stage as that most forward-leaning member of an otherwise zombie-fied and malfunctioning GOP establishment.
While that was going on and a typically loquacious Christie dealt with it by wearing out the press, his would-be successors fell over themselves trying to line up their best arguments for why they should occupy that crumbling, paint-peeling Princeton edifice otherwise known as Drumthwacket.
This morning they all headed down (or up) to Belmar, for the town's annual St. Patrick's Day Parade. Most, if not all, of them were there, each with a (relatively) fresh argument for why he should be The Man. Senate President Steve Sweeney (D-3) (he overrode the governor's presidential primary time veto on a critical public safety gun bill); Jersey City Mayor Steven Fulop (he's gnawing at Sweeney on the minimum wage bill, insisting on $15 per hour by 2021 not 2024, and giving city workers a raise to $15 per hour in line with what he sees as a statewide baseline); former U.S. Ambassador to Germany Phil Murphy (he led an online petition telling the indefatigably out-of-state barnstorming Christie to either chain himself to New Jersey if that's what it takes for him to resist the surrogate's siren song of the 2016 presidential trail, or resign); and Assemblyman John Wisniewski (D-19) (whose endorsement of upstart Senator Bernie Sanders proved his willingness to run for governor as a people-power progressive).
Himself a Democratic candidate for Monmouth County Freeholder and hopeful of Trump-at-the-top-of-the-ticket-torment for down-ballot Republicans, Belmar Mayor Matt Doherty – never far from rising star Monmouth County Democratic Chairman Vin Gopal, introduced the elbowing gubernatorial hopefuls, projecting St. Pat's power persuasion, as if Monmouth in the context of statewide politics is the new Florida for Democrats. The GOP, though, sees the county more as South Carolina at best for Dems.
"LD11 [where Republican assembly incumbents lost last year] is not indicative of the entire county," Republican attorney Brian Nelson told PolitickerNJ on the Chamber train last week. Amid mayhem and hand-wringing in some quarters of the party, a few members of the Monmouth GOP even see a chance for Trump, if indeed he does become the GOP nominee for prez, to play well with those strip mall and McMansion minions who have become the next generation inheritors of old horse farm elites. But it's difficult to picture state Senator Joe Kyrillos (R-13), once the Peter Lawford of Christie's Rat Pack inner circle, trying to publicly bench press the Trump Party brand with anything other than sheer agony. Kyrillos, after all, was twice the statewide director for Mitt Romney's New Jersey campaigns (in 2008 and 2012), and Romney has prided himself on diving in front of the oncoming Trump Train.
In any event, Dems made increasingly aggressive 2017 moves. East Orange Mayor Lester Taylor had a fundraising ball last night in Parsippany and everyone attended, including the maestro of Essex County Dem politics, Chairman Leroy Jones. Fastened to his godfather Jones, the elegant and eminently competent Taylor could be an LG chess piece for Essex next year in a Democratic Primary. Or state Senator M. Teresa Ruiz (D-29) could find herself in that role, for either senate president or LG. It was hard to miss the import of Taylor last night, however, radiantly on display.
Briefly on the subject of senate president and who is likely to succeed Sweeney in that job, an insider sat on a stool on Friday afternoon with PolitickerNJ and acknowledged the inclusion in Sweeney's 2017 gubernatorial strategy of a play to his support in the caucus. The senate president has done a particularly effective job of building goodwill in his own caucus (and across the aisle, for that matter). Many Democratic senators are expected to back Sweeney – in part because they simply like him and appreciate his sincerity in constructing real political alliances, but also partly because they stand to gain if Sweeney moves on and South Jersey deal makes with the other counties for caucus leadership roles. That game has insiders on one concluding that state Senator Nick Scutari (D-22) will be the next senate president when Sweeney hangs after hours in Union County; changing their bets to state Senator Paul Sarlo (D-36) when Sweeney spends time in Bergen County; then affirming that his successor must absolutely be state Senator Bob Smith (D-17) when Sweeney surfaces in Middlesex. One note on the Sweeney-Sarlo relationship. Remember, it was Sweeney back in 2007 who bumped then-Senate President Dick Codey's (D-27) pick of Sarlo for senate majority leader. The two senator started on antagonistic footing, but used that early collision to build one of the most easily observable enduring alliances in the senate caucus. While praising Sweeney, the insider, incidentally, dismissed his statewide bully pulpit strategy as the second coming of John Russo's failed 1985 gubernatorial bid.
More Belmar-inspired bar notes:
Buzz in political circles includes now the possibility of not one but two vacant U.S. Senate seats. Under indictment, U.S. Senator Bob Menendez (D-N.J.) may at some point have to surrender his seat, or at least that's what several insiders see happening. His departure would create a north versus south cage match showdown between former U.S. Senator Bob Torricelli and U.S. Rep. Donald Norcross.
Increasingly though there's talk about the second seat opining in the event that Hillary Clinton – fast approaching 70 and now in an unforeseen dogfight with the millennial-loving Sanders – picks U.S. Senator Cory Booker as her running mate. African Americans stopped Clinton's bleeding in South Carolina, and if Barack Obama's doomed (and presumably for Democrats nobly martyred) choice for the U.S. Supreme Court is a Latino, look for Clinton to assign an African American running mate to her ticket, even better if he's young – to offset her age – and savvy with social media (an understatement when it comes to Booker, the self-professed Leo Tolstoy of the Twittersphere).
Now South Jersey boss George Norcross III has been saying for years that if Booker landed in the middle of the 2017 gubernatorial sand pit, he'd "clear the field." But if Clinton picks him for VP and they win, that conceivably triggers a second U.S. Senate battle. Will one of the jousting gubernatorial candidates settle for senator? Although arguably best suited of the group for foreign affairs (he's worked for Goldman Sachs in China and was an ambassador in Germany), Murphy has been telling people for some time that he has zero interest in a senate seat. For his part, Sweeney told a fellow caucus member he'd be curious about a chance to go to the U.S. Senate, but that was years ago. The state senate president appears wholly focused now on guv. Fulop? Every sign points toward Trenton.
Speaking of Trenton, Christie, to reiterate, insisted he's here to stay, at least until Tuesday, when he intends to head out of here on vacation, he told reporters at his two-hour press conference last week, while in Belmar, they all headed out the door, the 2017 contenders, bundled up and some of them liquored up, bound for the hard street lined on either side with human barricades of barbarian flag wavers parallel to the Jersey Shore.
More immediately, two May nonpartisan contests began to take shape: in Paterson, where a council-rejected budget submitted by Mayor Jose Joey" Torres threatened to ignite anew a much-watched rivalry in Ward 6, where incumbent Councilman Andre Sayegh, who voted against the budget, must stare down challenger Al Abdel-aziz; and in Orange, where Democratic challenger Councilman Kerry Coley showed last week that he plans to hit incumbent Democratic Mayor Dwayne Warren where he feels he's most vulnerable: that 2013 cross-the-aisle endorsement of Republican Governor Christie, which looked like a great, Essex County Executive Joe DiVincenzo-appeasing idea at the time.