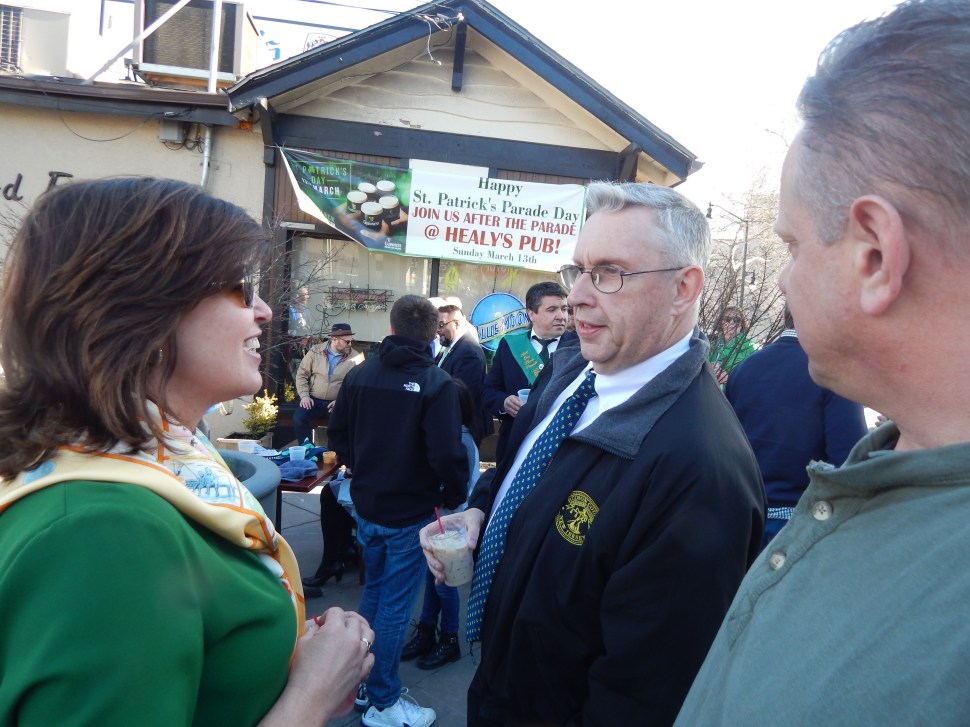 JERSEY CITY – The collision of alcoholic beverages and festive green colors on the street outside Healy's Tavern reminded PolitickerNJ of something an insider once said on the chamber train: "I feel like I wasted my time on this trip trying to connect with people too drunk to remember any of our interactions."
Was anyone going to remember those encounters this afternoon at this annual one block-long St. Patrick's Day parade?
There might be a summoning of recognition at some later date of a hand squeezing and releasing, a wink, a sensation of goodwill, a blown kiss, fuzzy face just barely coming into focus, or a bear hug. Maybe that was the reason those politicians running for office paid attention to the teetering, cross-eyed masses trying to stay upright amid blaring bagpipes.
There's always the visceral connection.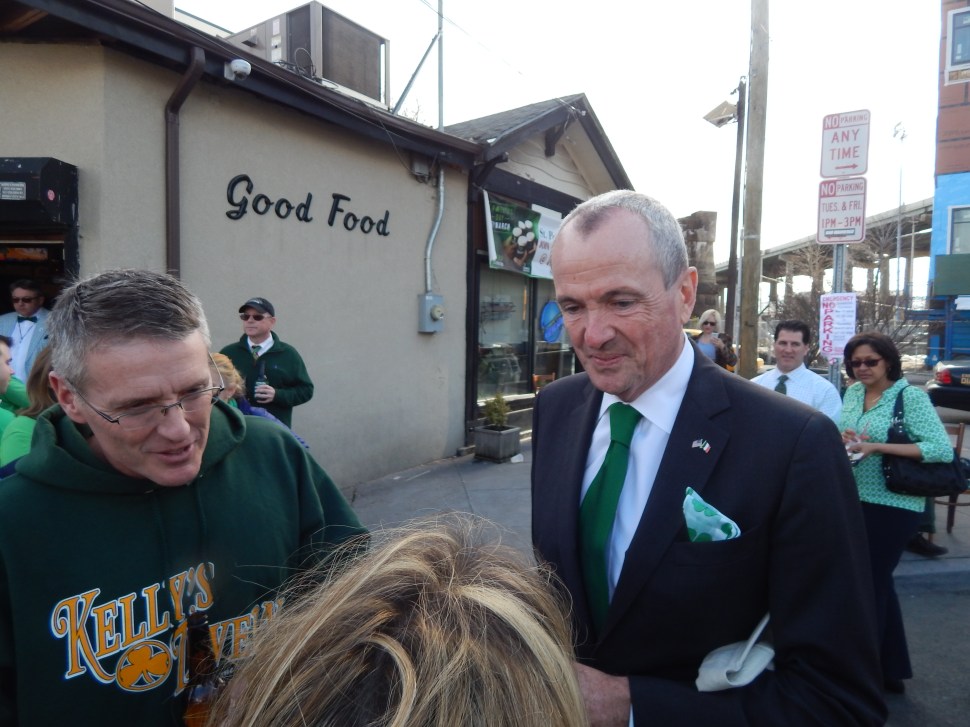 Significantly this year, former U.S. Ambassador to Germany Phil Murphy made an appearance at the parade, his presence duly noted by the loyalists of Jersey City Mayor Steven Fulop, who see Murphy as amusing interference: an electric hand shaking machine who still has little capacity to score a Democratic Party line. If Fulopites see themselves in a Monitor-Merrimac showdown with Senate President Steve Sweeney (D-3), Murphy is that irrelevantly highly-polished yacht piloted by Thurston Howell trying to insert itself into the action.
Murphy appeared to pay no mind to the prickly irritability his crunching hugs provoked in the vicinity of the parade, where the likes of Assemblyman Tom Giblin (D-34) lent a context of gravitas to the proceedings. Notably, Murphy hobnobbed with former Mayor Jerry Healy, that former executive deposed by Fulop.
The spillover from last night's state of the city address by Fulop included Healy's former corporation counsel, Bill Matsikoudis, a potential 2017 mayoral candidate. Former Governor James McGreevey – a staunch Fulop ally – was also present, in addition to Freeholder Bill O'Dea, Fulop operative Tommy Bertoli, and Jersey City Democratic Party Chairman Shawn Thomas-Sully.
Fulop stood on top of a Ram truck when the parade was over, a Ulysses S. Grant figurehead with sash flapping in the March breeze, overseeing the somewhat undisciplined but harmless exercise, as Murphy continued to kiss, hug and embrace everything in his path.
Fulopites in underground soundbites made the case that the former Goldman Sachs CEO is going nowhere fast, as Murphy's allies point to the support their candidate has from former U.S. Rep. Patrick Kennedy (D-RI). Murphy last night was in West Orange with Kennedy raising money for the Brendan Tevlin foundation. Mr. Tevlin was a young Seton Hall Prep Student, active in the Irish American Community in Essex, who was murdered last year.
Ultimately, though at this local crowd-pleaser, there was more talk about who will succeed Fulop as mayor than the dynamics of the unfolding gubernatorial contest. In addition to those names noted last night (Raj Mukherji, O'Dea and Council President Rolando Lavarro) and Matsikoudis, Councilman Michael Yun's name circulated. "He'll run," said a source, "and he should be taken seriously, too, because he has some good fundraising ties."
The bagpipes finally drowned out the conversation.