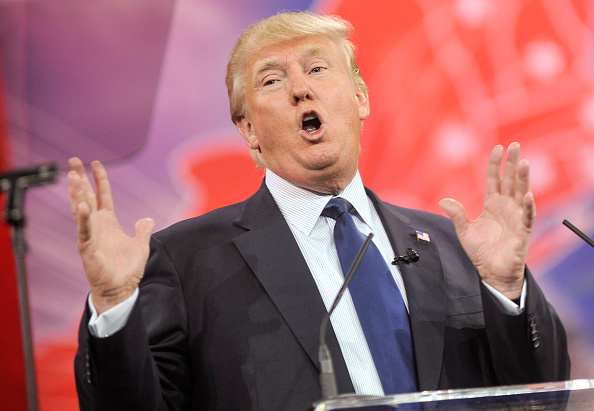 New Jersey Governor Chris Christie has endorsed businessman Donald Trump as his choice for President. His most recent elected Republican predecessor at the State House, former Governor Christine Todd Whitman, has said that she would rather vote for likely Democratic candidate Former Secretary of State Hillary Clinton than cast a ballot for Trump.
For many of New Jersey's Republican elected officials, it seems that neither Christie's decision or Whitman's decision is the way forward when looking at a Republican nomination that is likely to go to Trump. Instead, many are opting to stay mum about the upcoming presidential contest due to a lack of enthusiasm for Trump or his main competitor left in the race: Texas Senator Ted Cruz. While Ohio Governor John Kasich is also still in the mix, his lack of delegates to this point is making it more and more difficult for those who have not yet chosen a candidate (or whose candidate has dropped out) to back him.
According to Republican Assemblywoman Maria Rodriguez-Gregg (R-8), this presidential race has left her unimpressed.
"Currently, I am completely undecided," Rodriguez-Gregg said. "I obviously didn't want to be. I wanted to be excited about a candidate. I understand that no candidate will ever be 100 percent in line with my values but I can't say that I am at all enthusiastic about any candidate in the race right now."
When asked if she would vote for Trump if he was selected as the party's eventual nominee at the July Republican Convention, Rodriguez-Gregg said she is "leaning away" from the frontrunner as of now.
"Right now I don't support Trump or a Trump presidency or candidacy. I don't support him as our nominee," Rodriguez-Gregg said. "Right now I am leaning away from him."
Assemblywoman Holly Schepisi (R-39) has also said she has some concerns about the controversial statements that Trump has made on the campaign trail regarding groups like Muslims and Mexicans. Schepisi said she is still deciding what she will do and will reassess after the nominee has been chosen.
"I think until we have a definitive nominee, I am keeping my powder dry on this one," Schepisi said. "Do I have concerns about some of the statements and comments that have been made on the campaign trail? Absolutely. Do I have concerns about whether or not we are putting forward a candidate that can ultimately win in a general election? Yes. But, at this point I think it is premature. Until the process goes through and there is a definite number of delegates I think it is early for me to opine."
Schepisi also said that, she will consider supporting the eventual nominee provided that that person meets some criteria.
"I have historically supported our candidates in the party regardless of my own personal differing opinions," Schepisi said. "I will support our party so long as whoever our candidate is can provide me with a level of comfort that, as a president, they will represent all people and represent all people equally regardless of nationality, sexuality, gender or religion."
State Senator Sam Thompson (R-12) told PolitickerNJ that he was "totally committed to the Republican nominee in the general election" but declined to speak specifically in favor any of the three Republicans still left in the race.
When asked if he knew why the NJ GOP seemed to be so lukewarm about the presidential contest, Thompson said: "When we started out, we had 17 candidates out there and different people supported different candidates. Right now we are at three. Those 14 people all had support and when they dropped out it is not like there was immediate enthusiasm for someone else."
One Republican source who did not wish to be named told PolitickerNJ that the prospect of a Trump presidency has many in New Jersey's GOP "terrified."
"You have people like Whitman saying they are going to vote for Hillary instead of Trump," the source said. "But, it is hard to be a Republican and say that. Trump is not going to destroy the world. Even the president doesn't have unilateral power. And who knows? Maybe he will surround himself with good people and have a good presidency."
The lack of desire to back Trump can also be seen through the statements of Assembly Minority Leader Jon Bramnick. Politico noted that Bramnick—though he didn't name Trump—said this in January: "Politics has gone from the art of statesmanship to an arena of insults, ridicule and showmanship … Treating opponents with respect is no longer a cherished part of the American landscape, and that should be very troublesome to all of us." Then, after Christie endorsed Trump in late February, Bramnick flipped the script and said this to the New York Times: "I intend to support the governor's choice here, because Trump has the most nexus with New Jersey … He has golf courses here. He knows New Jersey pretty well. There's no real connection between the other candidates and New Jersey."
Republican Party county chairs in New Jersey also seem poised to back Trump despite earlier objections to his nomination.
The eventual Republican candidate for president needs 1,237 delegates to earn the nomination. To this point, Trump has 673, Cruz has 411 and Kasich has 143. Because the delegates are still so divided, there has been speculation that there will be no candidate entering the July convention with the required number of delegates for the nomination. If that were to happen, uncommitted delegates would choose a candidate to align themselves with. At that point, if no one still has the magic 1,237 needed, over half of delegates become free agents and the convention becomes "brokered."
With the possibility of a brokered convention looming, the anti-Trump sentiment and the lack of enthusiasm (as presented my many Republicans in New Jersey) could come in to play. Some are speculating that the party might elect the likes of Speaker of the House Paul Ryan as the nominee, despite his not having run in the primary. Other pundits are claiming that a third party candidate may swoop in and disrupt the system. Either way, predictions of a splintering Republican Party and a change to the party system that rules U.S. politics are abound.
If the election does last to the bitter end, New Jersey's June 7 primary might actually be much more important than usual. The state's 51 delegates (along with the 172 up for grabs in California and 80 in other states on the same day) might make or break whether or not a candidate enters the convention with the amount of delegates needed.
However, according to one Republican source, those votes might not make too much of a difference.
"If it comes down to it, I might just choose none of the above," the source said.