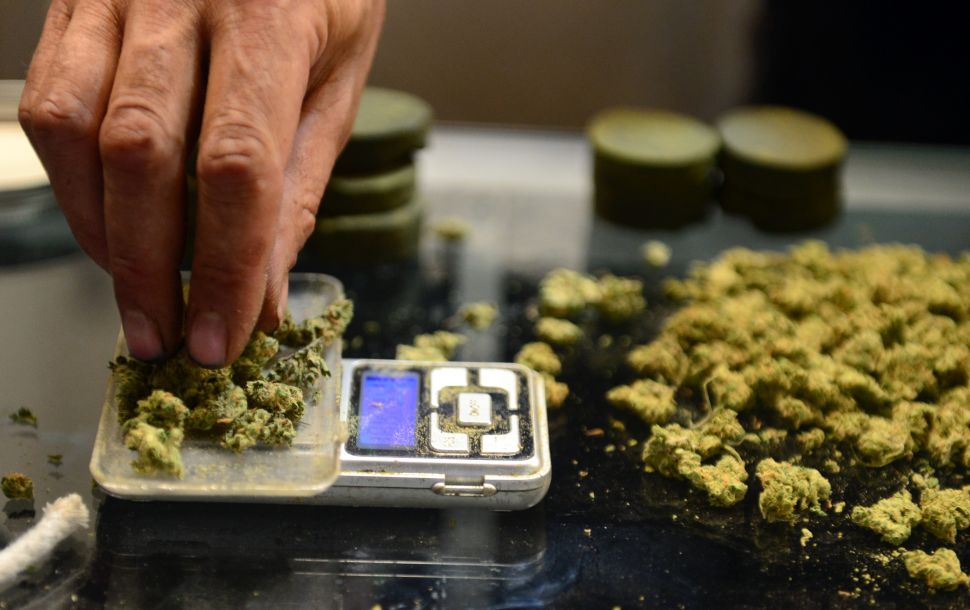 Whoopi Goldberg just announced that she has launched a new line of products specifically to help women with severe menstrual cramps, as Vanity Fair reported. Powered by pot, the new period painkillers include one of weed's munificent substances, cannabidiol (CBD), which should have the effect of easing pain without the euphoric effects. Potential customers just have to take Ms. Goldberg's word for it that her formulation is the right one to assist them with their specific problem.
It's the same quandary that many patients with prescriptions for medical marijuana face when they visit the dispensary, David Goldstein told the Observer by phone. Someone tells them that a certain pot-based product will help, but how can they know? Even if the drug has generally been shown to help other people with the same issue, what if your chemistry is a little different?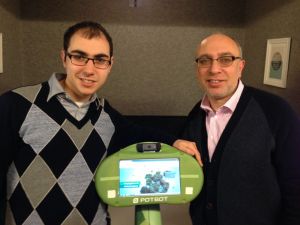 Mr. Goldstein is the founder of Potbotics, a startup helping physicians guide patients to the optimum medical marijuana for their specific condition. It also helps to determine later whether a given marijuana product is achieving its intended clinical outcome. The company's BrainBot uses brainwave analysis (or electroencephalography a.k.a.EEG]) to determine what a patient should look for in a specific strain.
"Essentially, EEG is not a one sized fits all application," Mr. Goldstein explained, though its analysis applies to a wide array of conditions. For ailments it has been found to work for, he said, "You can start seeing, 'Is there relief?'"
For example, if the doctors know how a patient's brain looks when they are under acute anxiety, they can observe whether treatments with more or less of different chemical compounds found in pot are more effective at bringing the patient back to the baseline, non-anxious state. "It's less, 'Is this strain the right strain for you' or 'Is that strain the right strain for you,'" Mr. Goldstein said. "It's more about looking at cannibinoid values. We see that as the main medicinal backbone of cannabis."
By "cannibinoid values," he's referring to the different active chemicals in marijuana. According to a white paper that Dr. H.J. Raza, chief medical officer at Potbotics, shared with the Observer, the company is optimizing to advise on six cannibinoids, including the aforementioned CBD and the much more famous tetrahydrocannabinol (THC). Each of the six help to achieve different clinical outcomes, individually and in combination.
A patient who wants to use medical marijuana to address symptoms of, for example, depression, ADHD or insomnia, would go to a physician's office and baseline readings would be taken with Potbotics' BrainBot EEG device. It's a piece of hardware the company has acquired in collaboration with MemoryMD, a hardware company that makes a device that collects brain wave data. After the initial baseline is taken, the physician would have the patient ingest some kind of medical marijuana, usually in the form of an edible or a vaporizer, and a second set of readings would be taken.
Using that data, the physician could tell the patient what sort of cannibinoid values that they should ask for at their dispensary. This empowers patients to find the strains that should work best for them at the dispensary.
"The cost to the patient really goes down, because they are able to identify and really target which medication actually works well for them," Dr. Raza said.
Most dispensaries already know the values for the products they sell, due to regulatory requirements in most states where medical marijuana is legal, Mr. Goldstein explained, but that doesn't necessarily mean they know the ideal spliff or brownie to recommend if a patient simply has a prescription for something.
The MemoryMD unit attaches 16 electrodes on the patient's head, measuring every lobe of the brain. It uses a technique called Quantitative EEG (qEEG), which allows the clinician to not only look at the specific reading from a particular lobe, but also to see how it relates to the entire brain. "It's a brain mapping activity which reflects immediate results on the brain activity from ingested medication," Dr. Raza explained.
For example, Dr. Raza described a principle that can only be evaluated when multiple parts of the brain are measured at the same time: synchrony, which measures how much different parts of the brain show comparable levels of activity, or coherence. Scientists know how much activity should be going on in one part of the brain if another part is active. Certain groups of neurons tend to fire together when people perform certain tasks. They also know what it means when relative activity levels are off. "It's a principle we use within the brain and it does identify a range of symptoms. If you were take a bell curve, the mid-line would be a normal  mind state," Dr. Raza said.
Hypersynchrony, too much coherence, can be a sign of ADHD or autism.
Poor synchrony can be a sign of conditions such as learning disorders or paranoia, he explained.
This data can also be compared to records of brains of people who are known not to suffer the same conditions as the client, so that the patient and doctor can potentially measure the degree to which use of medical marijuana is bringing them back to a normal state (though of course the ultimate arbiter is the severity of symptoms, as reported by the patient). PotBotics also has a network of clinical advisors on staff who can help doctors assess data collected from patients, using BrainBot.
Right now, BrainBot is only available in six doctor's offices, with 24 more units going out shortly. These pilot physicians aren't paying for the units, but once the product goes fully live, Mr. Goldstein says offices will pay $700 per month for the system and $100 to $200 for the disposal cap for each assessment. He says that this is easily covered by reimbursement rates for EEG treatments and, in fact, compares well to existing systems that can typically run from $12,000 to $18,000. 
Legal sales of cannabis hit $5.7 billion in 2015, up more than $1 billion from the prior year, according to The ArcView Group, a network of angel investors who invest in the legal marijuana industry. PotBotics has raised $3.5 million in convertible notes in its first round, according to Mr. Goldstein. 
 As Dr. Raza emphasized in our call, EEG is well established for assessing more traditional pharmaceuticals. The natural question then is: why limit BrainBot to assessing patients getting treated with pot. Why not open it up to all kinds of drugs? A part of the answer lies in Potbotics' larger business plan, which includes helping growers optimize strains for different treatments. The other part of the answer, though, lies in the fact that medical marijuana is broadly different from almost any other kind of treatment: it's a drug that no small number of patients are eager to take.