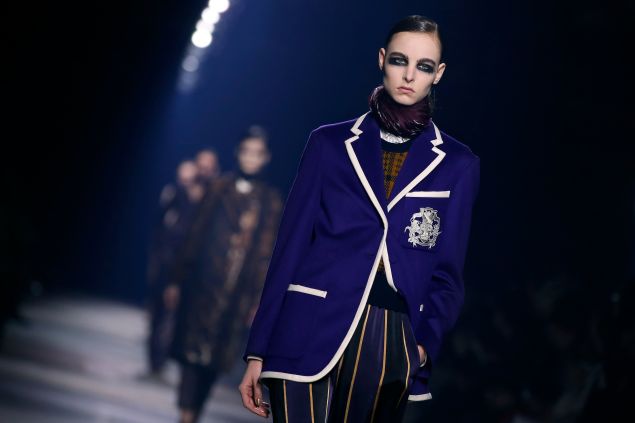 As a young child who was raised in the Northeast, I longed to be sent to boarding school. There was something romantic about living amongst fellow students in ancient buildings, while donning smart uniforms. I also adored the idea of sneaking out past curfew and slinking off into the woods, with nothing more than an intention to break rules, and a vodka-filled water bottle.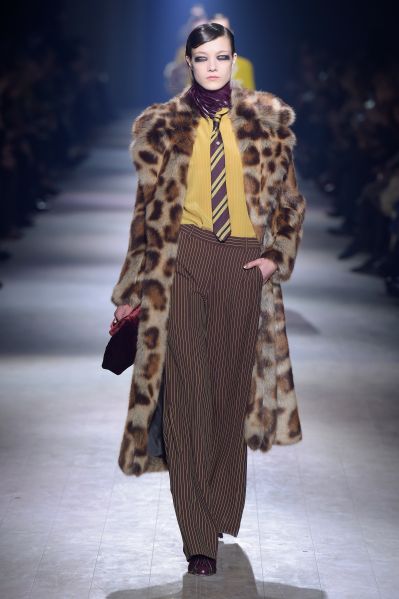 For me, that boarding school desire never came to fruition, but at least for Fall/Winter 2016, Dries Van Noten paid homage to my dream. His clothing look like they would be worn by bad girls at prep school. Yes, there were schoolboy blazers, emblazoned with crests, chunky sweater vests and striped ties in Gryffindor colors, but the designs extended beyond just gear for the classroom. Loose track pants with athletic stripes down the side were shown, as were a pair of silken pinstriped pajamas.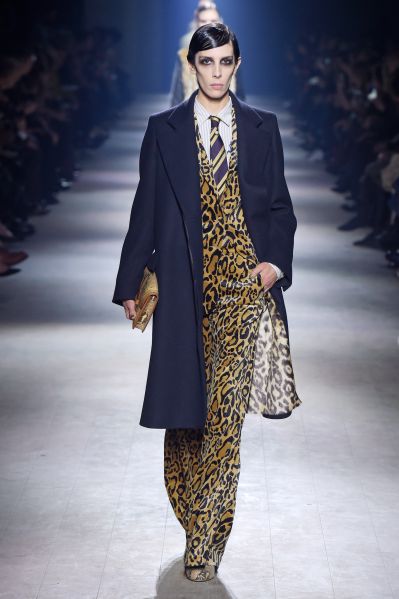 The Belgian-born designer wasn't all about the preppy gear either. He included a heavy dose of leopard print alongside the preppy stripes and crisp Oxford shirts. Model Jamie Bochert donned a full-on leopard print suit, layered underneath a proper navy jacket, which was lined in even more spots.
Other louche details included a liberal sprinkling of pearls on a pair of silk trousers and a shock of sparkle, thanks to green sequins that oozed from under the lapel of a suit jacket. Those same sequins were spun into a web that decorated décolletages and was layered over skirts. The entire range was filled with little luxurious details, as Mr. Van Noten is wont to do, each and every season.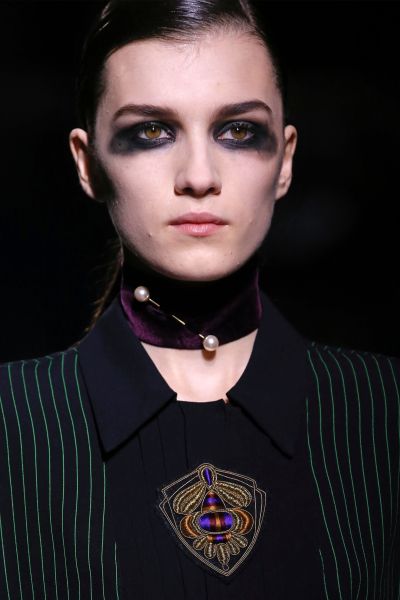 However, the crowning detail was dark, smudged eye makeup, which was inspired by Gill Button's paintings. The artist, who Mr. Van Noten discovered via Instagram, was commissioned to hand paint the invites sent out to the entire audience. It was just further proof that paying astute attention to details is this designer's strong suit.