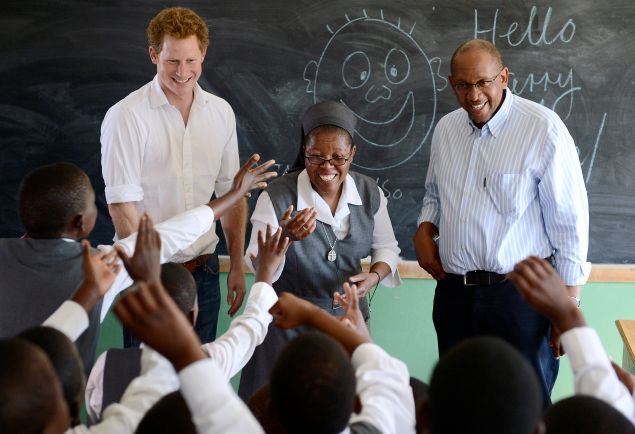 The globe-trotting Prince Harry is the penultimate jet-setter, making stops in Los Angeles, London and Nepal, where he plans on spending spring break. Now, Prince Harry has been spotted at Yale University. Unlike Gossip Girls' Blair Waldorf, it's a guarantee the prince would be accepted if he chose to matriculate at Yale Law School. (Which rumor has it he's considering.) Gossip also persists that Prince Harry wouldn't exactly be a law student without his family's influence, which could make passing the bar difficult. Despite the mixed messages, Yale students are abuzz with the excitement of a prince landing on campus. With Prince Harry's recent penchant for American women, a Yale degree could help him find a potential princess.
The Kensington Palace Instagram account has been decidedly mum on his latest rumored trip, while it usually promotes his travels with photos and official messages. They have shown him attending services at Westminster Abbey with the Duke and Duchess of Cambridge and presenting rugby captain Dylan Hartley with a prize after his victory. One can only hope the next Instagram images will be of Prince Harry carousing with coeds in New Haven; but it seems unlikely he'll have time to visit the states between official visits.
Prince Harry has been fundraising and volunteering with charities, but doesn't have a full-time job like many royals do. In the past, he was open about hating exams, so enrolling again might not make much sense, especially if he doesn't have to. But still, with a brother who seems to have multiple careers and a sister-in-law who became a guest editor for a day, along with volunteering and mothering her brood, there must be pressure to pursue a career.
While being a prince must be a time-consuming ordeal, these rumors could signal the start of a true job hunt for the wayward prince.