Batman is back! And this time there's something different about him…
Oh yeah, it's Ben "Boy oh boy, that was some Hollywood comeback" Affleck taking over the role after previous Bat guy Christian Bale's last performance in The Dark Knight Rises (2012).
This week sees the theatrical release of Batman v Superman: Dawn Of Justice starring the Oscar winner as Gotham's finest along with the UK's Henry Cavill reprising his role as the Man of Steel.
Batman has a long and fascinating cinematic journey since its first feature film debut in 1966—Ben Affleck will mark the eighth actor to don the cowl and cape. But who's the best Bat? Well, here's what we think.
But, as a side-bar, and before Bat aficionados take to the comments section to complain, we won't be looking at Batman and Batman and Robin from the 1940s. These were not feature-length but film serials comprising of 15 instalments (of usually just under 20 minutes). So apologies to fans, friends and family of those Batmans, Lewis Wilson and Robert Lowery .
7. George Clooney
Remember when George Clooney was going to be somebody? When he was going to be the next BIG thing?
http://www.youtube.com/watch?v=ORAGHEV890Y
Sadly his jump from television heartthrob, Dr. Doug Ross in long-running medical drama ER, took longer than expected and for a long time he was remembered as the man who killed Batman. Even Mr. Clooney admitted it.
While we would never want to accuse an actor of not taking a part seriously, Mr. Clooney yawned his way through through 1997's Batman & Robin with all his smug cock-headed charm, revealing he didn't have quite what it takes to convey the complex and disturbing role of the Gotham vigilante.
6. Val Kilmer
Poor Val Kilmer, he WAS somebody. But through poor choices—both in choice of roles and acting choices—the actor became somewhat of a doomed celeb.
We wouldn't want to pin the blame entirely at Mr. Kilmer's feet for his performance in 1995's Batman Forever—the gaudy production and luminescent direction from Joel Schumacher must be held accountable, not to mention being lumbered with tedious sidekick Robin. Still, Val isn't terrible. He handles Bruce Wayne with charm but is oddly pedestrian in the more action stylings of his alter ego.
5. Will Arnett
There are many facets of The LEGO Movie to praise. Many, from technically beauty, to mind-blowing set-pieces, to the deconstruction of story-telling and adulthood (not to mention the gags). But we're here to praise Will Arnett's hilarious, but undoubtedly superb performance as Batman.
Not only did he get to play the Dark Knight, he also stole the laughs too. No wonder that he's getting his very own, Batman: The LEGO Movie, next year.
4. Adam West
It's difficult to imagine a world without Adam West. A world without his remarkably expressive and knowing Dutch-angled face just doesn't bear thinking about. A world without his trademark voice and inflection is not a world I want to live in. A true icon in the entertainment industry.
And to be an icon in the Sixties was no mean feat, given the talent that surrounded him in every division of art, be it film or music or television; but West did it. His joyous interpretation may not be to every Bat fan's taste but it's more memorable than most and strikes a happy chord whenever seen.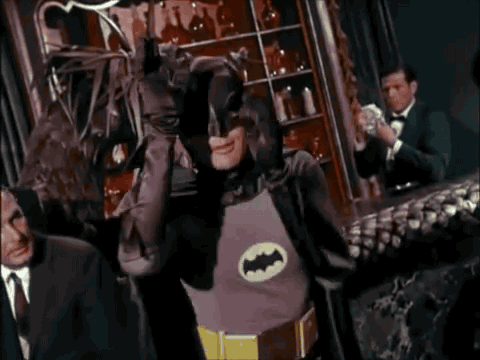 Oh, and I can't imagine anyone else on this list doing the 'Bat Dance'…
3. Kevin Conroy
For those wondering 'Who?' or 'This is a bit of a cheat!', we should point out that Mr. Conroy played the voice of Bruce Wayne and Bats in the animated series. But in 1993, a story which was initially intended for straight-to-VHS release, was bumped up and given a big screen outing—Batman: Mask of the Phantasm.
http://www.youtube.com/watch?v=4HQ-cGrFCGo
For a generation, Mr. Conroy WAS Batman. His voice WAS the night. His voice WAS vengeance. Surprisingly, for a cartoon, his performance was mature and sensitive, this was no pantomimic Saturday morning roustabout. This was the real deal.
It also didn't hurt that Mask of the Phantasm was an exceptional piece of storytelling with a production and cast to match (1993 was an excellent year for animated movies, The Lion King and Tim Burton's The Nightmare Before Christmas were also released).
2. Christian Bale
No other actor to play Batman and Bruce has had to undertake the raw journey that the Christopher Nolan Dark Knight had to endure. Bale takes a trip from distraught and vengeful youngster to violent thug to hero (then enemy, by his own choosing) to a man broken and uninterested – and then to sacrificial hero once more. This was a real character(s).
Mr. Bale's Wayne was charming and every part the confident and handsome playboy millionaire—his relationship with Michael Caine's ultimate Alfred perhaps the highlight of this side of his ego. As Batman, the Welsh actor was simply breathtaking. Be it his initial attack on Carmine Falcone and his goons in Batman Begins, where he is cool personified, or his rage-laden beating of The Joker in The Dark Knight, Mr. Bale's Batman is no one-note super-hero. This is a surprisingly real and believable person, matching Nolan's gritty and veracious world.
1. Michael Keaton
Like Mr. Bale, Mr. Keaton respected the dual roles and the plurality of Batman. Much was made of his casting at the time with fandom (quelle surprise), citing he was too "lightweight" and "comedic." But, as has been proven many times, actors with a comedy bent, can make the dramatic all the more potent.
His Batman was the first time we'd witnessed such a sight and his take-no-shit attitude made for a compelling hero. But it's his Bruce Wayne that really takes Mr. Keaton above the rest. His tortured soul shines through always and it's difficult not to sympathize with a man who wants revenge for such a bloody act whilst also helping the good people of Gotham. Mr. Keaton's Bruce had none of the self-confidence shown by every other actor to play the part (so far), choosing to go for a bumbling, awkward Clark Kent-ish style of performance. Trying to tell Kim Bassinger's Vicki Vale, "I'm Batman," will always be one of his greatest moments.
Despite being perfect in the role, we would have loved to have seen his opening line as originally intended by Tim Burton. As he revealed in the informative documentary The Death of Superman Lives—What Happened?, it was to be, "I'm Batman motherfucker!" That would have been quite the introduction.