Re/Done has carved out a niche in revamping basics in, well, the least basic way possible. First, they took on Levis. By tweaking hemlines, altering leg shape and adding just the right amount of distressing, they turned the classic styles into must-have pieces.
Their next project is redoing the Hanes t-shirt. Yes, we're talking about the cotton staple you buy in trios from Target. Re/Done worked with the authentically American brand to comb through their archives of the shirt that was beloved by Marilyn Monroe, Marlon Brando and even Johnny Depp.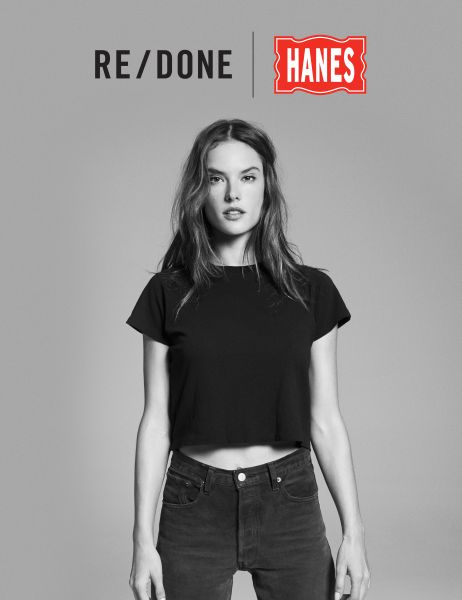 The brand is offering two revamps of the style. The 1950s has a boxy, cropped fit, while the 1960s is both longer and slimmer. Available now in black and white, eventually more colors will be introduced by Re/Done, with grey and navy to follow suit shortly. A one-pocket style and a V-neck will also be added to the range, as will a men's tee.
"Everybody is always in search of the perfect tee. This is not a highly designed or conceptual tee, but rather a t-shirt based on the best vintage t-shirt one could find and would never get rid of. That vintage tee was perfect, but irreplaceable until now," pointed out Sean Barron, co-founder of RE/DONE.
His fellow co-founder is Jamie Mazur, whose fiancée Alessandra Ambrosio stars in the campaign images for the launch. The tees will retail for $78 on Re/Done's website and at Barneys New York. But really, can you put a price tag on the perfect t-shirt?