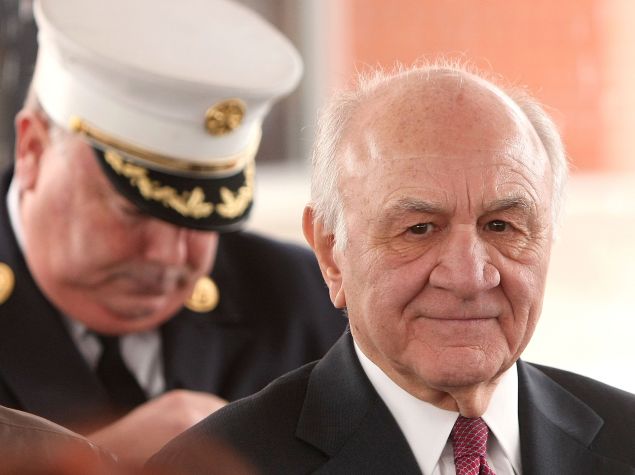 As a Dalton student in the mid 1980s, I was exposed to many things that exceeded standard high school fare. Friends' parents had enough pull to get us into Studio 54, others had homes in Europe, some had their own planes. But by far the most memorable parental accoutrement belonged to my best friend Eric's dad, who had a siren in his car. That dad was Nick Scoppetta, who died Friday night at the age of 83.
As far as Dalton dads went—this was way before the school's immensely successful ambition to diversify the student body—Nick was a true anomaly. Being the only civil servant in a sea of I-bankers and Harvard Law grads, Nick was a legend among my friends. His backstory had become lore—filled with tales from his days as one of the only honest cops on the NYPD in the Serpico days. Nick was more than a pal's father—to us Nick was a badass.
All of this made my first meaningful interaction with Nick all the more painful. One unforgettable day in the summer of 1983, Eric and I decided to play a prank on a friend. We took the age-old escapade of ordering a pizza to somebody's house, and reinvented it, creating a nearly nuclear incarnation. Sure there were pizzas ordered (from every pizza place in the Hamptons), but there were also cabs called, and exterminators, and pool cleaners—flowers delivered—we even listed her parents' house for sale, had LI Electric looking all over their property for a downed power line, and I'm not being hyperbolic here, we actually called a local mortuary to come pick up a dead body at the house.
Nick was my perpetual moral foil—the ever-present imaginary speaker against anything stupid I was about to do.
Not that the culprits would have been hard to track down, but master criminals that Eric and I were, we included a card with the flowers, and yes, we signed our names.
Two hours later, Eric and I were in the East Hampton police station being dressed down by the chief. Having been reared by wolves as I was, brushes with authority like this were a fairly common experience. Also, my mother was in Europe for the summer, so any potential punishment was an ocean away.
But my ace in the hole was that Eric's dad was waterfront commissioner of New York City—the book and movie Prince of the City featured him prominently—and everybody knew it. Whatever punishment was in store for me was also in store for Eric, and therefore I knew nothing bad was going to happen. The story goes that I was yawning as the red-faced chief was threatening us with arrest and juvenile delinquent cards. In the end our punishment was to write letters of apology to everybody involved and pay back all the merchants for their services rendered.
What I didn't realize was that the real consequence was waiting to drive us home. Nick was standing outside the police station. He drove us back to Eric's house in silence. Once there, he asked me to come into his office, alone. The terror on Eric's face made me wonder what was in store. A former foster child, Nick was the product of a brutal system—as we all gossiped about in mythologizing him—was I in for a lash or two from Nick's belt? I started to wonder.
Nick sat me down and simply said—and the memory is so clear 33 years later that I am barely paraphrasing—"Andy, I'm going to talk to you like an adult, because you've just done a very adult thing with very adult consequences. I care about you like I do all of Eric's friends, but I worry about you the most. You're the one who doesn't yet understand that a person is judged by what he does. All somebody has is his reputation. And a reputation takes a lifetime to create but it's destroyed in a second. And after what you did, you're starting from scratch. There's plenty of time to turn it around. Nothing would make me happier than watching you do just that."
That conversation stuck with me my whole life. Nick was my perpetual moral foil—the ever-present imaginary speaker against anything stupid I was about to do. And save one or two incidents involving a bright green 1972 911 Porsche, I like to think that I grew into the man Nick wanted me to be. I married a perfect woman. I have two perfect boys and I am very good at my job.
Nick Scoppetta, already a legend by the time I was in high school, went on to hold three different key positions in city government and succeed wildly at all of them. After getting to know Rudy Giuliani as an assistant United States attorney for the Southern District of New York, the mayor appointed him deputy mayor and commissioner of investigation. Then, after a devastating series of high-profile deaths in the city's child welfare agency, Rudy appointed Scoppetta commissioner of the administration for children's services, where he served for six years—a lifetime in the troubled agency, which he helped turn around. Finally, in 2002, Mayor Bloomberg made Scoppetta his fire commissioner, the role he served for eight years.
Two weeks ago I got a call from Eric. He told me Nick had been very sick—prostate cancer that metastasized to his bones. Eric didn't think Nick had much time left.
On my last visit, Nick was weak and tired, but we sat and talked for an hour, telling stories and talking about my kids and wife. Nick told Eric and me stories about his time in the army, growing up on the Lower East Side, he dished on the many New York City mayors he knew intimately—and Eric and I ate up every word.
As I was leaving, Nick stopped me and said how wonderful it was to see me and to see (and again I'm not paraphrasing a word here) what a humble, respectful and self-confident man I had become.
I wanted to tell Nick how much that conversation we had all those years ago stuck with me—how it changed my life—but the reality that we would never see each other again was too much for me. All I could muster was to say that of all our friends' parents, he was the one I most admired and respected.
It took me 33 years, but I finally earned back all of Nick's respect I lost that summer day in 1983.