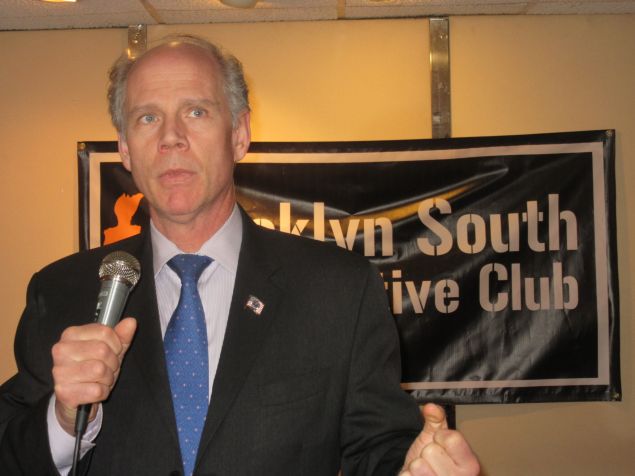 Congressman Daniel Donovan, the lone Republican representing New York City in the House, said last night that there is no chance another contender will enter the presidential ring—despite the hopes of some in his party that an alternative to Donald Trump, and his two rivals, may materialize.
Speaking to the Observer at a gathering of the Brooklyn South Conservative Club, Mr. Donovan, a Staten Island lawmaker, dismissed speculation that House Speaker Paul Ryan or Mitt Romney might pull a coup at a contested GOP convention in July or run an independent bid if Mr. Trump, the billionaire real estate developer, becomes the nominee. Instead, the freshman congressman said Republicans should prepare to support his choice, Ohio Gov. John Kasich, Mr. Trump or Texas Sen. Ted Cruz.
"It's too late for that. You know, Mike Bloomberg looked at it, there's people trying to draft Paul Ryan, Paul Ryan's not going to do that," Mr. Donovan said. "It's going to be one of the three people who are running. It's not going to be a third party person coming in at the end. It's going to be one of those three."
Mr. Donovan expressed some discontent with Mr. Trump, comparing him negatively to his own challenger, former Staten Island Democratic Association president Richard Reichard, who the congressman called "a gentleman."
"It's refreshing actually, to run against someone who wants to speak about issues, rather than the size of people's body parts, as we've seen in the presidential race," he said, an allusion to Mr. Trump announcing the size of his genitalia at one of the presidential debates.
But Mr. Donovan had previously described the belligerent billionaire as "a personal friend" and has not aggressively denounced him over the numerous insults he's aimed at Muslims, Latinos and women. Establishment Republicans like Mr. Romney, the 2012 nominee, fear Mr. Trump will poison the GOP's brand for good, and even cost them their House majority. In addition to his alienating comments, some Republicans also believe Mr. Trump, a New York native, is not sufficiently conservative.
Mr. Donovan reiterated his belief that the GOP's lone goal should be to defeat Hillary Clinton, the Democratic front-runner, and not derail Mr. Trump or Mr. Cruz, a hardline conservative who has not worked well with his Senate colleagues.
"I'm going to support whoever the Republican is," he said. "The goal for the Republican Party should be to make sure Hillary Rodham Clinton does not become the next president of the United States."
"I think anybody would be better for America than Hillary Clinton," he added.
Mr. Kasich, Mr. Donovan's chosen candidate, is campaigning in New York ahead of the April 19 primary, but he has no chance of clinching the nomination with the required number of delegates. The Ohio governor is hoping to block Mr. Trump from reaching a majority and emerge as a consensus candidate at the July convention.
Mr. Donovan was open to this possibility.
"The process the way it is now, is the one that we're going to have to live with," he said. "We could hope that there was someone other than the five people who are running, that are in the race, but it's these five, and it's under these rules, and that's the way it's going to be."
Disclosure: Donald Trump is the father-in-law of Jared Kushner, the publisher of Observer Media.