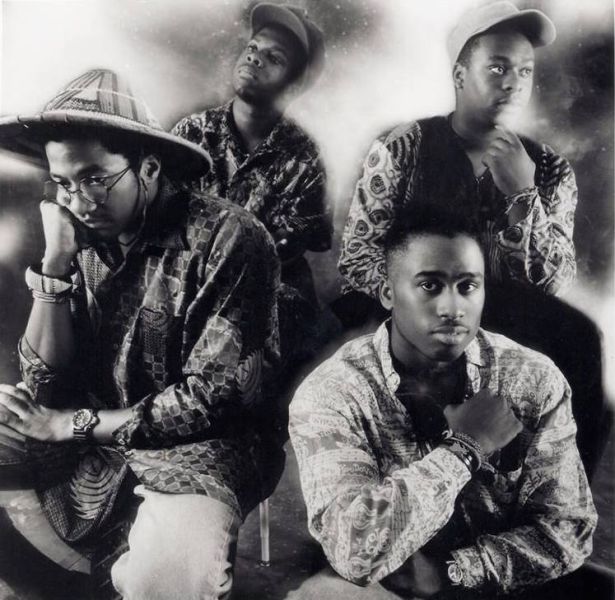 You are never quite prepared to hear of the loss of someone close to your age who had a tremendous impact on your come up in life.
I didn't personally know Malik Taylor, lovingly known as Phife Dawg, the Five Foot Assassin. I did meet him once backstage at the Tibetan Freedom Concert from RFK Stadium in 1998, a quick "Hi, Goodbye, Thanks for the music"-type passing gesture, a few seconds of which I am forever grateful.
I grew up about 90 minutes from Linden Boulevard in Queens where he helped form A Tribe Called Quest with buddies Q-Tip, Jarobi and Ali-Shaheed Muhammad over 30 years ago. But that unmistakable voice of his has been a permanent resident in my brain for so long he felt like family. My introduction to Phife and the Tribe happened in ninth grade when a girl on my school bus played me the Native Tongue Decision remix of De La Soul's "Buddy" (on cassingle!). His cadence and flow was infectious from the get go.
[youtube https://www.youtube.com/watch?v=xxTnmpvMTA0&w=420&h=315]
The Buddy that I like is to be sexy and nice
Just good enough for the one they call Phife
A brown skin Buddy with shoulder length hair
Nice firm breasts and a round derriere.
As a 14-year-old boy from pre-Brooklynized Ulster County, there weren't too many rappers who could speak to me on a level with which I could relate. I may have enjoyed them then and now, but I wasn't a player like Big Daddy Kane, nor a scholar like KRS-One, nor a political mind like Chuck D nor a man of the streets like Ice Cube or Ice-T. Hell, I was hardly cool enough to even try and pull of that Beastie Boys style. I was a goofy teen with a head full of females and funniness, and along comes Phife Dawg speaking to both points on that version of "Buddy", simultaneously acknowledging the young male urge while making us laugh by incorporating the French term for ass all in four bars.
He sounded like he could have been one of my boys, talking smack, busting chops and boasting about his tastes in women like he was sitting right on the couch next to us up there in my friend Will Henry's little hangout in his grandma's farmhouse.
I like 'em brown, yellow, Puerto Rican or Haitian
Name is Phife Dawg from the Zulu Nation.—"Electric Relaxation"
Plus, nobody in pop music history, including Chuck Berry and Frank Zappa, has ever made the concept of ejaculation sound so entertaining in the song format.
[youtube https://www.youtube.com/watch?v=Q6TLWqn82J4&w=420&h=315]
Bust a nut inside your eye to show you where I come from.—"Scenario", The Low End Theory
Bust off on your couch now you got Seaman's Furniture.—"Electric Relaxation", Midnight Marauders
And while he was a short man in stature, Phife was indeed a giant on the microphone. Rappers of the era should indeed thank their lucky stars none of them were ever called out directly by the Five Foot Assassin, who spat with this amazing fusion of battle rhymes and braggadocio boasting with the fiery precision of a master marksman. And when he did go after someone directly, like he did with Q-Tip on "Flawless" from his incredibly slept-on sole solo turn Ventilation: Da LP, the devastation is palpable.
[youtube https://www.youtube.com/watch?v=OIah18jcJko&w=420&h=315]
I like my beats harder than two-day old shit
Steady eating booty MCs like cheese grits.—"Oh My God", Midnight Marauders
[youtube https://www.youtube.com/watch?v=erzw3Nclxkk&w=420&h=315]
You see you, your career is done like Johnny Carson.
Get me vexed, I do like Left Eye, start an arson.
Now that I got that out my system
Watch me stab up the track as if my name was OJ Simpson.—"The Hop", Beats, Rhymes and Life
[youtube https://www.youtube.com/watch?v=cB1Ojwy433Q&w=560&h=315]
Remember White Shadow? My click stay shaper than an arrow.
Plus in Trinidad, I'm treated like The Mighty Sparrow.
Freestylin' son, like there was no tomorrow,
Hence the reason why your bitch ass would love to follow.—"Steppin' It Up", The Love Movement
[youtube https://www.youtube.com/watch?v=qRD6u0zJysQ&w=560&h=315]
Go 'head, play yourself with them ho-like hooks
Sing ballads if it's all about the Maxwell look
Mac make-up with a pair of [brand name] thinkin' you're cute
Fubu suit with Steve Madden boots make me wanna puke
Phat Farm shorts with a garder belt, lookin like a whore
Or a purple bandana cause it matches your shawl?—"Flawless", Ventilation: Da LP
"You's a corny motherfucker. You must be high, smoking dust with Chris Tucker." Once you start quoting this guy, it's not easy to stop; "The Hop", in particular. Do you know how tough it was to choose just four of the 28 bars Diggy spits on that cut? Every line is a literal highlight off an album (Beats, Rhymes and Life) that deserves far more love and appreciation than it gets in the hip-hop community.
[youtube https://www.youtube.com/watch?v=H-whw-ChM40&w=420&h=315]
Phife mentions how he packs it in like Van Halen here, and "The Hop" is undoubtedly his "Eruption". And that's just the tip of the iceberg. Go deeper into his guest spots on such classic Golden Age nuggets as Fu-Schnickens' "La Schmoove" and Diamond D's "Painz & Strife", not to mention his most recent cameo turn from last year's largely ignored Slum Village album Yes!, on the track "Push It Along", for further enrichment.
It was hard to accept the news of Phife Dawg's passing yesterday morning. He's been very public about his longtime battle with diabetes. But for him to die from complications of the disease at only 45 years old is news many of us were never expecting, especially in anticipation of the upcoming 25th anniversary of their sophomore masterpiece The Low End Theory this year.
But it's damn near impossible to feel sorrow when listening to A Tribe Called Quest. Their music is so vibrant and funny and poignant and challenging all at the same time. They've been in my ear for about 27 years now, and I am a much more enriched music listener for it.
[youtube https://www.youtube.com/watch?v=p8iGF3M4IHc&w=420&h=315]
It is my choice to remember Phife the way I have since he endorsed David Dinkins on record, as the soundtrack to fond memories of driving around Wallkill, N.Y., in my friend Matt's tinted out Chrysler LeBaron with the epic bass thump of Ron Carter's stand-up on "Verses from the Abstract" rattling the backseat from the kicker in the trunk. On the stereo, the Five Foot Assassin lives forever.