Perhaps the semi-cobblestoned streets of Tribeca were simply calling out to her.
Award-winning actress Kathleen Turner has apparently decided to head downtown, having purchased a two-bedroom, 1.5-bath Tribeca loft.
It seems she was ready for some new scenery in the city—Ms. Turner sold her three-bedroom condo at 200 Riverside Boulevard last September for $3.8 million. And while Tribeca and the Upper West Side might not, at first glance, seem to have so much in common, they do share a surplus of baby strollers and nannies patrolling the streets at all times.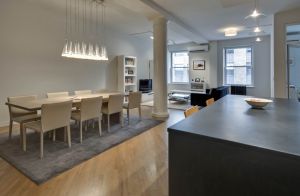 Ms. Turner, who has starred in such films as Romancing the Stone and Body Heat (and, of course, who could forget her run as Chandler Bing's father on Friends), paid the exact $2 million listing price for the condo at 395 Broadway, which has 10.5-foot ceilings, four industrial-sized windows, and a master suite with a custom walk-in closet and "sliding ladder," for which the reach the top shelves. That should be interesting.
Per the listing, held by Brown Harris Stevens broker Cathy Haft, the loft that Ms. Turner purchased from Amanda Schreiber and David Pinsky also has a wine fridge, original cast iron columns, and granite countertops. While a sleek and somewhat industrial-style loft isn't exactly what we pictured Ms. Turner's tastes to be, she has shown herself impressively receptive to change.
"Kathleen was a real delight to work with—agreeable, diligent, and reasonable," Ms. Haft wrote to the Observer in an email.
As Ms. Turner, whose appearance has been significantly altered by severe rheumatoid arthritis and the medications used to treat it, told Closer Weekly, "I don't look like I did 30 years ago. Get over it." We don't, however, think the residents of Tribeca will have any trouble identifying their famous new neighbor.