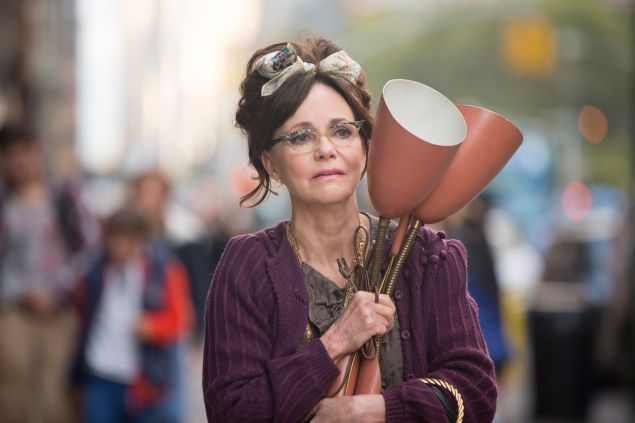 Sally Field has been ignored too long. Positive proof that in Hollywood it's tough to pass 60 and still say the word "career" without a sigh, she's decided to come out of her corner fighting with an Oscar in each hand. At 69, she's got a new movie with the dubious title Hello, My Name is Doris. It's a late-life coming-of-age story, and it's not great. But she gives it all she's got, and she's never been sunnier or funnier.
---

HELLO, MY NAME IS DORIS ★★.5
(2.5/4 stars)

Written by: Laura Terruso and Michael Showalter
Directed by: Michael Showalter
Starring: Sally Field, Max Greenfield and Tyne Daly
Running time: 95 min.

---
Well, naturally, she plays Doris. It's the leading role. Doris Miller is an awkward, unloved spinster accountant from Staten Island who has wasted her life taking care of her sick mother, never pursuing a life of her own. Apparently the oldest employee in an office where everyone else looks like they're just out of high school, she lives in a house exploding with years of accumulated junk, spends her evenings eating with her best friend Roz (a wasted Tyne Daly) and Roz's obnoxious 13-year-old granddaughter Vivian (Isabella Acres). Harassed by her brother to sell the house and lonely after the death of her mother, Doris is stuck in a life that can't get out of the rinse cycle. She gives "unfulfilled" new meaning.
Until, that is, a motivational speaker (Peter Gallagher) calls her a "green ball of revolving light" and gives her the nerve to get hip and get laid. The focus of her new purpose is a flaming crush on John (Max Greenfield), a handsome new office art director young enough to be her grandson who has just been transferred from the hip zombie plasticity of Malibu. Doris wears absurd clothes with jitterbug skirts, two pairs of eyeglasses and patterned rags around her beehive hairdo. John is pretty weird, too—a grown man who is into drinking Blue Moon and listening to ugly, deafening electronic music. Soon Doris is taking the Staten Island ferry and two subway trains to get to a moronic rock concert in Williamsburg, Brooklyn, by Baby Goya and the Nuclear Winters. Doris looks like Holly Golightly on her way to a Halloween party, but nobody minds. In fact, in no time she's posing for the band's new CD cover.
All of this is patently absurd, of course, exacerbated by Laura Terruso's preposterous screenplay and clumsy, self-conscious direction by Michael Showalter that looks like a desperate zoned-out attempt to concoct a vehicle designed to make us fall for Sally Field all over again—a goal that is easy to reach. In the end, Doris still hasn't learned how to dress with any taste or style, but at least she comes to her senses long enough to empty her house of broken skis, discarded lamp cords, old empty shampoo bottles and packets of Chinese duck sauce from the 1970s. Progress, the movie says, with estimable reserves of Sally Field's enormous charm, comes in many guises.