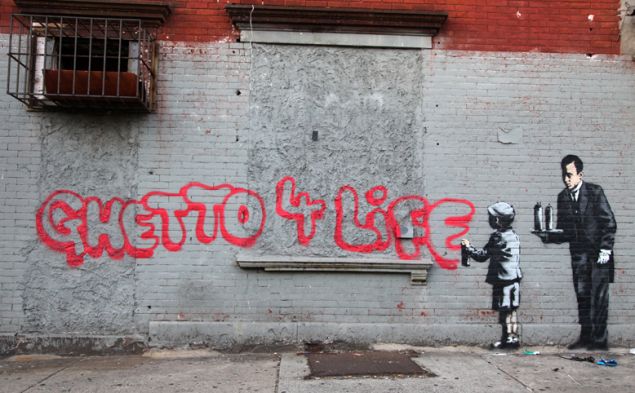 Scientists at Queen Mary University of London have used technology called "geographic profiling" to prove that street artist Banksy is a man named Robert Gunningham. A 2008 investigation first identified the secret artist as Mr. Gunningham, but the new study, which identifies patterns between artwork locations and addresses associated with Mr. Gunningham, claims to have finally "tagged" the artist.
Sculptor Phyllida Barlow will represent Britain at the Venice Biennale in 2017. The Newcastle-born artist told The Guardian, "Having been that thing called a minor British artist for most of my working life, I'm now getting things beyond my wildest dreams."
The Dallas Museum of Art has acquired a rare sculpture by Jackson Pollock. There are only six known surviving sculptures by the artist, and the only other museum to own one also happens to be in Texas at the Museum of Fine Arts, Houston.
The Judd Foundation has announced it will reprint Donald Judd: Complete Writings 1959-1975. The collection includes reviews and essays by the artist, and was originally published by the Nova Scotia College of Art and Design.
Staffers at Paris' Musée d'Orsay are speaking out publicly with doubts about current president Guy Cogeval's ability to lead the museum for a third three-year term.
Musician Kathleen Hanna (Bikini Kill, Le Tigre and Julie Ruin) tells T Magazine about her favorite piece of art, a wooden sculpture she describes as "a super hairy vagina that has pants on—hairy vagina paints!" which she bought on ebay (EBAY).
The Portland Museum of Art will be showing Carl Kahler's masterpiece cat painting, My Wife's Lovers, which is also affectionately referred to as "the world's greatest painting of cats," through May 15. For the occasion, the museum is partnering with the Oregon Humane Society for "Caturdays" every Saturday in March, and visitors will have the chance to cuddle and adopt real cats.