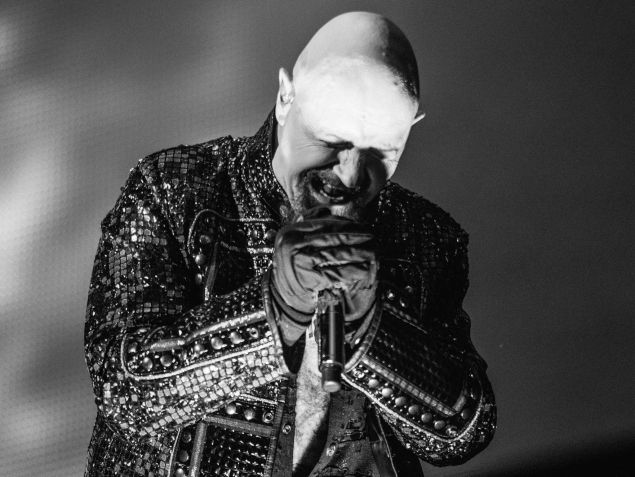 The new Judas Priest live Blu-ray/DVD Battle Cry captures their two-hour performance at last year's epic Wacken Festival in Germany, with songs spanning four decades. It's somewhat surreal imagining the band rocking out 85,000 people when back in the day none of us expected any band to last that long, but the boys from Birmingham, England, continue to bring the thunder, and frontman Rob Halford still nails those piercing screams and his singing voice remains as strong ever.
How does he manage to sustain his voice when many of his peers and even younger shriekers blew theirs out eons ago? Halford recently revealed his secrets to the Observer and shared harrowing tales of abusing his throat during the band's '80s heyday.
You've been singing and screaming for over 45 years. Do you have a daily regimen to keep your voice strong?
The first thing I will say about looking after your voice is get a pair of in-ear monitors because one of the most common problems singers have is trying to hear themselves on stage. You're battling against all the racket that is going on around you. I would urge every singer to try and bring these in-ear monitors into your life because it stops you from blowing [out] your voice. When I look at these old videos of Priest where I wasn't using them, I don't know how I got through it quite honestly. [Chuckles] It was just pure metal. That would be my first thing to encourage singers to consider.
Many years ago, I did vocal warm-ups in the dressing room. You know where the showers are in these arenas? They're like an echo chamber that really amplify your voice where you can hear yourself and figure out what kind of condition it's in. To be quite honest, these days I absolutely don't do any warm-ups whatsoever, and that's probably because [with] the show as it stands now I'm generally warming up through the first couple of songs.
'Something magic happens when the lights go down and the crowd starts roaring. That's like an immediate medication that elevates you and pulls something out of you.'
On this tour we started off with "Dragonaut" and then went into "Metal Gods," so by the time we hit "Devil's Child," which suddenly demands a higher octave, I was kind of warmed up in that respect. I also think that the older you get and the longer you use your voice, you don't want to burn it out before you go out on stage. I like to save it, so I don't do any vocal warm-ups.
Just to further progress, you have probably noticed that I chew gum on stage. I don't know if it's very obvious, but I do. I chew a special brand of gum that you can't get in America. It's British and it's called Airwaves. It's a menthol eucalyptus gum that is a very soothing thing for me when I'm singing because I'm swallowing, and it also keeps my sinuses and general upper breathing clear. I've got to be able to hit these clear, clean notes.
[youtube https://www.youtube.com/watch?v=PRk1g6lktjY&w=420&h=315]
What I'm doing when I go off stage between songs is drinking this concoction that I put together myself. You've probably heard other singers speak about this herbal tea called Throat Coat. It's the most commonly used one. I use Throat Coat with honey, lemon and ginger all mixed up in a balance that suits me, so I'm sipping that really, really piping hot. It has to be almost undrinkable because it's so hot, but what that does is strips your throat away of any phlegm or anything that is congealing on your vocal cords. I'm pretty much doing that throughout the entire show.
Lastly, I just shut the hell up. When I come off stage, I just shut up. I try as best I can not to use my voice at all. You know I love to talk, but I try when I come off stage to have the minimum amount of vocal interaction because I need at least a good 10 hours to just recover from my form of extreme singing. It's like a workout, you know. If you go to the gym every day, it's not really good. Your muscles get fatigued. Your vocal cords are muscles—they get burned out, they get tired, so you've got to give them the chance to recover and repair during the night.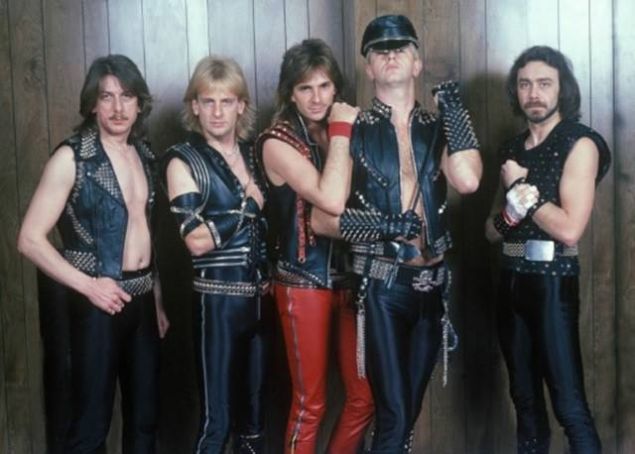 Before the show, do you have anything around you to help you with your voice? A vaporizer? Do you take lozenges? Are there any exercises that you do?
Oh yeah. Backstage in my man cave, as I call it, I have one of those Vick's vaporizers which I stick my face in before I go on stage and intermittently through the show because your vocal cords need to be kept warm and need to be kept lubricated. There's nothing worse than having what they call the "Vegas throat," the dry throat, so it's very important to keep that kind of thing going. So the combination of the gum, that drink I make, and so forth all helps.
During the first half of the '80s you were partying a lot. Do you remember how you punished your own voice, and is there any advice that you would give to younger singers who want to live the rock 'n roll lifestyle but are also punishing their bodies?
Here's the deal. I had some horrific shows in Priest for that very same reason. I was coming off stage, I was drinking, I was drugging, I was staying up all night, and by the time it was the next show, in my opinion I was putting out an inferior performance. Because I was an alcoholic and I was doing too many drugs, I wasn't able to really get a clear perception of that.
Once I quit drinking and drugging, I personally believe my vocal performance both in the studio and on stage improved. Because I was up all night partying and doing cocaine and Jack Daniels and Budweiser and champagne and yelling and screaming and being a party animal, that took its toll. I know it did. That was another thing that I was aware of when I became clean and sober.
'…I was up all night partying and doing cocaine and Jack Daniels and Budweiser and champagne and yelling and screaming and being a party animal, that took its toll.'
Look, it's so difficult, isn't it? It's like a rite of passage when you're on the road and when you're becoming successful. It's the greatest feeling in the world. More people want to see you, more people want to talk to you, more people want your picture and your autograph and want to hang out and go to a club after the show. It's very difficult to say no to that, but when it starts to affect your performance you really have to take stock and really have to say to yourself, "If I were to show up to work in any other profession, I'd get the pink slip." Because really that's what it is. You're disappointing yourself, you're disappointing your fans, and you're really not getting the best out of the moment.
I can understand the challenges because I've been through it myself. I really have. As a singer, the thing I cherish more than anything apart from being in the band is my voice, and I would do absolutely anything and everything to make sure my voice is in the best state for my performances.
Obviously there are times you get sick on the road. If you have to get through a performance, what do you do?
We all had food poisoning recently, and I don't know how we got through it. We were all dying. If you've had food poisoning, you know what that feels like. It makes you [feel like] you want to die. You're getting dressed and thinking, "I can't do it, I won't be able to get through it." But you do.
It's a very peculiar thing, I think it only happens in rock 'n roll. I've had this conversation with a lot of musicians about food poisoning or general sickness. Something magic happens when the lights go down and the crowd starts roaring. That's like an immediate medication that elevates you and pulls something out of you. It's quite remarkable really. I personally don't recall ever having canceled a show because of sickness. I've always been able to somehow get through it.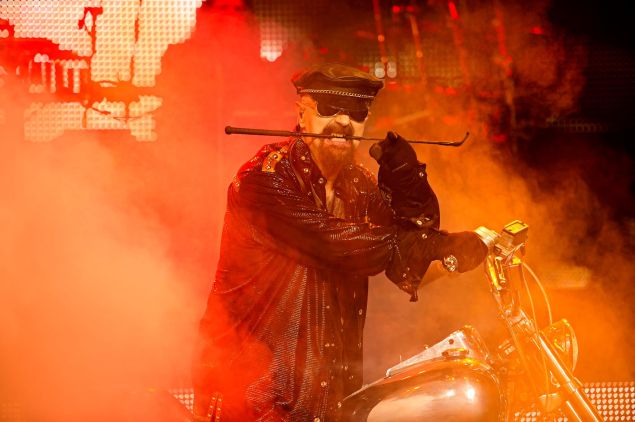 What I've noticed with your recent set list is that you balance out your singing songs with your screaming songs. I can't imagine you wanting to scream through an entire set anymore. That seems ridiculous.
That's exactly it. I sometimes think that's a bit of a curse that I sang and recorded those certain songs so long ago, when I was a younger guy with a younger set of vocal cords, and now I'm trying to emulate them 30 years later. It is quite challenging, so I do my best. Sometimes I make adjustments to be able to get through the song, but it's just what you have to do.
I was watching Freddie Mercury the other day on a YouTube clip where he was doing "Bohemian Rhapsody," and if you listen to Freddie he will actually change his vocal style just because it's the sensible thing to do. The song is still recognizable, and I think that's the main thing. If your song still has all the components in place, then you're at liberty and obliged [to] choose what you need to do to get the best out of the performance. If you have to make some changes, you make the changes.
Do you know that there's a bar in Brooklyn called Rocka Rolla? I believe it's named after Priest's first album.
Yeah?
They display album covers by Priest, KISS and lots of classic '70s and '80s bands. The CD jukebox only offers '70s and '80s hard rock and metal.
Oh, that's awesome!
Funnily enough, it's mainly frequented by 25- to 30-year-olds.
You know that says a lot about the music from those two decades, doesn't it?