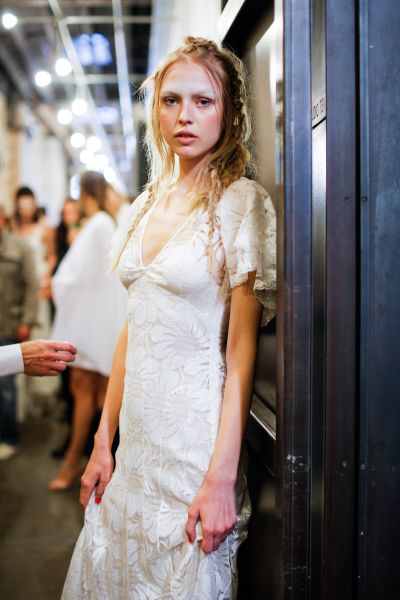 Burberry, Tom Ford and Tommy Hilfiger are doing it. But Gucci snubbed it, as did the organizers of Paris Fashion Week. Regardless, the concept of See Now, Buy Now has taken over the fashion scene, with even the CFDA backing fashion's newest business model. And now, it's coming to the bridal market, starting with Houghton.
The brand, helmed by designer Katharine Polk, will be presenting their Spring/Summer 2017 range on April 16. Housed in a four-story townhouse on East 64th Street, models will be bedecked in Houghton creations, each of which will be available for pre-order. Depending on the style–and the intricacy of the piece–brides will receive their Houghton orders three to four months after the show. For those who are a little less patient, bodysuits created in collaboration with Commando, as well as a selection of accessories including belts and chokers, will be available for purchase on the day of the show.
"I wanted to give our girls a chance to buy straight from the runway and do away with traditional bridal lead times by offering styles immediately for purchase during and following our presentation," said Ms. Polk in a press release. She also noted that her customers will receive their purchases just in time for a summer wedding.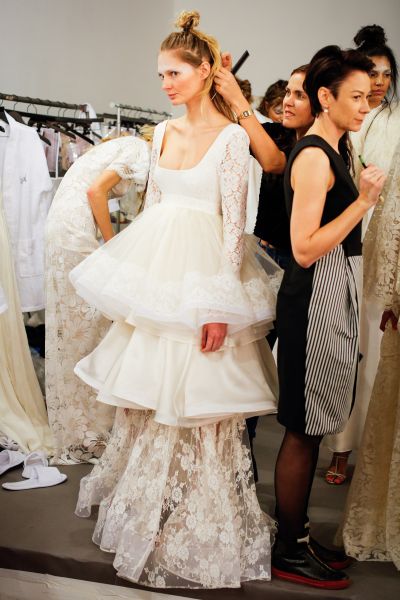 While editors and buyers will no doubt be given the chance to see and buy Houghton pieces, brides-to-be are invited, too. The first 100 brides to email rsvp@houghtonnyc.com, from April 6 on, will also gain access to the show. The brides who make the cut will also be able to meet Ms. Polk in person and glean some input on what to wear to their upcoming nuptials.
Ms. Polk has been pegged as a subversive bridal designer for a few seasons now. She launched her ready-to-wear brand in 2012, racking up celeb fans including Olivia Wilde and Kate Mara. Houghton Bride was introduced not long after. Ms. Polk's nuptial-focused collections shy away from the typical bridal frock; devoid fussy lace details and crystal embellishments, Houghton creations are streamlined and modern. Think retro jumpsuits, crop top and skirt combos and romantic ruffles in shades of pink.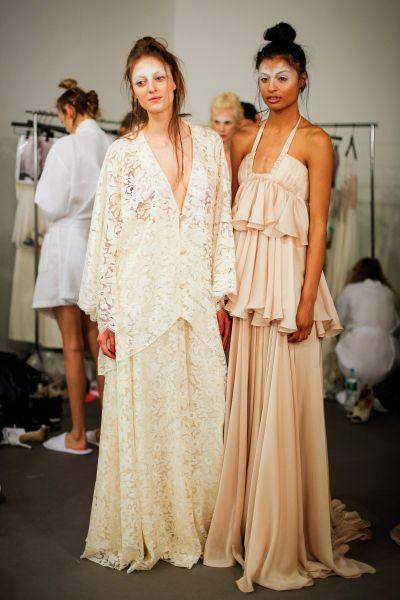 The recent Spring/Summer 2016 Houghton range was perfect for the bohemian bride–you know, the one getting married in either Williamsburg or the Hudson Valley–replete with a lace overall option and a fringed, wide-sleeved lace dress. According to a press release, the forthcoming Spring/Summer 2017 range will include cutouts, lace bodysuits and a ruffled plissé lace creation. Modern brides, eat your heart out.