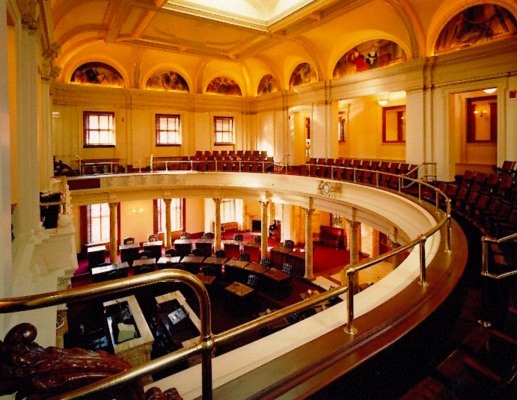 Monday will be a session day in the Senate, with high-profile bills on the future of Atlantic City and casino gaming in North Jersey going on to their second readings on the floor. The takeover bill, which would require the city to defer to the state Local Finance Board in renegotiating collective bargaining agreements to avoid a bankruptcy and compel it to monetize its water authority, tops the agenda. Its accompanying payment of lieu of taxes bill will also go to a vote, as will the potential ballot question on allowing North Jersey casinos.
Two notable bills from Senator Loretta Weinberg (D-37) will also be on their second readings. The first concerns paid sick leave, while the other would ramp up penalties for gun owners convicted of domestic abuse violations. Bills on the practice of holding students back to gain an advantage in school athletics and on creating a new class of armed police officers in schools are also Monday's board list.
In the Assembly, several bills from Speaker Vince Prieto's (D-32) anti-poverty initiative will be up for discussion, as well as the Assembly version of the Port Authority reform bill.
See synopses below, or listen to live proceedings on Monday.
Senate Session – 2:00PM in Senate Chambers
S1711 – The "Municipal Stabilization and Recovery Act," which would allow the state to take over fiscal decisions for Atlantic City, or other municipalities that have lost more than 50 percent of their ratable base. – Sponsored by Senators Steve Sweeney (D-3), Kevin O'Toole (R-40) and Paul Sarlo (D-36)
S1715 – Allows Atlantic City casinos to make quarterly payments in lieu of taxes instead of paying conventional property taxes. Dissolves Atlantic City Alliance. – Sponsored by Senator Steve Sweeney (D-3)
SCR1 – Proposes a constitutional amendment to allow the expansion of casino gaming outside of Atlantic City. The two new locations must be at least 72 miles from Atlantic City. – Sponsored by Senators Steve Sweeney (D-3) and Paul Sarlo (D-36)
S799 –  Would have employers offer one hour of paid sick leave for every 30 hours worked. – Sponsored by Senators Loretta Weinberg (D-37) and Steve Sweeney (D-3)
S805 – Requires domestic violence attackers to surrender firearms while restraining orders are in effect or following conviction. Revokes ID cards and permits for gun owners convicted of a domestic violence offense. – Sponsored by Senators Loretta Weinberg (D-37), Nia Gill (D-34) and Nilsa Cruz-Perez (D-5)
S381 – The 'red-shirting' bill. "Prohibits school districts from joining associations which oversee Statewide interscholastic sports unless association limits interscholastic eligibility of certain student-athletes who repeat middle school grade for athletic advantage." – Sponsored by Senators Richard Codey (D-27) and Peter Barnes (D-18)
S86 – Would create an additional class of police officers authorized to carry firearms while posted in public and nonpublic schools. Would draw from retired police officers less than 65 years old. – Sponsored by Senators Anthony Bucco (R-25) and Steve Sweeney (D-3)
Assembly Session – 1:00PM in Senate Chambers
A40 – Increases New Jersey's Earned Income Tax Credit for low-wage workers to the federal level, 40 percent. – Sponsored by Assemblymen Vince Prieto (D-32) and Gary Schaer (D-36)
A2184 – Creates new transparency, governance and accountability standards for the Port Authority of New York and New Jersey. – Sponsored by Assemblypeople Valerie Vainieri Huttle (D-37), John Wisniewski (D-19), Joe Lagana (D-38), Tim Eustace (D-38) and Amy Handlin (R-13)