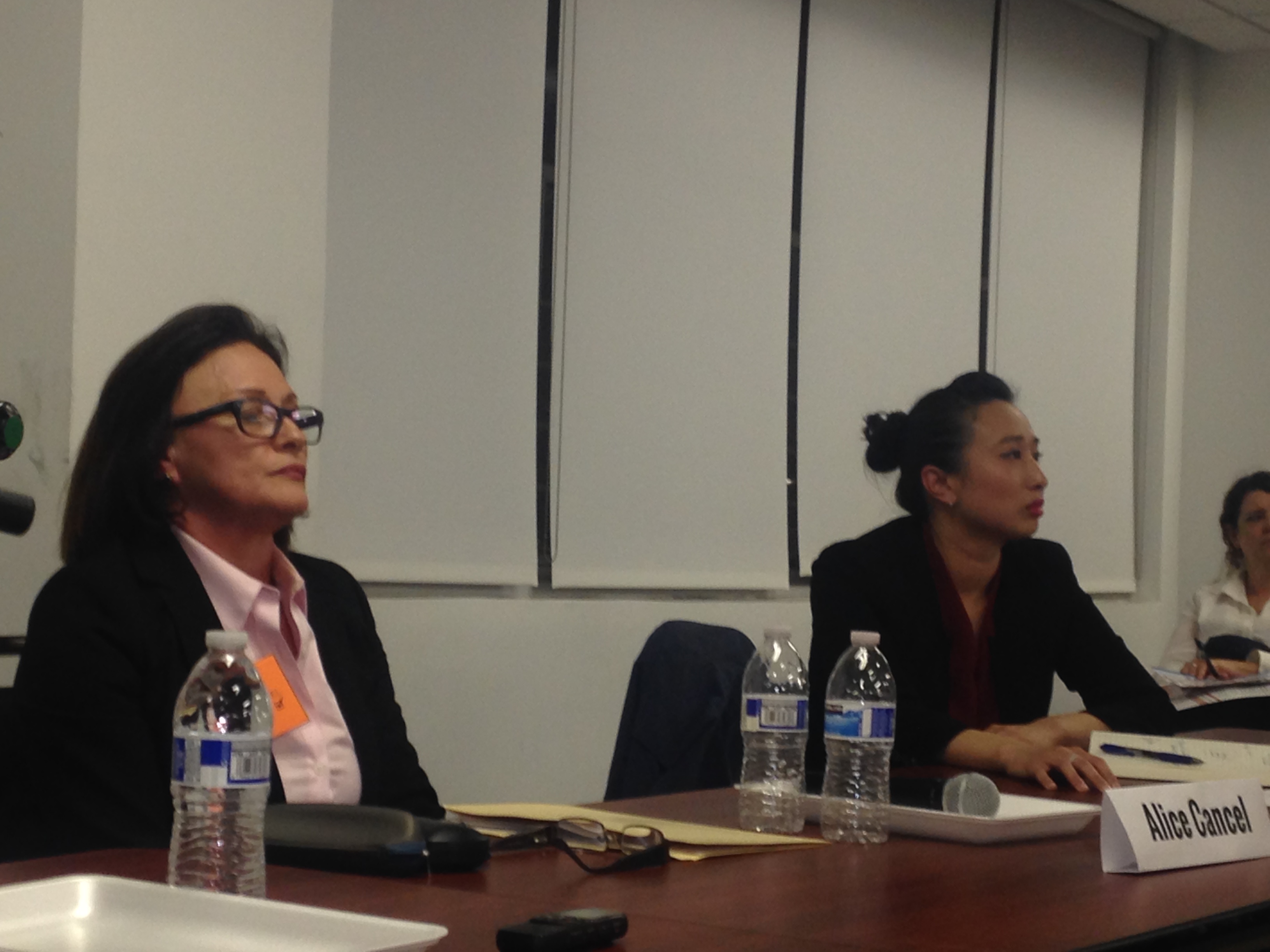 Lower East Side district leader Alice Cancel—the Democratic candidate for disgraced ex-Assembly Speaker Sheldon Silver's seat—defended her nomination by a group of insiders close to the fallen pol, and attacked her Working Families Party opponent as a transplant and an interloper.
Ms. Cancel argued that the Democratic County Committee that selected her as the party's candidate—and which included Mr. Silver's former chief of staff Judy Rapfogel, wife of his childhood friend and fellow felon William Rapfogel—is representative of the Lower Manhattan district. Special elections, like the one scheduled to replace the convicted lawmaker on April 19, do not have open primaries: instead, the county committee, consisting of operatives elected within the party, chooses who gets the ballot line.
The WFP and the Republicans select their candidate in a similar closed process.
"If you really want to call me handpicked—yes, I was handpicked. By the county committee, which is the community," she said. "Yes, I was handpicked, by my community!"
The debate was held in the community room of Mr. Silver's co-op building on Grand Street and the FDR Drive, and many in the audience wore homemade "I'm With Alice Cancel" pins. They responded hostilely when WFP candidate Yuh-Line Niou spoke or when Ms. Cancel faced a question about the nomination process or her ties to Mr. Silver.
Ms. Cancel noted the county committee process has existed for many years, and that Ms. Niou lobbied members of the committee for their support when she was seeking the Democratic line. Ms. Niou theatrically dropped out of the Democratic Party nominating process at the county committee meeting, but Ms. Cancel noted that it was clear at that point who would get the ballot line.
"The mechanics of the process is a process that's been going on for 200 years," the Democratic candidate said. "Yuh-Line, actually, and I'm going to be very honest, did not have the numbers to become the Democratic nominee. But meanwhile, Yuh-Line was knocking on everybody's door, on all the county committee's door, trying to get support."
"She didn't feel the process went her way, so she decided to go on the Working Families Party," Ms. Cancel continued.
In one of the debate's oddest moments, Ms. Cancel seemed to attack her employer, city Comptroller Scott Stringer, who has backed Ms. Niou for the seat.
"That was a backroom deal," Ms. Cancel insisted.
Ms. Niou's growing list of endorsements from leading Assembly Democrats, unions and elected officials have made it increasingly clear that, though the local Democratic establishment backed Ms. Cancel, the larger party power structure favors Ms. Niou. Ms. Cancel sought repeatedly during the debate to depict her rival as an outsider, noting that she works as chief of staff to Queens Assemblyman Ron Kim.
"She was handpicked by Queens! She's not from here," the candidate insisted.
Ms. Niou was born in China and spent most of her life in Texas and Washington State, and has lived in the district for just two years. Ms. Cancel herself was born in Puerto Rico and grew up in the Bronx, but has resided on the Lower East Side for decades.
Even as she emphasized her roots in the area, Ms. Cancel sought to distance herself from Mr. Silver.
"I am not Sheldon Silver. I have not been handpicked," she said.
Ms. Cancel's ties to the vanquished Assembly head—who will be sentenced for fraud, extortion and soliciting bribes just six days before the election—are indisputable. She and her husband donated to Mr. Silver's campaigns and supported him locally through the Lower East Side Democrats club. Her campaign treasurer, scheduler and sometimes spokeswoman is Mr. Silver's 12-year liaison to the Latino community.
But Ms. Niou is indeed linked to the Queens County Democratic machine. On top of Mr. Kim and Mr. Stringer, she has received strong support from former city comptroller and 2013 mayoral candidate John Liu, a Flushing native and powerbroker in the Chinese-American community. Chung Seto, a close ally of Mr. Liu's, is Ms. Niou's campaign manager.
Mr. Liu, Mr. Kim and new Assembly Speaker Carl Heastie are all close allies of Congressman Joseph Crowley, the Queens Democratic Party boss.
Ms. Niou mostly avoided attacking her competitor. She claimed her lobbying of county committee members was simply normal outreach to prime Democratic voters.
"I am so proud to have knocked on so many doors," she said. "You guys deserve to have a vote. That's why I am so proud to be running on the Working Families Party line, to give you guys a vote."
Republican candidate Lester Chang did not attend the debate.