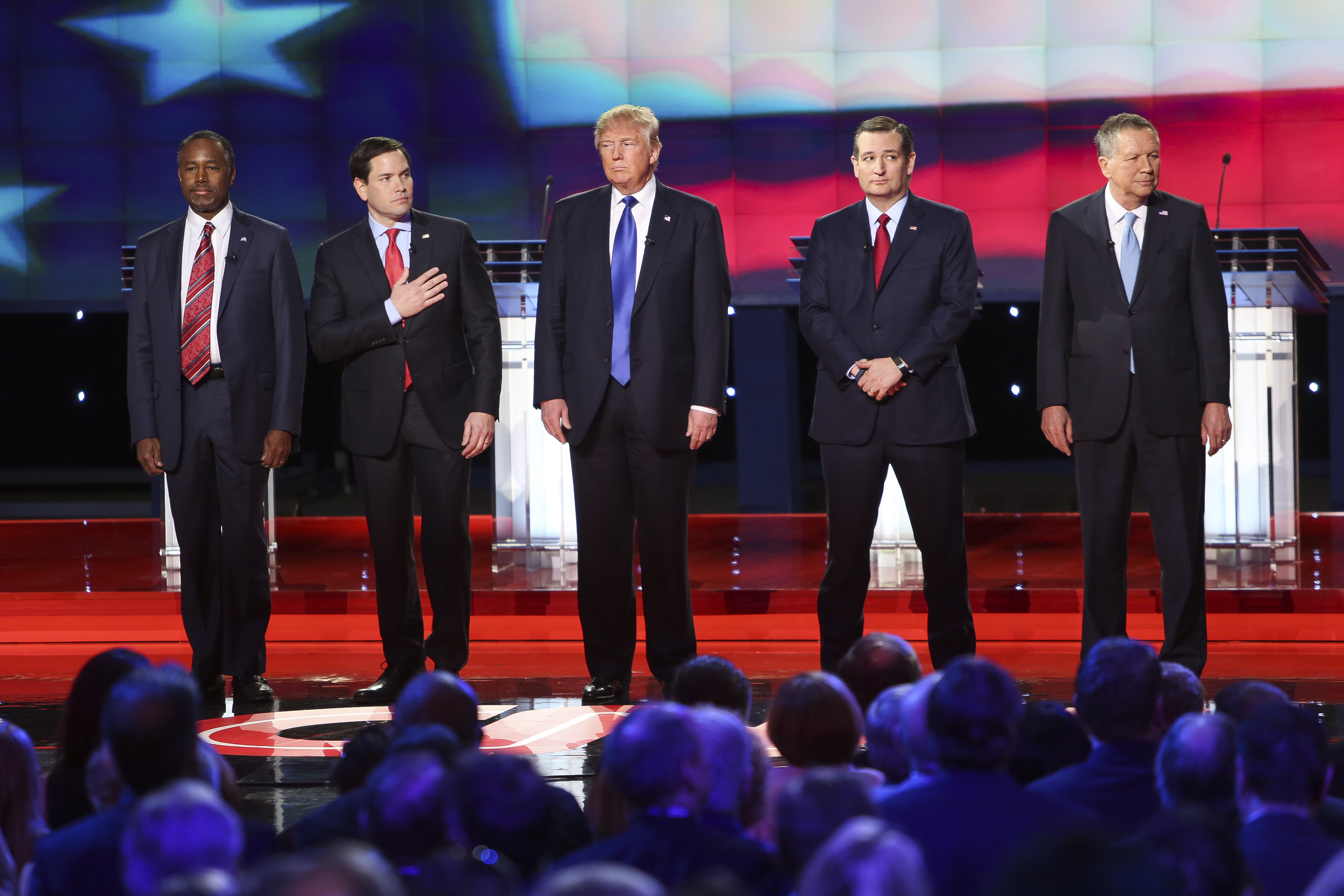 This post originally appeared on Quora: Since Donald Trump keeps winning, why don't Kasich, Carson, Cruz, and Rubio drop out?
Essentially, what we're seeing play out now is a kind of game theory in action. Rules of the game:
Trump has won three states, but he hasn't yet won a majority of a vote in any of them. As such, it still is possible to defeat Trump if any other candidate can get the majority.
None of the other candidates (or players, if we're keeping on with the game theory motif) believe that Trump is a viable candidate in the general election, and all of them would like to see a viable Republican (namely: themselves) get the nomination.
Each of the other candidates believes that if the other competitors left the race, then the long-sought-and-necessary "anti-Trump" vote would coalesce around them.
Because all of them have effectively made it clear that they intend to stick it out until the end (ie, none of them quit after Nevada's results came in), none can be predicted to be leaving soon (or at least not until after Super Tuesday, by which time it may be too late).
Therefore, none of the candidates want to be the first to step down, hoping that someone else will and pass the benefit along.
At its core, this resembles the "Volunteer's dilemma" whereby everyone can benefit (i.e., Trump loses the nomination) by one or a few people making a small sacrifice, but if nobody does anything, everyone loses. The problem, though, is that the sacrifice being asked of the other players isn't exactly small (i.e., giving up the chance to be the Republican nominee and/or President of the United States), and not all of the players may get any benefit by dropping out.
The GOP establishment has been trying to force the other candidates to make a move by pushing endorsements to Marco Rubio in the last two weeks. However, Ted Cruz is still trying to capture the anti-establishment vote that he thinks will resonate best with the electorate (but which Trump has all-but locked, now), while John Kasich is holding on in the belief that he's both the best establishment candidate and would have cross-over appeal in the general election (which Rubio may well not).
There are any number of ways that a deadlock like this may be broken, but they all generally fall into one of two categories: threatening or negotiating.
Political campaigning is usually done under the umbrella of threats, e.g., "It's inevitable that I'm going to win, so either get on board or out of the way."
Our anti-Trump players have been threatening each other throughout the campaign by challenging their viability in the general election; however, now they're basically all facing the same threat from Trump – and the delegate math is fast starting to make that threat a reality.
So further threatening is unlikely to motivate any of the players to make a move, but I would expect that we'll see a lot of it on display at tonight's Republican Debate (such as we did in the debate before the South Carolina primary).
Given that, if players are going to be persuaded, the next tactic they ought to pursue if they're more concerned with blocking Trump than their own nomination (ha!) is to negotiate. One of the players is going to have to make a compelling case to his competitors that their withdrawing from the race is for the greater good – with maybe a personal concession/perk (e.g., promise of a Cabinet appointment) thrown in to further entice them to leave the race.
The issue is that for the negotiating strategy to work in game theory, there has to be a certain level of coordination among the players (which is why some of the classic examples, such as the Prisoner's Dilemma, introduce an element where coordination is not possible). It doesn't appear as though any of the campaigns have the appetite for that kind of back room coordination – and for good reason, it could horribly backfire as "politics as usual" if made public before the Primaries ended.
Additionally, for coordination to work in game theory, there has to be some guarantee for all of the players that their sacrifice will result in a benefit. As mentioned above, there is almost no guarantee of there being a consolation prize for backing down; and even if the person around whom they all chose to rally did make promises to each player, it's not guaranteed that those promises would come to fruition if the anti-Trump loses the General Election.
With these anti-cooperative factors weighing on the players' minds, the kinds of rational/semi-rational decisions that we might expect under any number of game theory strategies become less likely; and so the game/standoff will keep going until someone blinks.
Related links:
Lessons From Game Theory: What Keeps Kasich in the Race?
What are the pros and cons of voting for "third party" candidates in U.S. elections?
Why do so many people from Europe want Bernie Sanders to be the President of the United States?
I have a family member who has threatened to leave the country if Bernie Sanders becomes president. What countries can I suggest he move to?
Carter Moore holds a degree in Political Science, is former Congressional aide and Federal employee, and contributes to Quora. You can follow Quora on Twitter, Facebook, and Google+.