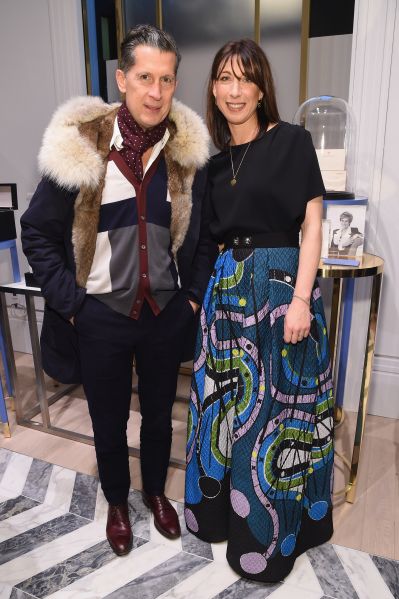 "In the digital age, everything is so on show," Samantha Cameron, wife of the U.K.'s Prime Minister David Cameron, pointed out to the Observer. "You need to have some more private moments or records that are just for you, not for everyone else to read. With social media, I don't think you want to bare your soul completely." Considering nude Instagram selfies and Twitter rants assault our inboxes daily, one can hardly blame Ms. Cameron for her circumspect views.
This public figure prefers to record her private thoughts and to-do lists in the Soho Diary from Smythson, replete with a thatched leather exterior and signature tissue thin blue pages, which are gilded with gold edges. It helps that Ms. Cameron is also the creative consultant for the heritage leather goods brand.
On a gray and rainy Monday evening, Smythson was fêting its new Manhattan boutique, located on the corner of Madison Avenue and 61st Street. While the weather was fitting for an English celebration on American soil, so were the bites and boîtes: bangers and mash were served as a sandwich and a gin fizz was concocted with Portobello Road Gin.
This isn't Smythson's first American store, as the boutique is replacing one that stood just a few blocks south on 57th Street. It did, however, mark the beginning of a forthcoming stateside expansion. The crammed party drew a varied list of tastemakers and celebrities. Melanie Griffith was there, adjusting the tie of her brother-in-law, Smythson CEO Mark Daley, and later chatting with actress Emily Mortimer. W's editor-in-chief Stefano Tonchi stopped by, as did Town & Country's creative director Nicoletta Santoro.
Scattered throughout the shop were relics from the brand's 128-year-old history, in an exhibition titled "The Curious World of Smythson." Replicas of notecards personally ordered by Princess Diana in 1994 were on display and behind a glass case were Smythson notebooks in which Sigmund Freud kept his most curious revelations. There were plenty of fine leather purses dating back to the 1900s and delicate leather envelopes made to hold calling cards.
Smythson might be closely tied to diaries and stationary, but Mr. Daley pointed out that those products compose only 30 percent of their business. The remaining sales are from lifestyle goods such as sumptuous tote bags, jewelry trunks made for traveling and embossed iPad cases.
Regardless of numbers, the compact notebooks and specific diaries—such as those for Fashion Week or sporting events—are an integral part of Smythson's identity. Lining a back wall of the shop were blank books of all sizes and colors, each stamped with cheeky sayings, ones that could only originate from English humor. One read "The Cat's Whiskers," another said, "The Devil is in the Details" and the next, "At Sixes and Sevens." "I have a team that works on nothing but that," revealed Mr. Daley of the phrases.
Up next for Smythson is a collaboration with The Rolling Stones, due out in April. Mr. Daley hinted that the brand would open two new boutiques in New York, starting with one in the Financial District this summer. Also on his radar is Los Angeles. Go on, add that to your diary.