The next time you see a young adult clutching a soy latte in one hand and a Louis Vuitton in the other, you may not give a second glance to the person by her side: a shadow trailing silently at times and luring the young one away to a late-night spa in Koreatown in lieu of going to OneOak.
At a company dinner, perhaps the CEO has an "old college buddy" join him, while everyone orders the regulatory bottle of wine to share, that "friend" covertly and seamlessly lets the waiter know to bring them both sparkling water without skipping a beat.
Is sober the new drunk? On the popular show Elementary, Jonny Lee Miller plays a modern day Sherlock Holmes, who is in recovery. Lucy Liu stars as Watson, Sherlock's sober companion who helps him solve mysteries and keeps him out of harm's way.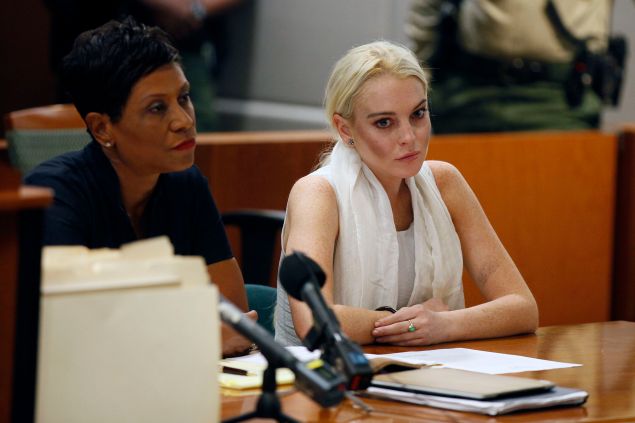 The most accurate televised portrayal of the job and what really happens? Oprah Winfrey's docu-series about actress Lindsay Lohan. At the time, a new man in her life was appearing in tabloids as "Lohan's Possible New Boyfriend," a common assumption when an actor appears consistently with a non-famous friend in public. The reality was her rumored love interest was sober companion, Michael Cormier, who is currently an addiction counselor at Cliffside Malibu. Mr. Cormier is straightforward: "A common mistake is that people think we are there to either be a police officer or personal assistant. Neither is true. We are there to help them regulate and make one decision at a time."
In other words, disregard the TV programs. "I have never seen anything realistic in the portrayal of sober companions on television in my industry. Every once in awhile there is a reference made about the main characters in sobriety," said Cindy Feinberg, the owner and CEO of The Recovery Coach, based in Manhattan and operating for over six years. She provides sober coaches and companions to people in need. It's not an "As Seen On TV" gig. No running around and solving mysteries with Dr. Watson, but companions can help clients solve what they are struggling with in recovery and the other obstacles in life they may encounter.
Ms. Feinberg makes it clear that a companion is not a replacement for a sponsor: "We will accompany a client to 12-step meetings. We don't do step work with them." It's not uncommon for sober companions to move in with their clients for anywhere from a few weeks to a month.
While many people thrive while in rehab, the real struggle is the aftercare. Leaving a luxurious facility that provides you with a substance-free environment can make it seemingly foolproof. Going back to "real life" and being able to help the recently discharged client navigate day-to-day activities is what a sober companion's objective is.
In the past year, Ms. Feinberg has noticed a surge in requests for families seeking support for their loved ones. Not just with silver-screen heavy hitters but very possibly your neighbor in the suite across the hall. A companion has become almost as commonplace as a nanny or housekeeper. A-list celebrities, housewives, CEOs, young adults—clients vary as wide as the people who can work with them, a conglomeration ranging from personal trainers to registered nurses, hypnotists, social workers and performing artists. Ms. Feinberg not only caters to addicts but also those struggling with mood and eating disorders, helping them with everything from budgeting to nutrition to referring them to a doctor. A one-stop shop.
Hand picking her staff, Ms. Feinberg is somewhat of a matchmaker for connecting a client to their ideal mentor—men stay with men, women stay with women as suggested by most 12-step programs. "All of my coaches and companions have experienced addiction firsthand, which is integral. It's a huge part of the position. Knowing with someone who has been in their situation can shed light than any outsider who may not have experienced drug or alcohol abuse before."
Part of the job can involve travel, transporting clients to inpatient facilities anywhere from New Jersey to Malibu, Florida and even international destinations. Companion Chad Warren has had a dose of what appears to be living the "high life" while on a case. "I flew first class taking a client to treatment in Sausalito," Mr. Warren said. "After dropping him off I had 24 hours to myself at a five-star resort and spa overlooking the San Francisco Bay."
A companion has become almost as commonplace as a nanny or housekeeper. A-list celebrities, housewives, CEOs, young adults—clients vary as wide as the people who can work with them.
While this sounds like the ultimate dream job for many, Mr. Warren has had some not-so-glamorous experiences. "When clients 'run away' and you have to try and hunt them down, it's extremely frustrating and terrible for the spirit."
"It's assumed that it's a well-paying babysitting job that anyone can do," Ms. Feinberg said, once again clearing up frequent delusions about the occupation. "The job is to guide, mentor and support the client. The person performing the job requires a rock-solid foundation in recovery and working a strong program of one's own.
"Companions are often on-call 24/7," Ms. Feinberg said. "It's not abnormal for your phone to ring at 2 a.m. if someone needs assistance."
Terri Glenn describes her work as a companion and coach as nothing short of rewarding, but that doesn't come without challenges. "There will be times where things don't go smoothly, and someone is resistant," Ms. Glenn said. "But getting them through a rough period, helping them set goals and structure not only is helpful in their recovery but makes a difference in mine. It's extremely gratifying. Working with those to learn how to enjoy and make the most out of their lives." Ms. Glenn's memorable events? "I once took a client to E-Zoo on Randall's Island," a three-day music electronic festival, where drugs and alcohol can be easily accessed. "She wanted to go out and have a good time. She found that it was completely possible and enjoyable without using substances. I actually enjoyed it myself as well."
"It's not abnormal for your phone to ring at 2 a.m. if someone needs assistance."
As common as the position is, many don't know a service like it exists. Although it may seem like a trendy new occupation, it's been around since the early days of Hollywood. Actor Errol Flynn had a so-called "assistant" who was supposed to prevent him from getting into any trouble for throwing back the booze in his studio bungalow—little did they know, Flynn was secretly sneaking oranges filled with syringes full of vodka to get his buzz on.
So, how to get in on providing sanity and sobriety for the lifestyles of the rich and famous? A desire to peek into what really happens with the elite 1 percent? It's not a job that just anyone can do: It's something you have to have experienced firsthand. Ms. Feinberg's requirement is an individual who has a minimum of five years of sobriety themselves, along with a reliable support system and a background in working a recovery program. She obtains her companions through referrals and references from professionals. When being often asked how and where candidates could be properly trained for the job, she realized something was missing—an accredited training program. So she set out to create one herself.
Partnering up with sober power players from the west coast, the International Recovery Institute came to life. "It's a five day intensive training program where one can receive a tangible credential and apply the hours to pursue other options in the field as well," Ms. Feinberg said.
This creates a national database of sober companions to pull from. Offering the program in Long Beach, California, Palm Springs, Los Angeles and an upcoming intensive in New York this April, it's the first of its kind.
Mr. Warren, who has been in the recovery industry for over a decade, has a mantra he keeps in mind while on the job.
"I was told these simple things: morals, ethics, boundaries and common sense. When I am faced with a client issue, I go through this list, and it let's me take a honest inventory on the situation."
So next time you see that A-list celebrity with a gal pal clinging to her side, chugging an energy drink while her other friends toast with champagne, keep in mind what could really be happening. Your next-door neighbor's new "personal assistant" could actually be a sober companion in disguise, keeping them out of harm's way.