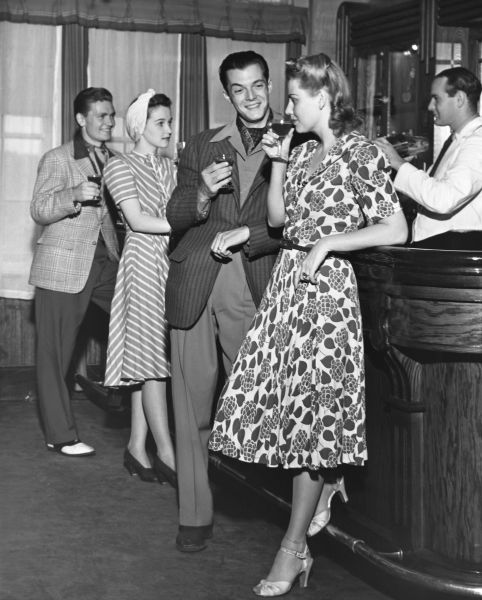 Squad aims to pair people up in a low-key, low-pressure way, but unlike friendship finding apps, the focus is subtly on dating. Adam Liebman, the founder of Squad, explained the process to the Observer. A user makes a "squad" of two to six friends and invites them in by group text. Then, the crew can swipe through other nearby squads and edit their profiles to tell people what they're doing and looking for. After a match, everyone in both squads gets invited into a group chat where they can exchange messages and figure out a time and place to meet that evening.
Squad caters to groups of friends who go out together, attracting a young, social demographic; and while it could lead to friendship, the founder hopes people will use it to meet without the pressure of an uncomfortable first date. Mr. Liebman told Observer why Squad is the future of dating apps and why meeting in real life is overrated.
How did Squad come about? Squad came from a boys trip to Montreal. We were looking for a group of fun people to hang out with that night in the city. I had the idea to take down all my Tinder pictures, put up only group pictures of me and the three friends I was with and change my bio to say that we were visiting for the weekend and looking to have a good time that night.
How would you describe the experience of using Tinder as a group? It was a better experience than your typical interaction of trying to meet people out, and the rest of the weekend, we talked about what the product could look like. I spoke with hundreds of women when I got back from Montreal, asking them what they thought of the idea, and the feedback was almost unanimous…the concept of squad felt more safe, more fun and more like how they wanted to meet people in real life than anything currently on the market.
Who's using Squad? People download Squad to meet people who they could potentially date, in a low-pressure situation. You're already hanging out with friends, and if things don't go well, there's no explicit romantic expectation. Contrast that with other options available, where people see other people who they could definitely date, in a high-pressure situation.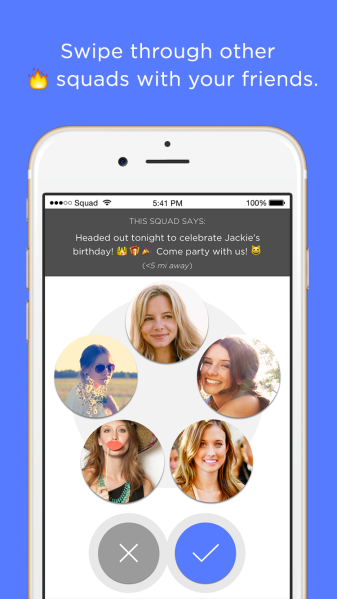 Have dating apps made it harder to meet people in person? Aziz Ansari talks about it in his book, Modern Romance, basically saying, why would you want to go to a bar and walk up to people, hoping they might like you? That's scary and inefficient. With apps like Tinder, you're able to see 100 times more people, and you can pretty much filter it down to see only the people who like you back. That's more appealing than meeting in real life for a lot of people, but what stinks is that it often leads to transactional interactions and can be really exhausting going on that many dates. We couldn't exist without apps like Tinder and Bumble laying the groundwork, and we think what we have with Squad is really the next big iteration of how people connect online—dating apps 2.0.

How is Squad different from other social group apps? What we've done at Squad is take the best parts of Grouper—which was a great idea on the surface—combined them with the best parts of Tinder and created a child who's more adorable than either of the parents.
Why would someone sign up for Squad, instead of meeting people in real life? We take the the ease of meeting people from your typical dating apps—singlehandedly their greatest asset—and combine it with the comfort of hanging out with your friends so you don't have to choose between having fun with your pals and going on yet another random date with someone you met on an app. Everyone who's single just wants to go out with their friends and meet someone great, yet it doesn't happen nearly as often as it could. What we think about at Squad is how we can use technology to enable people to do what they're already doing, more efficiently. If you're a group of four girls out in the Lower East Side on Friday night, who's to say that the perfect group of guys for you and your squad are also there too? What if they're in Flatiron? Or even just at the bar next door?
Do most people seem to use the app at night to go out with other people? Squad is definitely most popular at night and on the weekends. We've found that people have the most success meeting up when their squads are out and about, ready to have a fun night.
Have you heard about any success stories from the app? Squad launched at the end of October, and the very first weekend, we had someone email us saying she'd met two amazing girlfriends on the app. This month, we launched at Syracuse, and we just heard last weekend that one of our early users on campus met her boyfriend on Squad. They didn't know each other before their two squads matched, and now they're in a relationship.
Can your squad be co-ed? About 15 percent of our squads are mixed gender, and the remainder are split almost perfectly (about 43 percent) between all-male and all-female squads. Female squads have slightly more members (four, compared to the average squad size of three for all-male squads). Women seem to prefer matching with men, and men seem to prefer matching with women; the hope is that someone from the squad they match with could turn into a romantic interest, while still totally allowing that friendship is an acceptable outcome, unlike traditional dating apps. Eventually a squad may be two groups of guys looking to play basketball, but I'd be lying if I told you that today, people are primarily using Squad to find friends.