AUSTIN, Tex.—I am a hardcore urban cyclist, yet I have never even considered downloading the GPS powered fitness-tracking app, Strava.
Every bro'ish guy in their 30s I know has a Facebook feed consisting largely of maps shared from the app that show rides they've taken, with curt annotations like "Good day" or "Hard 30."
But I am downloading the app right now, as I write this, and here's why: Strava now sells its data to cities that want to make their streets better for cycling. I want streets to be better for cycling, so I'm in.
At the South by Southwest Interactive (SXSW) conference on Saturday, Mark Shaw, a co-founder and executive at the company, spoke about how it has rolled out a new business line this year, Strava Metro, selling cities data about how riders make their way through urban areas. Cities want to put the effort in to build new bicycle infrastructure (bike lanes, bike traffic lights, protected lanes, etc) on the streets that cyclists actually use.
First, athletes became addicted to using the mobile app to track their activities and share it with their peers, Andrew Vontz, the company's brand manager, explained in the panel's intro. "Strava rode the tsunami around this dataset as it rose from competitions to a social network," he said. Cyclists also tend to advocate for cycling, and soon users were asking the company about rider activity in their cities to help them advocate for roads that serve bikes as well as cars.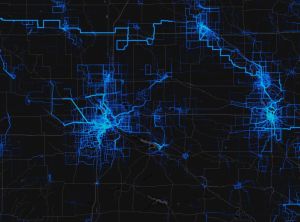 The old world of gathering data about bike riders was asking city staff or volunteers to sit on street corners with counters or even to set up digital systems from time to time, but Strava users run the app every day of the year. Many users, as Strava staff explained, open the app every time they get on their bike, whether it's for a big ride or a little one. It may have started as a competition and training tracker, but it has become a site where users share all their rides. So it updates data about cities' cyclists every time one of them gets on the saddle.
The idea of sharing data with cities and organizations arose out of the route builder it introduced in 2013. Athletes planning training or group rides could choose the best way to go based on how all the cyclists riding with Strava did the same area before them. As more and more people tracked rides with Strava on point to point rides in cities (commuting, running errands), the app became a good way to help people route rides when using bikes for transit rather than pure recreation. It was a natural leap from there to helping planners visualize how lots of cyclists traverse cities.
Sure, we're all a bit weirded out by being watched. Sometimes, the ends are worth it, though. Even the Strava reps on the panel admitted that they hadn't found a good way yet to educate all their users that their anonymized rides were being used in this way. Judging by the questions after, however, most cyclists would be glad to share the information if it helps.
The app gets six to seven percent of cyclists in cities, Mr. Vontz claimed. "When you're in an urban area, everyone bikes the same. You're optimizing for safety," he said. In other words, if two roads work roughly as well to a destination, cyclists will gravitate to the one that's safer. Since Strava tracks fine data, it can get even more specific. "With crowdsourced GPS data you can really look at behavior," he said, such as where people turn, where they slow down, where they are willing to ride with traffic and where they aren't. 
Tim Johnson, an elite cyclist and bike advocate, has been taking Strava's heat maps to leaders in cities where he is advocating for cycling. He said he saw two benefits to using it. First, conversations with elected leaders become less theoretical "when you bring it to life, and you show them an image or a moving image," he said. Second, because information about cycling tends to come from advocacy organizations, "there's a contentious debate over the quality of data," he said. That's harder to sustain with a tool that gathers data worldwide, the exact same way everywhere.
He contended that bureaucracy is slow, but it likes it when others do its fact finding work.
Mr. Vontz added, "What our data can highlight is where infrastructure is ineffective." Cyclists that want it to get better should start tracking those mellow cruises to work as well as their intense weekend loops, because it's not just about your heart rate or your pace anymore. It's about every rider pedaling from point A to point B without getting clobbered.