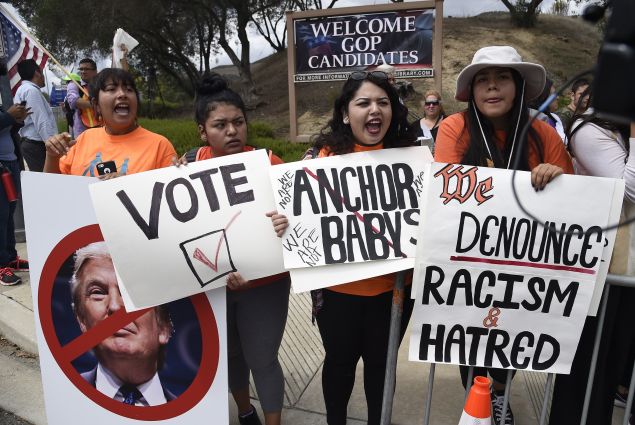 In December 2012, following a decisive loss in the presidential election, the chair of the National Republican Congressional Committee convened The Growth and Opportunity Project to figure out a way forward for the party. And in March 2013, they issued an astounding document known colloquially as "the autopsy report." In its 100 pages, leading Republican strategists laid out why the GOP could no longer survive as a "whites-only" party, and that its way forward was to embrace, among other things, immigration reform.
Three years later, we can safely say that this document is all the more astounding because the party has seen both growth and opportunity by ignoring most of this advice. I say here most, because one of the report's takeaways–albeit far down in the report and way below its exhortations to include or at the very least listen to diverse voices–was to desist being the rich man's party. Certainly, this year's leading contenders for the Republican nomination have spoken directly to fears of the middle and working class. They've just chosen to speak primarily to the white members of America's middle and working class.
And, according to certain pollsters and political operatives, these Americans oppose immigration. Certainly, the success of this slate of Republican candidates–Trump, Cruz and until recently Rubio (who notably walked back his earlier support for immigration reform)–points to this sentiment.
On this issue, it is a question of whose polling data to believe. According to recent analysis in the conservative stalwart The National Review, 69 percent of Republicans and 47 percent of all Americans are in favor of reducing even legal immigration levels. A June 2014 Gallup poll reported that 14 percent of Republicans actually favored increasing immigration, with 41 percent of Americans supporting an overall decrease in immigration levels. In August 2015, Rasmussen Reports published the results of a national telephone survey, finding that 70 percent of likely Republican voters (and 51 percent of all voters) agree that there should be a wall or fence along the entire southern U.S. border with Mexico. In a June 2015 roundup of polling on immigration, David Bier at the libertarian Niskanen Center wrote that American support for restricting immigration has plummeted since the 1990s, and that analysis of 46 national public opinion polls show a growing, national, bi-partisan support for increasing work visas.
From this, we can see that pollsters pick and choose how they back up their claims about what Americans really think about immigration. If 41 or even 47 percent of all Americans want to decrease immigration, that means more than half of Americans don't.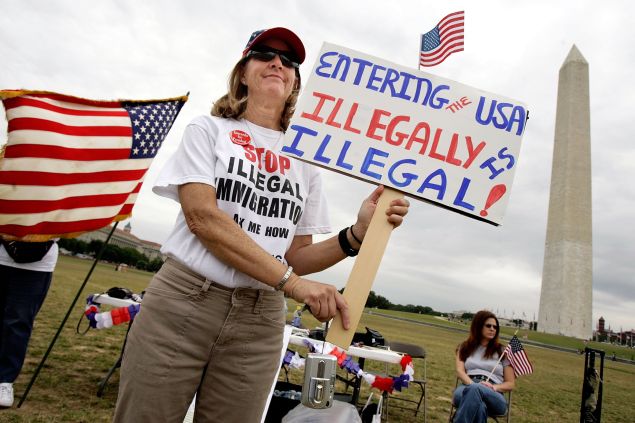 We, an also see how many issues "immigration" really encompasses. A Pew report from August 2015 shows that Americans have varying opinions on illegal immigration alone, depending on which of the dizzying array of issues you're asking about: deportation, birthright citizenship, building a wall. Ultimately, as Pew rightly points out, policy positions on such things as deportation (of people convicted of felonies, of misdemeanors, or just anyone who came here illegally at all), legalization (of people who came here as children or decades ago or anyone here illegally), asylum (for unaccompanied children or other illegal immigrants), border security (from a fence to a wall to more stringent customs regulations), reform around the Green Card and naturalization process, more work visas for more categories of workers – all boil down to whether Americans view immigrants positively or negatively, as a boost or a burden to the country. They report that 51 percent of Americans say immigrants strengthen the country, while 41 percent view them as a burden.
What's noteworthy even in this poll is that 63 percent of Republicans, as opposed to 32 percent of Democrats, think immigrants are a burden to the country. The share of Republicans who felt this way, they report, jumped 15 percent from 48 percent to these current levels in March 2014.
Even as there are more former immigrants in corporate leadership positions or elected office nationwide, many previously arrived immigrants support restrictions on new and unauthorized immigrants from their home countries.
The Republican presidential race underscores and may have even prompted this change. While many an analyst has explained effectively the appeal of an anti-free trade campaign message, the party's–and ostensibly the country's– persistent anti-immigrant sentiment is harder to understand. Countless think tanks and media reports and scholars and policy analysts have pointed out that immigration, including unauthorized immigration, has generally been good for the U.S. economy and hasn't actually taken away jobs from U.S. citizens. On the other hand, the mass detention and deportation regime of the last presidential administration was not only terribly expensive, it was deeply traumatizing to many communities, forcing citizen children of deported parents into foster care and depriving many families of earners. Even the right-leaning American Action Forum has emphasized that deporting all unauthorized immigrants would cost between $400 and $600 billion, shrink the labor force and tax base, and take nearly two decades. Likewise, mayors and governors nationwide have embraced longstanding sociological research that immigrants stabilize and revitalize declining cities by renovating blighted neighborhoods, starting businesses, contributing to the tax base, investing in public infrastructure. Sociologists have even pointed out that cities with growing immigrant populations see a corresponding decline in crime.
And yet we have failed to make the case on immigration. Even as there are more former immigrants in corporate leadership positions or elected office nationwide, many previously arrived immigrants support restrictions on new and unauthorized immigrants from their home countries. Why is it that this country of immigrants remains broadly suspicious and even hostile toward immigrants? These are the growing pains of a rapidly diversifying, plural nation. These questions of who we are, who should assimilate with whom and how, who is an insider and who is an outsider lie not only at the core of anti-immigrant sentiment but of how to unify the polity in the coming decades. If in 2012, it seemed that embracing diversity and working toward an inclusive vision of "American" was the only way forward, in 2016, it decidedly does not.