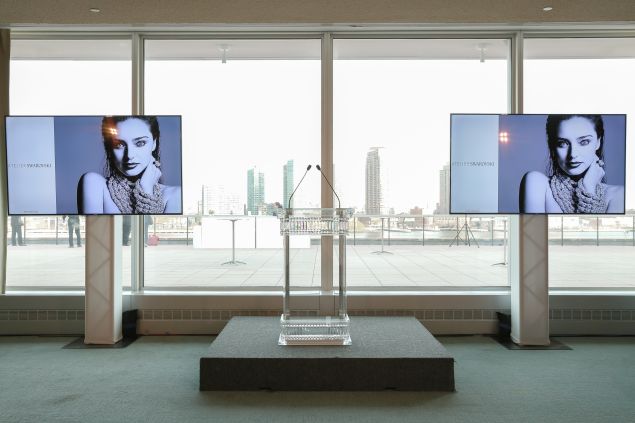 On Tuesday night in the Delegates Dining Hall, women (and some men) gathered after work to celebrate empowerment, all while surrounded by bracelets and baubles. The occasion was the 2016 Women's Empowerment Principles Reception hosted by Swarovski at the UN Headquarters.
The sweeping views led to a slew of selfie sticks, as colorfully dressed women sipped cocktails outside, hoping spring might have finally arrived. Once inside, the views were still prominent as people browsed Atelier Swarovski, Swarovski's luxury accessories line's, limited edition bracelets. Thirty percent of the retail price is going to the UN Women Safe Cities Global Initiative, a program developing tools to prevent harassment and violence against women.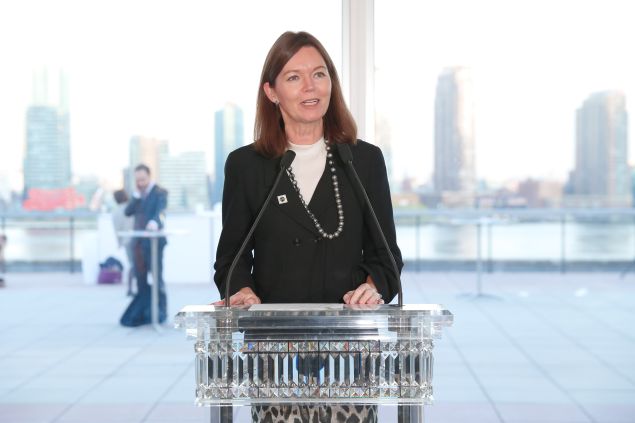 Lise Kingo, the Executive Director of UN Global Compact, introduced the speakers for the evening. "I have never seen the delegates dining room look so glamorous and elegant. I don't think we've had diamonds here before," she said. "I think it has been very clear and very heartwarming and very motivating to see so many role models here today," Ms. Kingo added. She introduced Nadja Swarovski, who she spoke about enthusiastically. "One of the companies we are particularly proud of having in our midst today is Swarovski. In 2014 Ms. Swarovski decided to sign up her company for the women's empowerment principles."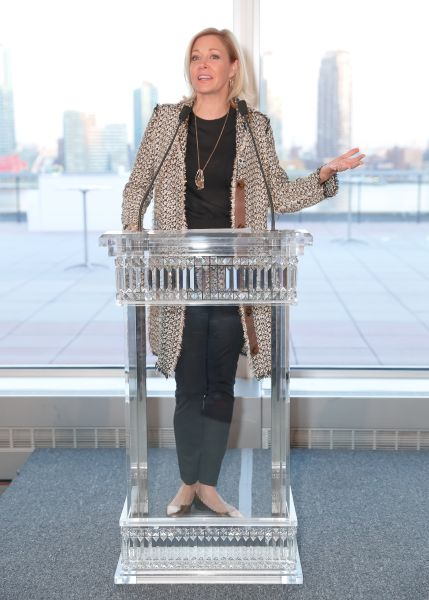 When Ms. Swarovski stepped up to the podium, she discussed her company's experience working with the UN. "It's been incredibly enlightening for the company, which was started by my great-great grandfather vision's of giving every woman the sensation of what it feels like to wear diamonds. It's an incredible honor…90 percent of customers are women, our workforce is also made up of women," Ms. Swarovski explained. She described how her work mixes personal values with business values and announced the bracelet will be in all retail stores, which she sees as a "strong platform of communication" to educate their customers about the issues.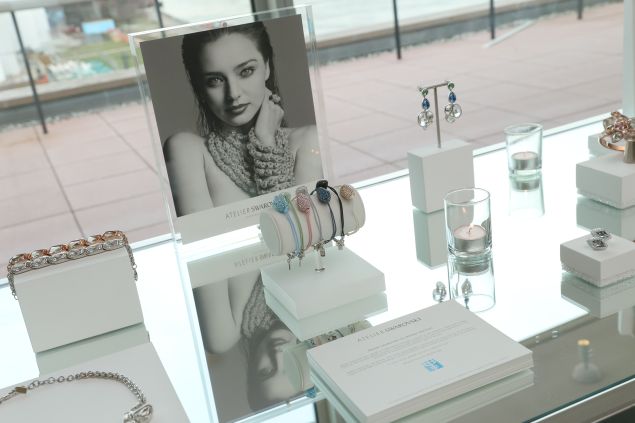 The Honorable Elke Ferner, Parliamentary State Secretary of Germany, gave remarks on supporting the women's empowerment principles. "I have been supporting women's rights in various political positions for the past 30 years," she said. "Can you guess what I have noticed? We women have to fight for our own rights money and reputation. If we don't stand up for ourselves no one else will." Hon. Ferner suggested women look for allies who see gender equality as a great opportunity for business. "We absolutely need gender equality. It is simply a must," she said simply, talking about empowerment in the workplace and equal pay, a topic met with applause.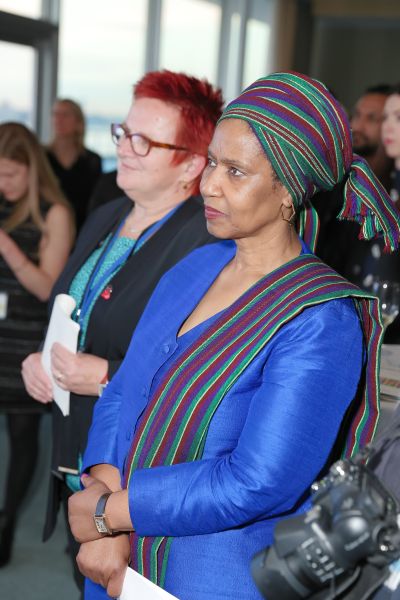 Phumzile Mlambo-Ngcuka, Executive Director, UN Women and Under-Secretary-General, United Nations (yes, she does all of that), opened with: "We're getting men feminists out of the closet one by one." She spoke about the importance of women working together. "This is, in a way, showing us a model of how to combine the private sector in a partnership that supports women. The fact that women are shoppers—am I right or am I right?—means that they must copy Swarovski and shop for a cause. It shows us an example of what can happen when they put women in leadership at a company." She ended by saying she wants people's grandchildren to not believe women were once discriminated against. "Let's work together on a few issues that will truly crumble the pillars of patriarchy."