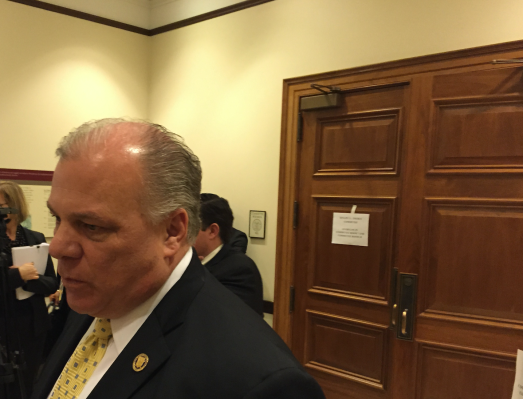 TRENTON — As Atlantic City confronts running out of cash as early as the end of the month, Senate President Steve Sweeney (D-3) believes that his state takeover bill is still the beleaguered gaming capitol's best shot at avoiding a bankruptcy. Despite Assembly Speaker Vince Prieto's (D-36) insistence that collective bargaining agreements need to be off the table for him to lend his support to a takeover in the lower house, Sweeney said Monday that the agreements will be in danger no matter what.
"I would love to tell everybody what they'd like to hear and be a hero for everybody. But unfortunately, if you do that and it doesn't work out, then everyone turns around and says 'What happened?'" Sweeney said. "With a bankruptcy, there is no collective bargaining. There is no civil service. They can fire whoever they want, they can privatize every job."
Sweeney pointed to the legislature's Democratic majority and its inability to override decisions from Governor Chris Christie, who pocket-vetoed an Atlantic City rescue package before it was folded into the takeover effort. The city's future now hinges on renegotiating those labor agreements, shifting responsibility for the municipal water authority to the county, and resurrecting a payment in lieu of taxes deal for the city's remaining casinos.
"Without the governor signing the legislation to provide the funding, they're going to file a bankruptcy," Sweeney said of Mayor Don Guardian and the city council. "What is the endgame here?
Sweeney cited the failed override effort on a gun control bill last year, when the Senate moved to override but the Assembly failed to follow suit. The outcome of the takeover bill, Sweeney said, will depend on conversations between local officials and Christie himself. The governor has remained bullish on the question of a takeover, saying during a press conference last week that he is willing to leave the city without any additional state aid if Prieto tries to block the takeover.
"Unless there's a solution they offered that the governor agrees to on this one… look, I fight with him all the time," Sweeney said. "If they had money for a year or two, well you can run the clock. The money's running out. At the end of this month, the first week of April."