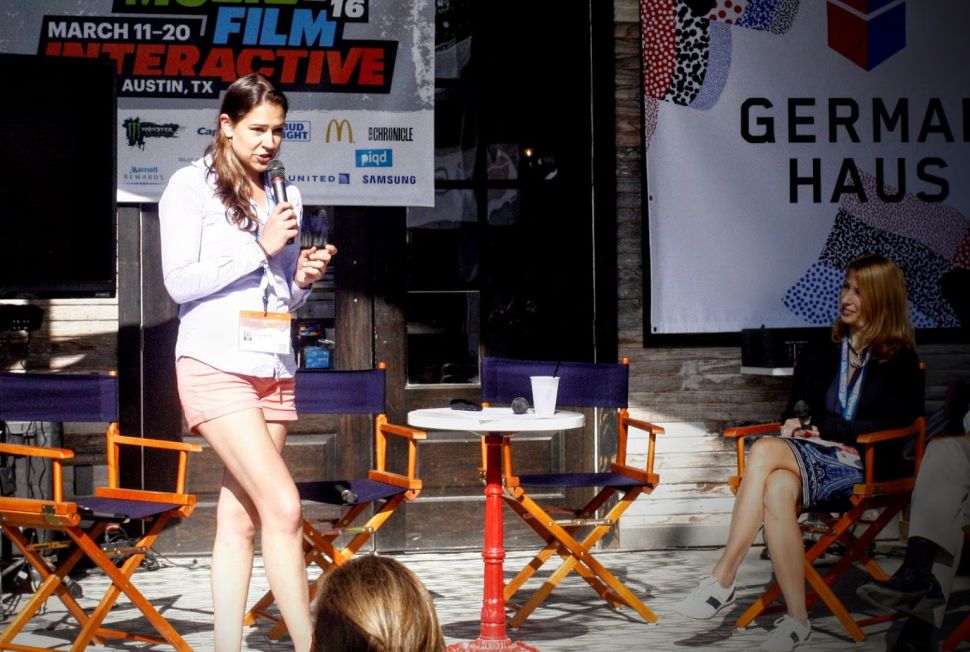 AUSTIN, Tex.—Freya Oehle thinks that speaking from PowerPoint presentations bores audiences and hinders learning. She was the last speaker at a 9:30 a.m. conversation about how the Internet of Things can help consumers at the German Haus, during South by Southwest Interactive (SXSW) on March 13. Hamburg, Germany's Ms. Oehle founded Spottster, an Amazon wish list for the entire web. She used her time by first telling her company's story and ending on a rather impassioned note on the need for retail businesses to use data well.
Retailers offline have terrible approaches to collecting data, she said, gradually ratcheting up the intensity of her breakfast time talk, until quipping, "It's nice to be young because you can tell all the old people that the way they do things is not innovative and not structured and they should definitely change it," Ms. Oehle told the thin but better than she expected crowd, while they snacked on cold croissants and bananas.
Nothing beat this German VR workout machine at SXSW
It struck the Observer how differently she approached her time, versus the other panelists. Theirs were all facts, stats and slides. Hers was a personal narrative with a touch of jeremiad. All the panelists spoke from an outdoor stage in the morning sun, but she stood out in her bearing, rocking into what she had to say as she gave the attendees their day's first burst of energy. So, we hunted the young founder down to talk to her about her distinct approach to speaking on a panel at a tech event.
"I don't know if you noticed," Ms. Oehle told the Observer when we met up at one of the afternoon's first parties, later that same day, "The moment that the first participant showed his PowerPoint slides, there was someone with an iPad taking a picture of the slide. And the slide was completely not important." She complained that people have a way of documenting things when they should be taking them in.
"I think PowerPoint slides are always a bad sign," she said.
Ms. Oehle didn't use any statistics in her presentation, either. Talking about innovation using statistics gets too abstract. Innovation means change. Shifting the way people do their day-to-day work, which means a different life story. Convincing people to live differently isn't accomplished with statistics. Facts and figures are nice to know, she said, but then added, "I don't make a judgement based on statistics, but based on what I see and what I hear and my experience."
That experience drove her to end with a tone more like a sermon than a TED talk. That stemmed from coming out of college and finding businesses wasted a lot of time and energy. "You have this ideal picture of the world and how things should work out, and within a day or two you just get slapped in the face," she said.
So she speaks with some fire because it isn't enough to just build better tools for companies to use, but to convince them with your self-confidence. She said she's watched her peers step onto stages and present great ideas with such trepidation that she wasn't sure they really believed in their own companies. Seeing Ms. Oehle, however, there was very little doubt as to whether she was motivated.
"When people start to talk and just tell their story," she said, "you can get way more out of it than with PowerPoint slides."