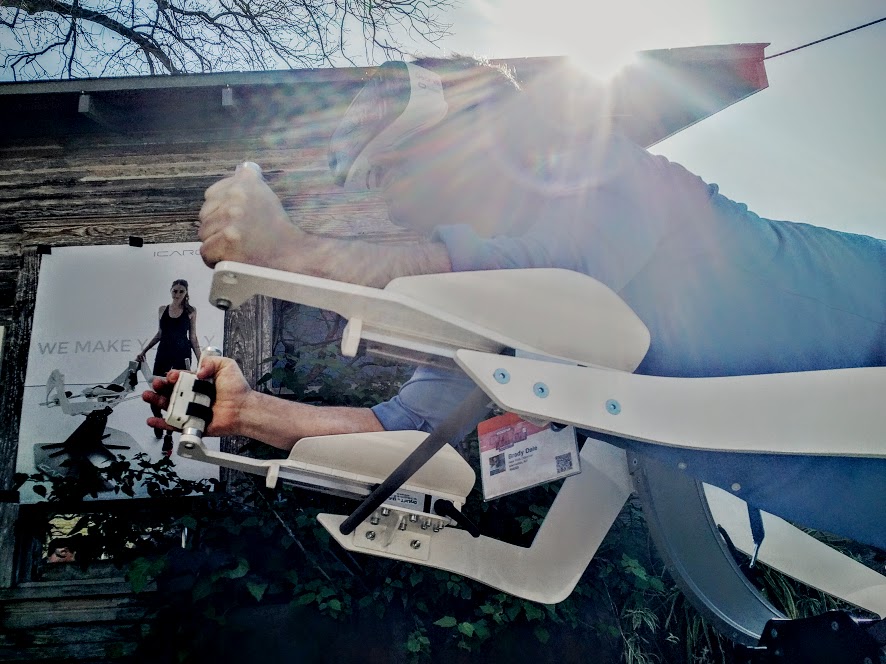 AUSTIN, Tex.—I found the most fun thing at South by Southwest.
At the GermanHaus lounge at Lucille, a bar a bit south of the Austin Convention center, a Munich-based company that opened this fall is showing off a piece of exercise hardware with a very high initial wow-factor: Icaros.
There is one unsettling second where your brain says, 'This isn't right'
Cofounders Michael Schmidt and Johannes Scholl were on hand to talk about the fascinating looking device and help new users to try it out. The two industrial engineers have constructed this all-mechanical platform that lets users lean into a plank position so that that they are balanced and floating perpendicular to the ground. You move your body a tiny bit and your head is a little below your feet (or a lot). Shift your hips back and it reverses, fast or slow, depending on how much you shift. You can swing from side to side, lean from side to side and generally toss yourself about as if you are hanging from a string attached to the small of your back.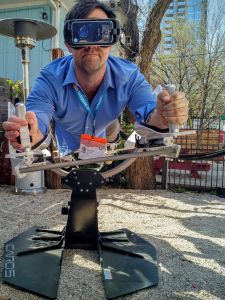 Even without the virtual reality helmet on, it is an interesting experience. The balancing machine is not electronic at all. It's a carefully engineered system that allows you to find your balance in a horizontal position and then start playing about, getting a little bit of that sense of what it must be like to fly like Superman.
That sense really hits home once the virtual reality helmet is strapped on. The company's tag line is "We Make You Fly." I only tried out one of their games, which places you above a virtual mountain range, flying in a sort of space ship and hunting two or three other drones flying around the same area. You can fly up and down, change your speed with a controller on your right hand and attempt to shoot the other drones out of the sky (I failed).
Your correspondent got the hang of it quickly. The most unsettling moment is when you first get into position. It starts with the platform basically upright. You step onto the footrests and then lean forward to reach the handles. As you shift your body weight to the hand rests, Icaros shifts you into the plank position. As long as you take the movement in a controlled fashion, it does so at a gentle pace and it doesn't feel like you are going to fall on your face, but there is one unsettling second where your brain says, "This isn't right."
Word of advice, focus on your butt. Your butt is in control.
It is a workout, though not exactly a cardio workout. It's more like pilates. You can feel your muscle effort in unusual ways, more similar to isometric weight resistance than a hard run, which mainly hits you on the abs and shoulders.
The VR games can be accessed through mobile apps designed for the lower cost virtual reality systems, like Samsung Gear, but it is also ready for higher end VR, such as the Oculus Rift.
"To give a constant stream of new games and solutions, we will open up the platform next year," Mr. Schmidt told the Observer today, inviting game developers to build new experiences for people to play through. The company wants to start talking with potential developers soon about the right way to structure revenue sharing around the games so that it's rewarding enough for them to take a risk on the new platform.
The Munich company was born out of and backed by Hyve, an innovation services company, where its two cofounders worked until they spun Icaros out into its own company this past fall. They have been designing the system for the last 18 months on the side, Mr. Schmidt said.
In April, the team will ship its first systems. The company will produce 50 units, manufactured in Germany, "Because that's how much money we have to pre-finance," Mr. Schmidt explained. They sell for about $8,000 apiece, and ten have already been sold. The interest has been sufficient that Mr. Schmidt expects selling the rest should be fairly simple.
The early market the team plans to go for is fitness centers, but it wouldn't be impossible to imagine seeing Icaros machines becoming the new Ping Pong table of a big tech companies. It has that fitness benefit, but it would also give people a way to get their mind off whatever problem has been obsessing them and focus in on something very different, something visceral. Breaks like that can be great for helping a problem solver's subconscious find a breakthrough.
The Icaros system makes for an amazing one-time experience. That's all we can really say for sure, for now.
To go from cool SXSW demo to a real business, Icaros will need to show that it delivers real health benefits for fitness freaks if gyms are to adopt it in a big way. Time and data will tell whether or not the business of virtual reality superhero machines is one that can really fly.