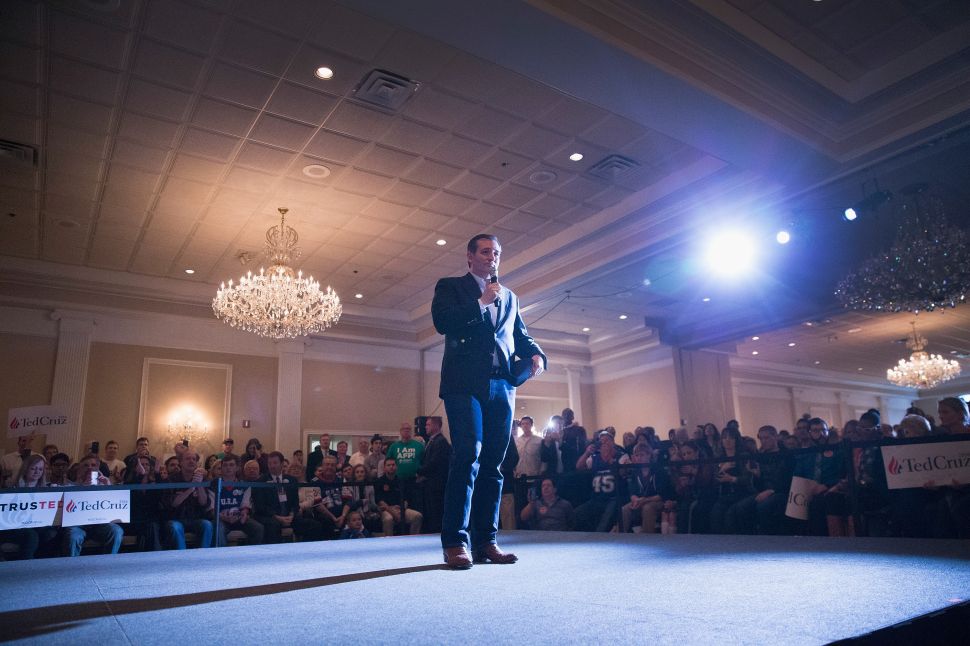 AUSTIN, Tex.—Political operatives from each end of the political spectrum had a conversation where they basically agreed about everything at Twitter's temporary South by Southwest HQ on Sunday night in downtown Austin. The topic: how data can better activate voters. The remarks from the campaign for Sen. Ted Cruz stood out both for their urgency and for the solution they described for the unusual political problem of Donald Trump's media dominance.
The panel's moderator, CNN's Ashley Codianni, asked Mr. Cruz's lead digital strategist, Chris Wilson, how his campaign coped with the fact that Mr. Trump so completely dominates in earned media (the term political types use for free media—stories where they make news rather than paying for attention with ads).
She wasn't the only one wondering. Another panelist, Tara McGowan, from Priorities USA Action, a Super PAC supporting Hillary Clinton, came to the event with the same question.
"We are spending more than any GOP campaign on digital targeting," Mr. Wilson said. The Washington Post went into detail about how that targeting works in December. In short, the Cruz campaign is crafting much more specific digital messages to individual voters. Gun rights are promoted as a defense against crime to voters profiled as fearful. Supporters profiled as extroverts are the first to get asked to take on leadership roles. 
Mr. Wilson argued that the campaign has the resources such that it knows exactly which voters are likely to be choosing between the candidate winning in media, Mr. Trump, and Mr. Cruz. They will then put a volunteer on each of those voter's doorsteps with a message ready about the number one issue of concern to that person.
In the past, volunteers went out prepped, perhaps, with the right message at the city or even neighborhood level. Mr. Cruz's campaign uses digital to craft the message to one person and, by using mobile technology, the volunteer delivering that message can show up with the information he or she needs to deliver it at their fingertips.
Mr. Wilson said he could get very depressed if all he did was stare at Google Trends every day and see how badly Mr. Trump is beating his rivals in the public's curiosity. Instead, Mr. Wilson focuses on what he can control.
After Iowa, he said, the list of persuadable voters there heard from the Cruz campaign again and again to the point that some of them might have been annoyed about it, but he also said, "Voters were saying, 'How did you know that was the issue that I cared about?'"
The answer is that the campaign is managing to gather information about voters from a variety of sources. The one area that no one has mastered yet is scraping social media, at scale, to understand individual voters better. In response to a question from the Observer, i360's Brian Presher said that matching voters to social media accounts and then automating determinations about their sentiment around different topics has proved elusive thus far.
"I haven't seen something overly successful at this point, but I think that's the next frontier," Mr. Presher said.
Five states are voting in primaries today, including three of the biggest (Florida, Ohio and Illinois). RealClearPolitics doesn't show Mr. Cruz leading in any of those states, though he is perhaps within striking distance in Missouri.
By this evening, we should see some more clues as to whether the Senator's focused targeting has started to turn the tide against Mr. Trump's dominance of the national conversation.
Disclosure: Donald Trump is the father-in-law of Jared Kushner, the publisher of Observer Media.