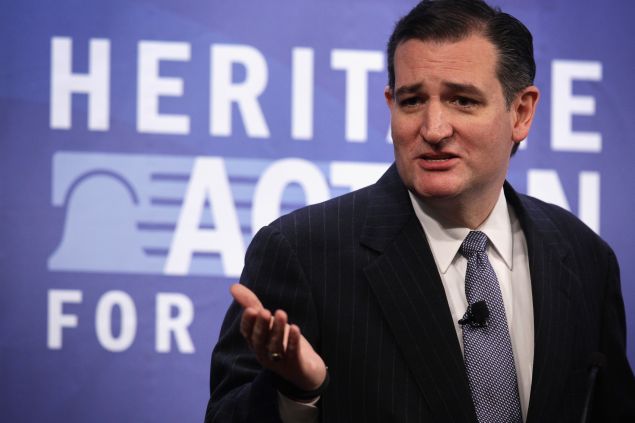 Mayor Bill de Blasio tore into Texas Senator Ted Cruz today for advocating the deportation of immigrants residing in the country illegally.
Speaking at a St. Patrick's Day event, the liberal Democrat bristled at the GOP presidential candidate's recent demand that the federal government expel the so-called "illegal Irish"—"We say undocumented here in New York," the mayor upbraided a reporter—along with all other foreign nationals lacking proper paperwork. Mr. de Blasio is a supporter and sometimes surrogate of his party's favorite, Hillary Clinton, the former secretary of state, and has been an outspoken critic of Republican front-runner Donald Trump.
"I'm not only talking about Donald Trump, I certainly want to hold up the example of Ted Cruz too, as someone who believes in the idea that we should deprive people of the blessings of the United States of America, and separate families, and tear them apart," said Mr. de Blasio.
The mayor, who has not hidden his ambitions to become a national progressive leader, has proudly advertised New York as the kind of "sanctuary city" for the undocumented that Mr. Cruz has vowed to deny federal funding. Mr. de Blasio has rolled out the IDNYC municipal identification program to encourage illegal immigrants to open bank accounts and participate in the city's cultural life, and has endorsed President Barack Obama's controversial executive order to create a path to citizenship for 5 million people living in the U.S. in violation of federal law.
The mayor is also the founder of Cities for Action, which advocates more liberal immigration policies. He seemed confident most voters in November would come closer to him and Ms. Clinton on the issue than Mr. Trump and Mr. Cruz.
"They're literally peddling xenophobia in the ultimate nation of immigrants. So that's un-American. We are a nation of immigrants," he said. "That's un-American, and the American people, I believe, will not accept it."
Mr. Cruz's camp did not immediately respond to requests for comment.
Disclosure: Donald Trump is the father-in-law of Jared Kushner, the publisher of Observer Media.