During this most recent Contemporary art market boom, the smears and squiggles of young American painters (usually with six-figure MFA degrees) were deeply in vogue. But eventually, that artwork became redundant, and some of it even started to resemble discarded garbage (drywall, dirty windshields, etc.). Therefore, that fad has been put aside for a new art trend: Contemporary African art, which has been booming, thanks to its relatively low price, and is now spilling into collections around the globe.
Of course, there's been a strong thread of artists coming out of Africa, like El Anatsui and William Kentridge, and into the contemporary art world for decades. But now there's great excitement for a younger generation of African artists. Their work, as mentioned, tends to come cheaper than most of the aforementioned MFA-graduate artworks, and they also offer artworks that has been informed by real issues: murderous, religious fanatics and environmental disasters, for example (not problems like having to sign in and out of multiple Instagram accounts, which, let's face it, does suck).
Enter the Armory Show: one of over nine art fairs taking place in New York City this March (and in case you're like, "What? Only nine?" there is also a bunch more taking place in May for some reason). This year, the Armory is showcasing—you guessed it—the art of Africa in its critically lauded Focus section. Each year, the Focus section brings well-deserved attention to artists and artwork from a new far away district, like Scandinavia, China or Westeros (ok, not actually the dragon-infested Westeros). This year, the Focus section, titled "African Perspectives," has been curated by the team of Julia Grosse and Yvette Mutumba from the online African art platform Contemporary And (C&).
Last year, a big art-world spotlight was put on African art when Nigerian Okwui Enwezor became the first African to curate the Venice Biennale. And momentum for African art and African presence in the art world has only strengthened since. By the way, did you know that Africa makes up more than 20 percent of the earth's land and is the only continent to stretch from the northern temperate zone to the southern temperate zone? As you can imagine, there are as many different art styles as there are countries (54) in the birthplace of the human race. And considering Africa's exploding population, it shouldn't come as a surprise that hot young artists are starting to pour out of Africa. Fortunately, Americans will have the chance to see a tantalizing cross section of works by these African artists up close and personal in the 2016 Armory Show. We got a sneak preview, and—spoiler alert—a lot of the work is pretty great. Here are some of the highlights.
Any African focus should naturally start with the South African gallery What If the World?, which has been a trailblazer of the Cape Town Contemporary art scene since 2008. The gallery is a launching pad for young African artists, like Athi-Patra Ruga and Rowan Smith, but for this art fair, they're focusing on relatively established artist Dan Halter. The 39-year-old artist, who addresses the colonization of his Zimbabwean ancestry through a series of wall works and sculptures, has settled on some impressively detailed and highly individualized styles. His booth installation, which features altered African masks, tartan fabrics, hand-woven printed texts and plastic bag material, is highlighted by a pair of mannequin legs topped with a stack of tartan bags that both sadly and humorously symbolize the tragic displacement of many of Mr. Halter's fellow Africans.
Cécile Fakhoury Gallery is visiting from the port city of Abidjan in the Ivory Coast—over 5,000 miles away from Cape Town. The space, which opened in 2012, is more than just another art gallery: It's a hub of Contemporary art-making for this war-torn west African country, offering an occasion for locals to show or view top-notch Contemporary artwork. For the fair, the gallery will bring a series of otherworldly photographs by Abidjanian photographer François-Xavier Gbré. The French-born artist, who currently lives in the Ivory Coast, takes photographs of the local buildings and infrastructure, which expose evidence of prolonged colonial abuse. This is certainly obvious in pieces like Palais du Gouverneur II, Lomé, Togo, 2012, which offers hints of the local idyllic landscape from within the shell of a former palace long vacated and gutted of its opulent wares.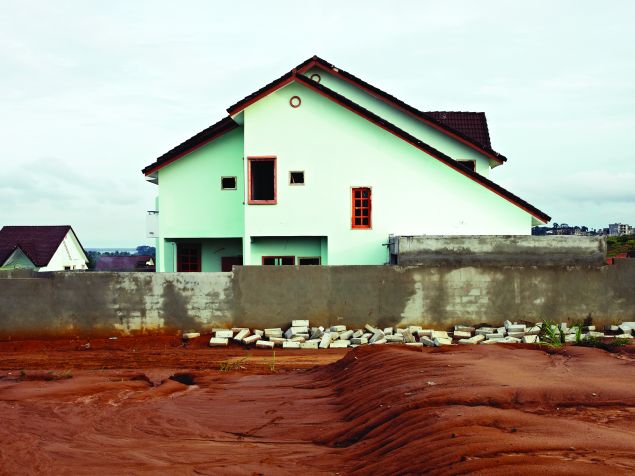 The plight of Africa under colonial rule is a major theme among the Focus booths. Even some galleries that don't reside in Africa will be presenting works that touch on these issues. The Tiwani Contemporary, despite being located far from the mother continent in London, focuses on artwork from "Africa and its diaspora" and will bring the eye-popping works of Angolan artist Francisco Vidal to New York. Though Mr. Vidal was born in Lisbon, he has left an indelible mark on the citizens of Angola that goes beyond his own art. The artist, who is of Angolan heritage and represented his country at the most recent Venice Biennale, helped to grow the art scene of Luanda, Angola by co-founding the e-studio Luanda, a project space and studio complex that offers exhibitions and an art education program run by local artists. Mr. Vidal's own chromatic text and image-based paintings, which evoke the works of historic colorists such as Henri Matisse and Ernst Ludwig Kirchner, appear jubilant at first blush, but a further examination of his work reveals painted-over machetes and other munitions that Portugal forged in order to extinguish uprisings in Angola. This of course led to the African diaspora into which Mr. Vidal was born. It's heavy stuff, yet it comes in an alluring package.
Another artist working and showing outside of Africa is the Canadian-born, Paris-based multimedia artist Kapwani Kiwanga, who received the Armory's distinguished artist commission for this year's fair and will be highlighted on the 2016 fair catalogue. Co-presented by both the Parisian Galerie Jerome Poggi and the Berlin-based Galerie Tanja Wagner, Ms. Kiwanga's installation and multimedia works combine the cutting-edge look of western Contemporary art practices but with a litany of African subjects. The artist uses her research on a multitude of subjects to create installations that combine projections, photographs and altered objects -—referencing both the future and the past.
As a group, these artists cover a lot of territory in terms of their artistic styles and, literally, in terms of their locations. And who knows—if this Focus section really takes off, maybe we'll be talking about the artist-led gentrification of Zimbabwe at this time next year.