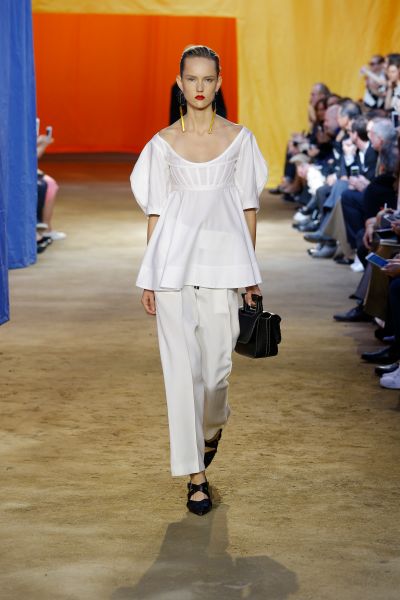 In 1988, photographer Peter Lindbergh took a now iconic picture of six supermodels dancing and laughing on a beach. They all wore white shirts, unbuttoned, oversized, and billowing in the ocean breeze. It was provocative yet relatable, but most of all, accessible. Because who doesn't have a white shirt hanging in their closet?
The classic shirt has many connotations: School uniforms, waiters, tuxedos and even a French girl's wardrobe staple. It has also earned itself status as one of the workhorses of a woman's closet, along with the trench coat, jeans, and a black skirt. Whether in cotton or silk, the white shirt can be worn anywhere, by anybody. It transcends seasons, occasions and time of day. Just look at the fashion insiders who swear by it. Carolina Herrera wears it as a uniform with black trousers or a full black skirt. "Trends will come and go, but nothing beats the white shirt," she has said in past interviews. Marc Jacobs is also a fan, frequently pairing a white shirt with a black skirt.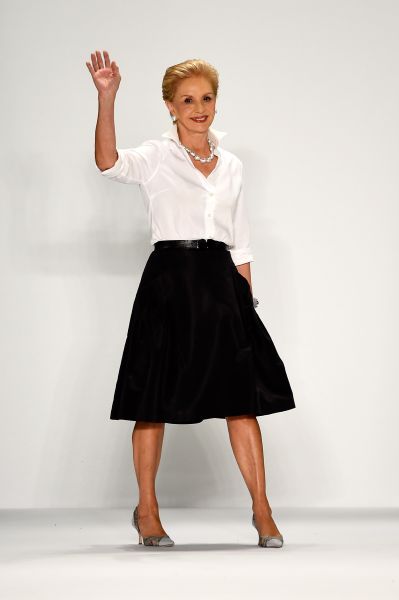 However, this timeless piece is undergoing a renaissance. At the Spring 2016 shows, (whose pieces are currently hitting stores) a plethora of brands both new and old took the white shirt and reconstructed it. The ease of a white shirt was there—customers will still understand what to pair it with and aren't afraid to slip it on—but completely new iterations were offered up. After all, a white shirt remains appealing to a number of women from all walks of life.
"People will never move away from a classic shirt, they just find more reasons to buy another one—like they do for a black jacket," says Sarah Rutson, Net-a-Porter's VP of Global Buying and a huge fan of the shirting trend. "You always find another reason to buy one as it's such a well worn piece in wardrobes. They're a go-to which makes it an easy decision to buy."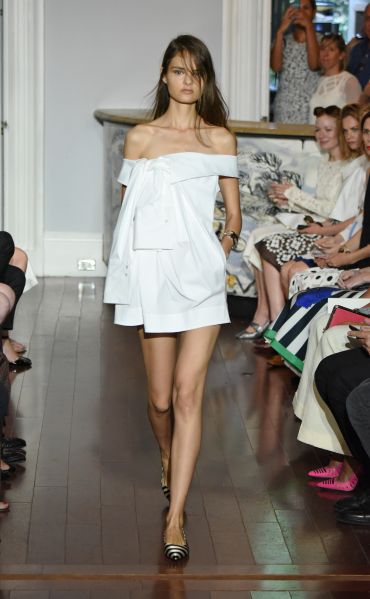 At Monse's (pronounced Mon-say) inaugural show, designers Laura Kim and Fernando Garcia reconstructed a shirt to become an off-the-shoulder top and dress, with sleeves wrapped around the torso to add shape. In fact, the reconstructed shirt has become a signature of the new label, and elements of it make an appearance in almost every garment.
At Palmer//Harding, another up-and-coming brand based in London and run by partners Matthew Harding and Levi Palmer, the white shirt was the impetus for starting their line. Their most popular selling piece, the Asymmetric White Shirt, features a long shirttail that almost scrapes the floor, and billows out when you walk creating a dramatic effect. For them, the shirt is a staple piece that can be reinterpreted in many different ways, whether it's the volume of a sleeve, the addition of a ruffle, a bell sleeve or extra pleating.
Another newcomer, Brooklyn-based Maud Heline, began her line with a collection of white poplin shirting that specialized in unique details. A Peter Pan collar and lace sleeves on a boxy shirt gave a feminine yet cool appeal, while another silhouette looks like a cape when arms are held out. The reconstructed trend also extended to bigger, more established brands.
Céline played with puffy, oversized sleeves and deep, scooped necks, while at Proenza Schouler, the shirt was cut-out, stamped, tied around the waist and ruffled at the bottom. The desirability factor for the trend however, lies in the mix of familiar and experimental.
A white shirt is both professional and easy, yet a deconstructed version is cool and edgy. And if you're a fan of the traditional, it's perfect segue to try something new.