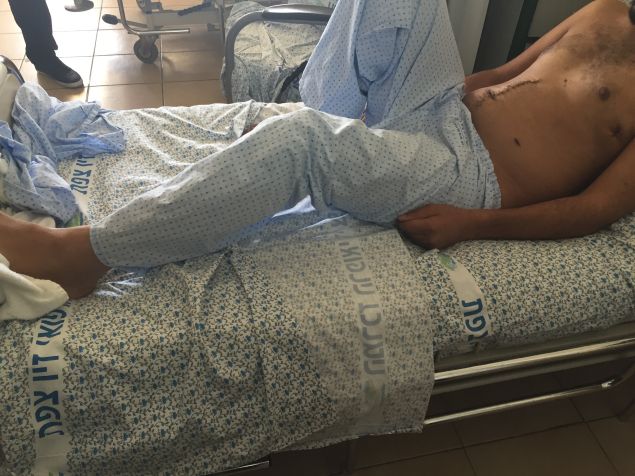 Abdi Salaam is an injured Syrian rebel fighter being treated at Ziv, an Israeli hospital close to the border of Syria and Lebanon.
He shares a room with two other injured Syrians, outside of which stand several IDF soldiers guarding the men to ensure journalists do not take pictures of their faces. When they heal and return to Syria, their families may kill them for being treated in Israel.
This is the second time that Mr. Salaam has been treated at Ziv.
His hospitalization occurs in the context of an ongoing five-year war in Syria, where there is a current, yet unstable, ceasefire.
Arab human rights organizations, such as Al-Marsad in the Golan Heights, are somewhat thankful for Israel's treatment of the Syrians, yet question Israel's interest in treating the wounded. They believe Israel is using the treatments solely for publicity and then wrongly letting the wounded go back to a war-torn Syria.
'If someone comes to the fence with no legs, as a human being, you can't leave them to die.'
Indeed, medical treatment is costly and may not be in the country's best interest to treat those who may be supported by Israel's enemies: Hezbollah, ISIS and/or Iran. The average patient's surgery and treatment costs $15,000—coming directly from Israeli taxpayers' pockets—and over 2,000 Syrians have been treated in Israel's hospitals in the North in the last three years.
Some say it is wise for Israel to treat Syrian rebels, as they are the ones fighting the Assad regime, which is aligned with Israel's most pressing enemy, Hezbollah. Since Hezbollah's last war with Israel in 2006, the terrorist organization has amassed a large arsenal of weaponry and continues to believe Jihad is "the panacea to the ills, cruelty, and oppression afflicted on Lebanon and the region by Israel."
However, Israeli officials say the hospitals treat patients no matter their alliance. Ziv is a civilian hospital rather than a military one and is agnostic to the patient's background.
Lt. Col. Peter Lerner of the Israeli Defense Force explains, "It is a humanitarian gesture. People who are in dire need who are approaching the border—the IDF medics and paramedics will check them, make a medical decision on the ground, and then take them for treatment in Israeli hospitals… Our policy is a professional medical policy. You treat people who are in need for medical assistance. We have women, children, men, people who have been engaged in the combat, anybody who needs that help… If someone comes to the fence with no legs, as a human being, you can't leave them to die."
Dr. Alexander Lerner, manager of the orthopedic department of Ziv Hospital, adds that they have treated over 600 victims of the Syrian civil war, as Syrian medical infrastructure is mostly destroyed. He says, "We hope that our treatment may be a small stone in building peace in our region".
In the Ziv Hospital, Dr. Mahmoud Fares, an Arab Israeli Doctor, translates the three wounded Syrian mens' testimony. Mr. Salaam explains he was injured in a car bomb, most likely by the hands of ISIS or the regime.
Mr. Salaam was a fighter, was injured, and then became a farmer. But when the Syrian army bombed his village, he went back to fighting. He said all he wants is peace and to go home, to get married, to have a normal life—but if someone comes to his land and tries to kill him he will fight again.
When asked what he thinks about being treated in an Israeli hospital, he answers, "It is my pleasure." He gets better treatment in Israel than anywhere else, he explains. He continues, "Israel treats me better than my family has for the 33 years of my life!"
The other injured Syrian man next to him, who was afraid of being photographed for the sake of his life, mutters in Arabic, "Of course he is going to say this with foreign press in the room."
Regardless of Mr. Salaam reasons, two things are certain: First, there is no way he could have said these things back home. And second, if he did criticize Israel, his treatment at Ziv would not have changed.