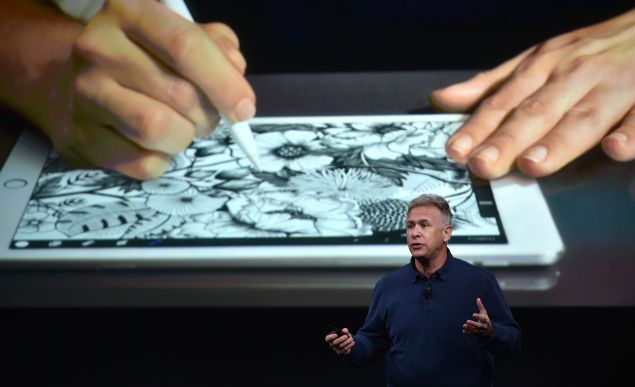 Steve Jobs introduced the iPad in 2010, calling it "our most advanced technology in a magical and revolutionary device." Since then, Apple (AAPL) has sold hundreds of millions of tablets, and commands the No. 1 position in the world in both market share and revenues. More than a million apps have been created specifically for the iPad, and the number of times they've been downloaded is in the scores of billions.
So it seems insane to ask: Is the iPad a failure? But the answer is far from clear-cut.
The question is occasioned by yesterday's announcement of a new model, a smaller version of the gigantic iPad Pro that was introduced last fall. I'll take a closer look at the new hardware in a subsequent column. But for now, it's enough to know that it's about the same size and weight as the iPad Air 2 that was introduced in 2014, while adding a faster chip, more memory and storage and compatibility with the Apple Pencil stylus and add-on keyboard.
In short, the new features are designed to enhance the iPad's capabilities as a productivity device, while deemphasizing its traditional role as a media-consumption/gaming device.
It's a strategy that makes sense, positioning the iPad more directly against tweeners like Microsoft (MSFT)'s even pricier (and nowhere near as successful) Surface tablet-laptop hybrids. But it's also a strategy born of weakness.
Back in those early days of the iPad six years ago, content-owners in particular embraced the new platform. The book industry saw Apple as a powerful counterweight to their dependence on Amazon (AMZN), especially when Apple embraced their efforts to drive up prices for e-books. (Apple has asked the U.S. Supreme Court to hear its appeal of a lower-court finding that it violated the Sherman Antitrust Act.)
News publishers were similarly enamored, seeing in iPad apps a way to recreate their traditional display-ad-plus-circulation model in a digital realm. News Corp. sank millions into a new iPad-only newspaper called The Daily, with Rupert Murdoch himself proclaiming the iPad "the most innovative device to come about in my time."
And for a while, it seemed to work as planned. The iPad sold at a faster rate than even the iPhone had, peaking at an estimated 26 million units in 2014's first quarter.
Since then, though, the market has largely stagnated, with sales dipping below ten million in last year's fourth quarter. The've since rebounded, goosed by the introductions of the 12.9-inch iPad Pro and an updated version of the 7.9-inch iPad mini. But The Daily is long gone, along with the most of the publishing industry's hopes for tablet salvation.
Just about the only ones who must be happy with the current state of affairs are the major book publishers; antitrust or not, prices of their e-books are markedly higher than they were back when Amazon's Kindle was the only game in town.
What happened? There are lots of theories. Some suggest competition from the flood of cheaper tablets running Google's Android operating system, but Android tablet sales are down too.
A better guess is that sales of iPads and other tablets have fallen victim to the steadily increasing size of smartphones.
When the iPad launched in 2010, there was a massive gap between its 9.7-inch display and the iPhone's 3.5-inch screen. But the success of Samsung's Galaxy devices demonstrated a market for larger screens on phones, leading Apple eventually to introduce the 4.7-inch iPhone 6 and 5.5-inch 6 Plus.
Factor in the iPad mini, and the size gap between the largest iPhone and the smallest iPad is now a fraction of what it was. And if games, books and videos are still more fun on an iPad screen, those benefits may be outweighed by the cost of purchasing a second device and the need to carry it in addition to your smartphone. In short, while a big-screen phone may not be as good, for many people it's good enough.
This isn't necessarily bad news for Apple; those missing iPad sales may just be fueling increases in highly profitable iPhone sales. But it suggests the iPad needs some additional rationale beyond media consumption—in the enterprise, and as a lightweight substitute for a laptop.
Hence the new emphasis on creating stuff—with accessories like the keyboard case and Apple Pencil—rather than just consuming it. If Apple is successful, it may give the iPad a second chance at becoming that "magical and revolutionary" device Steve Jobs promised six years ago. If it fails, the iPad may one day be remembered in the same terms the iPod is now: a device that had its moment, but was ultimately rendered irrelevant by the iPhone behemoth.
Rich Jaroslovsky is an Observer technology columnist and vice president of SmartNews Inc. Reach him at richj@observer.com or on Twitter @RichJaro.