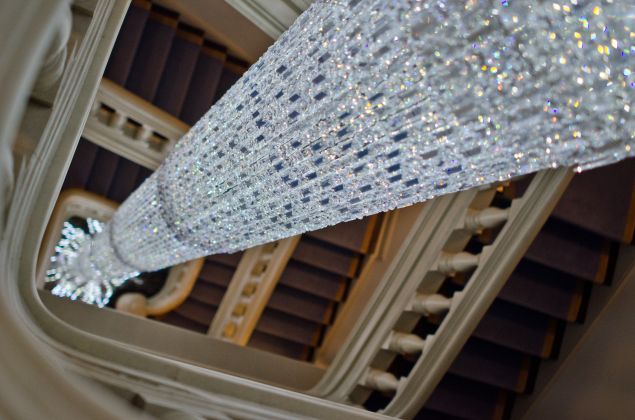 "I've always liked big houses," Dr. Henry Jarecki, owner of the imposing mansion at 19 Gramercy Park South, told the Observer recently. "This was a big house."
Dr. Jarecki didn't come to obtain the keys to the house easily—it took him 30 years. But some things are worth the wait.
The five-story, nearly 18,000-square-foot townhome has been owned by a descendant of Peter Stuyvesant and a famous fashion designer, and it served as the backdrop of parties attended by guests as varied as the Astors, Bob Dylan and Marilyn Monroe. It has made appearances in Hollywood films and hosted $1,000-a-plate charity galas.
"You can feel the history," rhapsodized Douglas Elliman broker Leslie Mason, the listing agent from whom Dr. Jarecki purchased the home. "It's truly quite magical."
The house has been the object of fascination for many. "If you had to find a house that was kind of the romantic image of New York social life, and that sort of party atmosphere and all that kind of stuff, I don't know what a better candidate would be than this house," said Kevin Schubert, an attorney and author of the blog Hidden New York.
Originally known as 86 Irving, it was built as a four-story brick structure by signer of the Constitution and Connecticut Senator William Samuel Johnson in 1845, after he purchased the lot from local politician Samuel B. Ruggles. Johnson sold the home in 1855 to a paper merchant, Horace Brooks, who added a black mansard roof and a stable in the back, before selling it to a tobacco merchant, Joseph Fatman.
"Gramercy Park dates back to 1831," Douglas Elliman broker George van der Ploeg explained. "It was the second, and last, private square created in the city. Ruggles had the idea to create a park to make all the lots around it more valuable."
Ruggles succeeded—the neighborhood has had shifts in popularity, but its value has been largely untouched, not least because of its exclusivity: Only the buildings directly surrounding the park receive keys to it.
In 1887, 19 Gramercy Park South's rise to prominence began when Stuyvesant Fish, the son of wealthy railroad executive Hamilton Fish and a descendant of Peter Stuyvesant, purchased the home.
"Gramercy Park was a very fashionable place to live in the 1870s," Mr. van der Ploeg said. "Samuel Tilden, who became the governor of New York, had architect Calvert Vaux take 13 and 15 Gramercy Park South, and combine them into one of the greatest mansions—he lived there until he died in 1886." It's now the home of the National Arts Club.
"Edwin Booth was a resident of Gramercy Park," he said. "He founded the Players Club—the people invited to be original members included Mark Twain."
And there was Fish, who became president of the Illinois Central Railroad. It was his wife, Marion ("Mamie"), who transformed the home into a hub for society's elite.
Her first step was to change the name from 86 Irving to 19 Gramercy Park South, before she commissioned architect Stanford White, who lived nearby, to remodel the house for a reported $130,000.
"He added the white marble staircase and the ballroom, because in those days, everybody had to have a ballroom!" Mr. van der Ploeg said. Indeed, the ballroom was the centerpiece of the house, where Ms. Fish threw lavish society parties that once included a soirée for her friends' pet dogs.
The Fishes kept Gramercy on the social map. "It was their refusal to go uptown for a long time," historian Andrew Dolkart said. "They would entertain people in Gramercy when most of their social peers were moving to the Upper East Side."
But the increasing prominence of Central Park uptown, coupled with the influx of commercial buildings rising near Gramercy, eventually resulted in the Fishes hiring White to build their famous mansion on 78th Street—currently owned by former Mayor Michael Bloomberg.
The couple retained ownership of 19 Gramercy Park South, however, and an additional apartment building was added to the lot in 1909, which they leased out—at one time, to actor John Barrymore.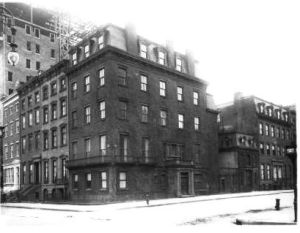 Benjamin Sonnenberg, the "father of public relations," moved into the two lower floors in 1931, before convincing the Fish offspring to sell the entire home for $85,000. The Sonnenbergs promptly converted the home back into a private residence, connecting it with the apartment building.
The result was a 37-room-plus mansion, which Sonnenberg filled with antiques and artwork—perfect for the extravagant, celebrity-dotted gatherings he threw.
"He made it more sophisticated," Mr. Schubert said. "He brought in all this famous artwork, which just added to the allure of the house."
Guests of Sonnenberg's parties included Lauren Bacall, John Steinbeck and Henry Fonda. "The most fascinating is when Sonnenberg made it into this socialite house, where you had Bob Dylan and Mia Farrow and everyone else just going up to the ballroom," Mr. Schubert said. "It's this perfect romantic image of New York."
Sonnenberg's influence on the house remained after his death in 1978. "Everybody in the neighborhood now calls it the Sonnenberg Mansion," Lee Ann Jaffee, a Stribling broker who lives near Gramercy Park, told the Observer.
After Sonnenberg's death, the house's reputation only grew, added to by Brendan Gill's 1979 piece in The New Yorker, in which he declared it to be "the greatest private house remaining in private hands in New York."
The house went on the market for $1.9 million in June of that year.
"I almost bought it from Sonnenberg," Dr. Jarecki said. "But they wanted to sell it with all the many art things inside it." Instead, an all-cash, $1.5 million bid from Baron Walter Langer von Langendorff, the founder of Evyan Perfumes, was accepted. But the baron never moved in, and for a time Sonnenberg's hired help remained living there. A few years later, Mr. Langer hired an interior decorator, Jane Ashley, to fix it up.
"The interior designer moved in, and when the baron died [in 1983], a litigation ensued between the interior designer and his wife," Mr. Jarecki said. "The interior designer said she had provided her services as were appropriate in the circumstances.
"The interior designer did zero to it."
Mr. Jarecki bid on the home each time it traded owners post-Sonnenberg, but it still languished on the market for 12 years, until fashion designer Richard Tyler and his wife, Lisa Trafficante, paid $3.5 million for the keys in 1995.
"[Mr. Tyler] wanted the house because it's fantastic and extremely glamorous," said Ms. Mason, whose long history with the home goes back to her late mother, Patricia, who handled the deal in which Mr. Tyler purchased it.
"He used the top-floor ballroom as a place to put all the wedding dresses for his collection," she said. "Richard took very good care of the building."
Dr. Jarecki doesn't quite agree.
"[Richard] Tyler planned to do a bunch of things," Dr. Jarecki said. "He planned to move to New York from Los Angeles and then, almost seven or eight years later, concluded that the prices had gotten very high, so he didn't do anything to the inside. He just sold it."
And so another opportunity arose for Dr. Jarecki, whose own professional life has been as interesting and varied as that of the home he coveted. As a child, he fled Nazi Germany with his family, later becoming a psychiatrist (he remains an adjunct professor at Yale Medical School). He was involved in the bullion market in the 1970s, and other endeavors have included co-founding Moviefone with his sometime-director son, Andrew Jarecki, which they sold to AOL in 1999 for $388 million.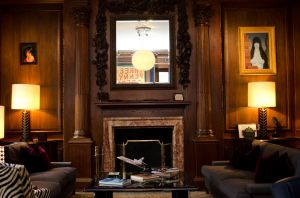 "When I first got the exclusive listing in 2000, my father said to me that there was a guy who had once liked the house, who lived on Polly Park Road in Rye, near my grandmother," Ms. Mason said. "I said to my dad, 'What, you think 20 years later he might like the house?' " She laughed.
"The owners told me there had been somebody bidding on the house through a broker who I didn't know very well," Ms. Mason said, "who would bid from time to time. As the months went by, he abandoned his broker and began to call me directly. I said, 'Why don't you come see the house?' And he said, 'I've seen it many times.'
"He came to the house, and I started this speech about Stanford White," Ms. Mason continued. "When he said, 'Oh, I've been in the house before.' I said, 'Please don't tell me you live in Polly Park Road in Rye,' and he said, 'How'd you know?' "
And so for $16.5 million, Dr. Jarecki finally purchased 19 Gramercy Park South, which he now uses for both his foundation and his private home.
"By that time, I had concluded that I did like it. I liked the area, I liked the rooms," he said simply. "It's a place where you can move around and have friends come over. It's made for the ability to use a lot of different parts of the house."
Shortly after Dr. Jarecki moved in, he threw one of his first events—a fundraiser for the neighborhood's police precinct after the 9/11 attacks.
"I thought, well, maybe we should have a neighborhood party and raise money for them—we raised in the hundred of thousands of dollars," he said. "There are a lot of charitable people in the neighborhood…and a lot of people who wanted to see this big old house!"
But the home was in need of some repairs. "Since the time Sonnenberg had died, absolutely nothing had been done to the house!" Dr. Jarecki said. "I did a big renovation. I took everything out!"
If anyone was concerned about a certain top floor, not to fret. "The ballroom is still used as a ballroom," Dr. Jarecki confirmed. "Shouldn't everyone have a ballroom?
"From the fourth floor, down this big circular staircase, I hung a crystal chandelier that goes down four flights—it weighs four tons of crystal," he continued. "It's probably New York's biggest chandelier!" The chandelier has made quite the impression on others.
"It was in that movie, Arbitrage," said Mr. Schubert, who lived in Gramercy from 2009 to 2014. "It has this ridiculous chandelier that goes from the top of the building to the bottom. I realized that it looked familiar—I said, 'Holy shit, that's 19 Gramercy Park!'"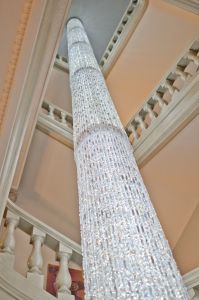 Dr. Jarecki waived the $65,000-a-day fee that others pay to use the home as a set—his son, Nicholas Jarecki, directed the film. (Nicholas Jarecki isn't the only filmmaker in the family—Dr. Jarecki's oldest son Andrew Jarecki directed, wrote and produced the Emmy-winning documentary series on Robert Durst, The Jinx, and was nominated for an Oscar for his 2003 film Capturing the Friedmans.)
"I'm getting to a point where I ask myself, maybe I should get an apartment somewhere, because my kids are grown, but I don't know," he said. Yet 16 years after he finally obtained the keys to the house he pined after for decades, his reasoning for keeping it remains the same as when he first set his sights on it.
"It's a grand house," he said matter-of-factly.