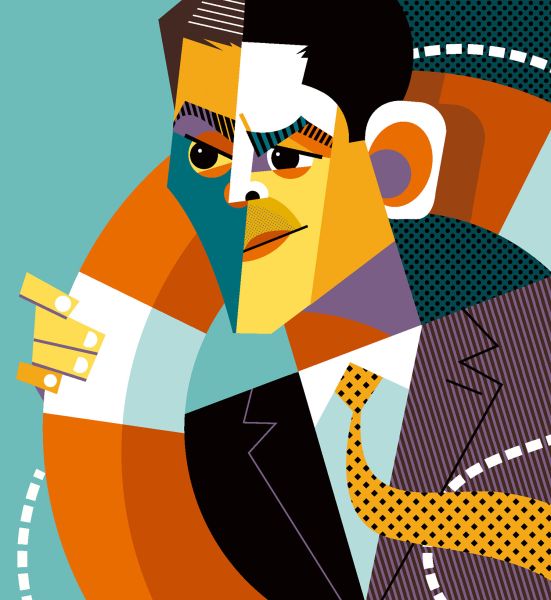 David Miliband still can't get used to the rats on the subway. "They are much larger than the size of the mice on the underground," the CEO of International Rescue Committee said in his Midtown office. Since he left politics and upped sticks from London to New York in 2013, Mr. Miliband has led the relief agency founded by Albert Einstein, which aids refugees. As he spoke, Mr. Miliband checked BBC news for updates on the EU-Turkey migrant deal. A slim book, Empire of Humanity, sat on his desk.
Your parents were refugees during World War II. Did your own personal story influence your decision to join the IRC? When I went for this job I said that there were three reasons I was interested. Firstly, I felt that issues on the border of humanitarian and foreign policy (How do you get health care to people in the middle of Syria? How do you ensure that forgotten communities in Afghanistan and Pakistan don't get forgotten?) are some of the hardest questions in public policy. Secondly, I thought the IRC had real potential to grow in impact and influence. And thirdly, my own family's story, rather than my story, gave me at least some sense of closing a circle by helping today's refugees in a way that other people helped my family.
What have you found the nonprofit sector does that government cannot? I think the nonprofit sector can take risks that government can't. It has less power than government, but fewer obstacles to getting things done. And it can make the world better one person at a time rather than having to think in massive statistics. Although to give you a massive statistic, we helped 23 million people last year.
'The number of people we've helped is always dwarfed by the number of people we haven't.'
Do the attitudes of the U.S. and Europe differ towards refugees? In both America and in Europe, the similarities are more obvious than the differences although not in the way that you might expect. There's a polarization in respect to refugees, which is that some people are using a lot of hateful political rhetoric. But also, ordinary people are coming out of their way to say, "Hang on. I want to stand up for these people. They're fleeing terror, they're not terrorists."
It's the fifth anniversary of the Syrian war. What difference do you think the IRC has made over that time? Last year a million people inside Syria were dependent on the IRC for all kinds of aid; 360,000 people in the southwest of the country around Dar'a get their health care from us [for example]. So I think we can say we've made a difference. But the number of people we've helped is always dwarfed by the number of people we haven't.
You've said that there's a danger when people confuse the word "immigrant" and the word "refugee." Could you elaborate? The danger is that there are special rights for people who are fleeing persecution or death, but the special obligations on states to look after them are lost when people see them as no different than those who are seeking a better life. Any of us want to save lives, whereas the obligations we have to help someone improve their livelihood are much more contingent. I think that the hard-won rights of the 1951 Refugee Convention are important. It wasn't an accident that people with a well-founded fear of persecution were given rights in international law, and I think it has to be defended.
During your time at the IRC, have you met anyone who's really stuck with you? My first week here I met a refugee we were resettling [in the U.S.]. A kid from Bhutan who had spent about 15 years in a refugee camp—he'd never seen a car, never [been on] a plane—and he then got a resettlement opportunity. Three years later he's graduated as the valedictorian from his high school, and he's off to college.
What about living in America has surprised you? The surprising thing is that New York is a very sincere city. Now, 20 years ago I think it might have come out in that people swore at you easily. But I've found when people here say, "Do you want to come for dinner?" they actually mean it.