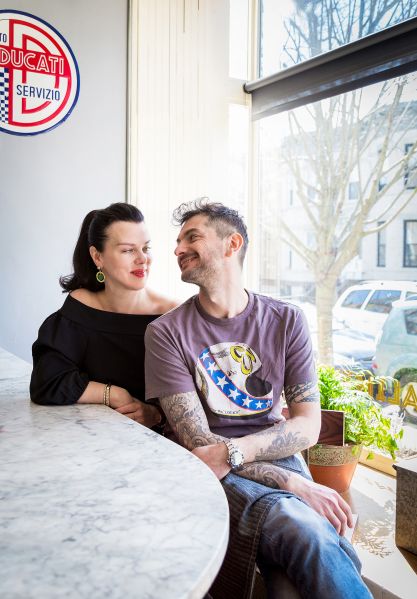 Windsor Terrace isn't one of those hip Brooklyn neighborhoods that attract the celebrities you may find in your Williamsburgs, your Park Slopes, or even, say, your Red Hooks. But it is on one of the streets in this relatively quiet, Prospect Park-adjacent 'burb where the Observer recently lunched with actress Debi Mazar (Goodfellas, Entourage and the current TV Land hit series Younger) and her Florentine husband, Gabriele Corcos, at the couple's restaurant, The Tuscan Gun, to talk about the latest season of their Cooking Channel series, Extra Virgin Americana.
The meet-cute behind the Queens-born Ms. Mazar and her swarthy husband is exactly that: After attending the wedding of friend Madonna and Guy Ritchie in Scotland, Ms. Mazar took up an offer from another guest, pianist Katia Labèque, to join her in Italy for an extended vacation. Mr. Corcos, a military academy dropout and rock-band drummer, was supposed to pick Ms. Mazar up at the airport, but her flight was delayed three times, and she eventually found a ride with another couple. Around midnight, a disheveled Mr. Corcos, who had spent all day trying to find this actress friend of Labeque, finally made it, very late, to dinner.
"He walks in, and there's this halo of light behind him," Ms. Mazar recalled. He sat down next to her and tapped his ashes on her Marabou slippers. The following evening, they were seated together again when Mr. Corcos asked if she'd like to join him on a quest for cigarettes and a caipirinha. The couple spent three hours in conversation, and as they walked back into the party, Mr. Corcos turned to the actress (whose films he had yet to see) and said, "You're fantastic, we should have kids together."
Ms. Mazar decided to extend her stay in Florence. Soon after, the couple moved to California, just in time to watch the World Trade Towers collapse. While many Americans despaired over the future, Ms. Mazar and Mr. Corcos took a different approach: Their first child, Evelina Maria, was born nine months and a day later. Three months prior, the couple had been married in a wedding officiated by friend Ellen Burstyn.
In Los Angeles, Mr. Corcos found himself missing the cooking of his native country, where his grandmother would prepare simple dishes of pastas, thinly sliced pork sandwiches and "frittelle di fiori di zucchine," or fried zucchini florets. The couple began making lighthearted kitchen videos in 2005, uploading them to a relatively new service called YouTube. Soon, Ms. Mazar, recognizable for her dark hair, outer-borough accent and stunningly light blue eyes, was fielding more phone calls from interested parties than she had at any other time her career. There was a market, apparently, for a husband-and-wife cooking show.
And there still is: Extra Virgin, a scripted series about the family's cooking adventures—complete with recipes and (this season at least) cross-country travel—has survived despite several management overhauls at the network since its premiere in January 2011 and was recently nominated for a James Beard Award. The pair published a cookbook, Recipes & Love From Our Tuscan Kitchen, in 2014, and of course, there is the restaurant itself, The Tuscan Gun.
With a small dining area, open kitchen floor plan and brightly colored pots and pans, it'd be easy to confuse the place for a cute coffee-shop or brunch spot. The emphasis is on simplicity—dishes like the spicy P.L.T. (pulled pork shoulder, lettuce, tomato, jalapeño aioli), spaghetti Bolognese and pasta e fagioli are kept, in typical Florentine fashion, to five ingredients or less—and has been met with critical acclaim.
It took less than five minutes for Mr. Corcos to whip up a batch of sugo di pomodoro—essentially pasta with tomato, red onion, basil and parmigiana. The rest of the afternoon was spent in leisurely Italian fashion: a glass of vino, good conversation and reminiscing. "I can just imagine him waiting for me at the airport," Ms. Mazar said and laughed. "He's thinking, 'She's an actress and a friend of Madonna's. What an asshole.' "
Across the table, Mr. Corcos grinned and shook his head. "Never. Well…maybe." ν