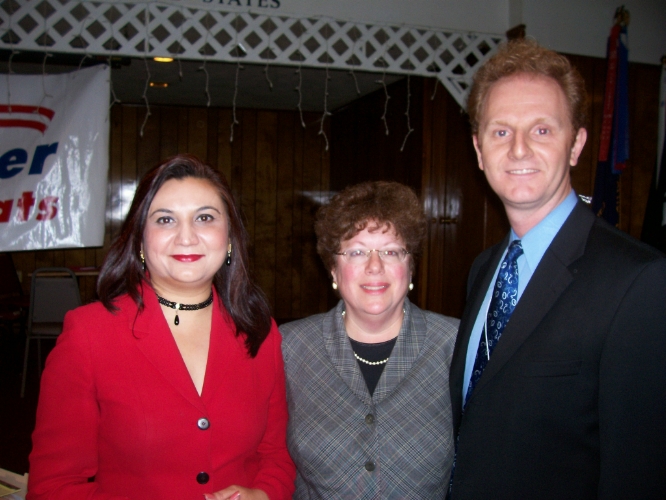 LD14 used to be the New Jersey general election equivalent of Stalingrad, a place where someone might not make it out alive politically after a period of around five months of extremely heavy shelling.
Reputations get left out there like charred remains.
In any event, Republican Gov. Chris Christie reversed the trend, by slow degrees over his statewide tenure mud-sliding the district into the relatively safely Democratic column.
Now, as LD14 stands poised on the 2017 gubernatorial cycle, insiders are sizing up what appears to be a potentially very interesting Democratic Primary season.
Consider the fact that Senate President Steve Sweeney (D-3) as the most powerful elected official in the labor movement has a standing army of allies in all pockets of the state, and most significantly here in LD14 in the person of Assemblyman Wayne DeAngelo (D-14), president of the Mercer Building and Construction Trades Council (pictured above in 2007 next to Linda Greenstein, with Seema Singh).
DeAngelo's already on the record as a staunch supporter of Sweeney and would have to be counted a short-list candidate for speaker in the event Sweeney lands the governorship, sources say, part of a regional Middlesex gift package in exchange for support. Routinely the district's top vote-getter, DeAngelo, a likeable electrical worker – chairman of the powerful Telecommunications and Utilities Committee – has fashioned himself into a practically politically bullet proof incumbent in a one-time competitive district.
His longtime slate mate, state Senator Linda Greenstein (D-14), is likewise likely to lean Sweeney in 2017, which would pair the two longtime district allies on the senate president's gubernatorial ticket. The enticement for DeAngelo to stay in the assembly, again, is the speakership, or at the very least majority leader. Otherwise, he could run for senate and – with labor behind him and standing in his home base of Hamilton – presumably be in good position to take out Greenstein; or at least make a real race of it with the tough out sitting senator.
If he goes that way, Greenstein would have to looking for another gubernatorial candidate. But it likely won't.
What seems more probable given Greenstein's (long backed financially in brutal general election firefights by South Jersey) seeming support for Sweeney is that DeAngelo will stay in the lower house and in return hope to exact some measure of leadership repayment.
What's fascinating too here is the fact that the 14th is divided between Middlesex and Mercer. Will DeAngelo's home county of Mercer be forced to line up with Sweeney on the strength of its devotion to the home grown DeAngelo, and the possibility of lower house leadership? Or will its aversion to Sweeney and the fear of losing control to a South Jersey operation on steroids, added to the heap of Norcross column counties – require a painful but necessary parting of company with DeAngelo?
If the latter proves true, then DeAngelo would have to run off the line in Mercer and rely on a Sweeney/Greenstein-endorsing Middlesex to get the line in that half of the district that does not house his home of Hamilton.
That brings us to the final third of the ticket, Assemblyman Dan Benson (D-14).
Benson is said to lean toward the political camp of Jersey City Mayor Steven Fulop, Sweeney's arch-rival in the developing gubernatorial contest. If Mercer holds out against Sweeney and backs Fulop (to be fair, it is said former U.S. Ambassador to Germany Phil Murphy also has done ground work construction in Mercer and his allies like his chances of trying to land the line there; U.S. Rep. Bonnie Watson Coleman (D-12), always a powerful voice in Mercer, is said to be paying attention to Murphy), Benson would presumably have the upper-hand of the line in his home county.
That prospect would increase if a Fulop Administration cabinet position awaited the likes of County Executive Brian Hughes, for example.
But that's speculation right now.
Back specifically to LD14.
Benson would be off the line in Middlesex against his former slate mates.
The question is which of the two does he run against?
Benson's never defeated DeAngelo; that is to say he's never equaled his mate's vote totals. He's also never beaten Greenstien's numbers.
Here are the totals from the years the three Democrats have served and run together: (2015) DeAngelo: 22,319, Benson: 21,187; (2013) DeAngelo: 32,048, Benson; 30,992; Greenstein, 31,387. (2011) DeAngelo: 26,626; Greenstein: 26,206; Benson 25,662.
You'd have to go back to 2009 to find the last time Greenstein received more votes than DeAngelo – that was his first time running for reelection.
If the numbers do indeed show greater consistency for DeAngelo, we presume Benson (pictured, below) would run for the senate seat against Greenstein on a ticket filled out with human fodder in pursuit of the lower house.
The bottom line is that the 14th will still look like Stalingrad, just the Democratic Primary – not general election – version.