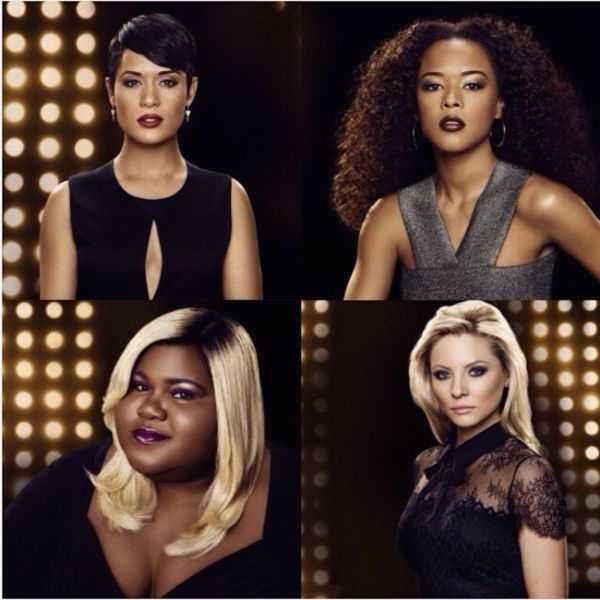 Welcome to our TV Fashion column, where TV Ate My Wardrobe's Emma Fraser discusses the trends in television apparel. This week: Empire's collaboration with CoverGirl and why it matters. 
First the monster ratings figures and soundtrack sales; now Empire is taking on the beauty market with a well-timed CoverGirl collaboration. The company ownership game of musical chairs and Lyon family squabbles are a constant and when Empire returns tonight for the second half of season 2 the various battles will continue. What you can also guarantee is that when the inevitable happens it will be done wearing something bold and there are no wallflowers in the Empire.
Cookie is without doubt the focus of Empire costume, makeup and hair features and it may come as a surprise that Taraji P. Henson is not one of the four faces making up the CoverGirl campaign. When it comes to striking style Cookie has this nailed and particularly in season 2 her look has evolved from the leopard print heavy post prison wardrobe to more runway influenced ensembles. Now she is playing the current fashion game rather than one from 17 years ago. Makeup is included in this and we've seen her experiment with a whole range of lip colors including my own personal favorite in episode 3 this season; bold purple paired with a fantastic gold Versace lady suit.
What also stands out about this cast and this selection of women isn't just style variety, but the diversity in skin color that isn't always apparent in makeup campaigns or who we see on TV.
The lack of Cookie in this CoverGirl collaboration is slightly disappointing because Cookie is the face/heart/soul of Empire and her lipstick game is strong; however that should not detract from the four women in the campaign. The faces of this limited edition collection are Grace Gealey (Anika), Gabourey Sidibe (Becky), Serayah (Tiana) and Kaitlin Doubleday (Rhonda) and each woman has a distinctive and different look on Empire. What also stands out about this cast and this selection of women isn't just style variety, but the diversity in skin color that isn't always apparent in makeup campaigns or who we see on TV. It can be argued that the beauty industry has made steps to improve product ranges for all skin colors and CoverGirl has recently added Zendaya to their spokesperson roster (Janelle Monae, Queen Latifah and Sofia Vergara are also CoverGirl representatives).
Within this new selection of makeup there are both Empire specific items as well as other recent products from the aptly titled CoverGirl Queen collection. Even though there is no Cookie all your purple lip color needs are covered with Gabourey Sidibe's Lavender Lip Lava.
My personal makeup journey has been a cautious one and it was only when I hit my late 20s that I embraced lipstick and stepped out of my dash of mascara/lip balm/maybe a touch of eyeshadow comfort zone. As with most things that influence my style choices it started with something I saw on screen and the color of Carey Mulligan's lips in Shame had me as transfixed as other things in this movie. When I found out via a fashion magazine what brand/shade this lipstick was I rushed to my local MAC counter to purchase "Barcelona Red" and looking in the mirror after nervously applying this color felt transformative; I didn't look ridiculous or even clown-like as I feared I might. Picture the first attempt of Marnie's makeup from the Girls season 5 premiere for my ultimate makeup nightmare.
This was just the start of lipstick being bought based on a TV/movie and while it can be a harder task to find vintage clothes that match what we see on period shows with makeup it is easier to recreate the look as modern products are used. Take Agent Carter and Peggy's signature bold red lip came courtesy of Besame – a company that produces vintage reproductions – and 1946 Red Velvet. Or the light pink Nars Bolero lip pencil Megan Draper wore in the season 6 premiere of Mad Men while on vacation in Hawaii with Don. Talk show appearances also deliver on the makeup inspiration front and fuchsia entered the conversation after seeing Keri Russell wearing this shade of Hourglass lipstick last year on Late Night with Seth Meyers while she was promoting season 3 of The Americans.  
As with finding out where to buy clothes you see on screen the makeup route is a similar one; social media is a big source and a lot of the time I have got these answers from asking the makeup artist who works on the show or with the actor in styling them for events/public appearances. It can be a bit of an internet treasure hunt, but there are plenty of resources including interviews and the beauty pages in magazines. If only there was an IMDb like system for the makeup used on screen.
The dream of a makeup database has yet to be realized, but one arena where the beauty industry is booming is on YouTube with the makeup tutorial. The new CoverGirl Empire collection comes with their very own 'how to' video guide and each of the four featured actresses sits down with Empire head makeup artist Beverly Jo Pryor showing which products are being used to create their character's look.
I am far more adventurous with makeup in my thirties than I ever was in my twenties perhaps because there were so many disasters in my teens – concealer for lipstick with dark lip liner nightmare flashbacks ahoy – and I find tutorials like this to be an invaluable source for attempting something new.
Conversations surrounding selfie culture and breaking it down into whether it is damaging or liberating is a simplification of the debate, but for me personally a platform like Instagram and my front facing camera has changed how I see my face and the products I wear. People wear makeup for a variety of reasons and in various amounts in real life and on TV. For me it isn't a daily thing even though I do wear it with more frequency than I did in the past; I feel like I know my face, I know what suits me and I do try new things.
Red lipstick does give me a boost and I am instantly drawn to pictures or moments on screen where someone is in this shade. Take AMC's forthcoming spy show The Night Manager and the way red is used in contrast to Elizabeth Debicki's predominantly white wardrobe. Also I would love to know what shade/brand this is, which means an internet treasure hunt is imminent.
A whole kaleidoscope of colors beyond crimson tones are taking the lipstick world by storm at the moment with Lupita Nyong'o standing out in metallic blue Lancôme at the London Star Wars: The Force Awakens premiere. On TV bold characters make strong lip color choices and it is not a surprise that Ilana has tried this trend on Broad City when she wore black lipstick with a white sports jersey in season 2.
Makeup can enhance what we already know about a character so with Ilana it is a given that she would give this look a shot. Over on The Flash makeup is used to show just how different the alt-universe Earth Two Caitlin Snow is from the one we see on a weekly basis and she also happens to go by the name Killer Frost; just think Elsa if she used her powers for bad and was trying out this dark metallic lip color trend as part of her super villain getup.
One of 2015's defining TV moments involved the removal rather than the application of makeup as we watched How to Get Away with Murder's Annalise Keating take off her wig, eyelash extensions and wipe off her eyeshadow, eyeliner, lipstick along with the other remnants of the day before confronting her husband about his involvement in a student's death. By placing a moment like this so early in the season the impact is huge as we are getting to see the shedding of layers both physical and mental in an extremely vulnerable and private setting. It creates an intimacy between viewer and character which is an incredibly powerful thing and it is not surprising that Viola Davis won an Emmy for her performance on this show.
As with costume design there is a lot that can be read visually through makeup about character and there is an extra-textual level where inspiration can be found in what you see being worn on screen. The new Empire CoverGirl collaboration takes both of these elements and celebrates the huge success of Empire by showcasing four very different looks with a range of affordable products and that is a legacy the Lyon family should be proud of.
Emma Fraser is the creator of TV Ate My Wardrobe and spends most of her time writing about TV, fashion and costuming; Abbi and Ilana's Broad City style, the wigs on The Americans and Mindy Lahiri's pajamas are just as vital as talking about '90s/'00s teen shows. Emma has a MA in Film and Television and she probably holds Angela Chase responsible for this path. You can find her on Twitter @frazbelina.