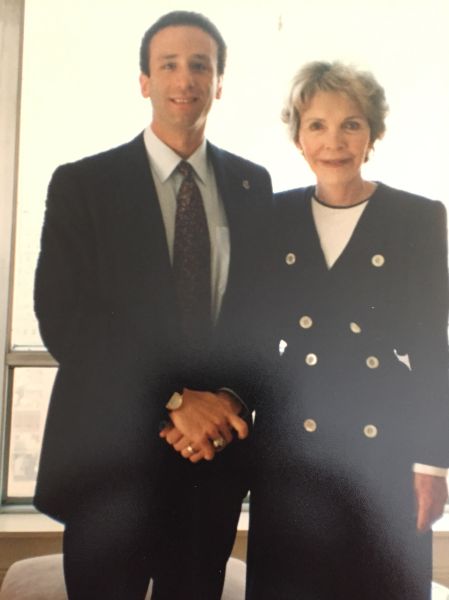 Nancy Reagan died today. In my 20 years as a United States Secret Service agent, Mrs. Reagan loved to visit NYC, where I was headquartered in the World Trade Center. 
During all of her trips she stayed at the Carlyle hotel. 
She loved her friends, she loved to sleep in, and stay out late. She loved a bit of gossip. 
One evening in March 1988, we were bringing her to visit the apartment of composer Andrew Lloyd Webber, whose "Phantom of the Opera" had just opened on Broadway. Mrs. Reagan was planning to attend the show with Sir Andrew, joined by her brother and sister-in-law, in celebration of the composer's 40th birthday. 
I did the site advance earlier in the day and was thrilled to meet Sir Andrew, whose show music was amazing. 
Sir Andrew lived at the Trump Tower. 
I waited at the building entrance for her motorcade's arrival. The doorman with a thick Irish brogue said to me, "Yallll have to move that." I said, "Excuse me."  He said the masked man was due to arrive. I said, "Who is that?" confused as to what he was referring to. 
He said the man with the mask who sings. I finally understood that we were anticipating the imminent arrival of Michael Jackson.  He repeated, "Go ahead and move, he doesn't like to see anyone." As I was explaining who I was a big van pulled up and three big men got out and said MOVE.  I said, "Guys, Nancy Reagan trumps Michael Jackson and that they were the ones who were going to do a lap around the block. They asked if they could quickly bring him in through the loading dock. I noted that that's where all the garbage was stored was disgusting. They said he's wearing a mask and that will shadow him. 
All of a sudden, out popped Michael Jackson looking very frail and thin. With proof that he is safe — if alarmingly gaunt — we moved their van up and just that minute the first lady's motorcade pulled in. 
The detail and I escorted the First Lady into a designated elevator and ascend about 40 stories until we lurch to a stop. We're stuck!!! 
While we waited for the repair folks and the FDNY – I recounted to Mrs Reagan what had occurred just prior to her arrival with Michael Jackson's people. Her face lit up – she said what a great cocktail story it would make. The doors opened, the party began and the First Lady, whose code name at USSS was "Rainbow," mingled with Sir Andrew and his guests. 
Nancy Reagan respected and admired the United States Secret Service. She was a regal woman who will be missed by so many, myself included.